With so much free time on our hands, people have more time to do the things they love and surprise, surprise: people love sex. Thanks to getting locked inside, people are experimenting in the bedroom more than they have before. Luckily for us, it also gave time for this kinky sex survey to find out what people are into.
Sex can be with a partner or solo and is beneficial for reducing pandemic stress, work from home anxiety, and even help you sleep better at night. But I think I'm telling you things you probably already know I mean everyone knows sex is pretty awesome. I clearly can't stop talking about it.
Sexuality exists outside of a binary scale which means there are a lot of different ways to have sex out of the conventional sense and different people view sex differently. The answer to the question, "What is considered kinky?" varies between people.
If you are interested in trying something new, chances are there is someone else on this planet who has tried the same thing. Do a quick Google search and I'm sure you'll be happily surprised someone else gets turned on by the same Shrek doll as you.
Bad Girl's Bible interviewed 1000 gay, lesbian, bisexual, and straight men and women between the ages of 19 and 80 about their kinks and fetishes. Through their survey, we learn which group is the kinkiest, which activities have the kinkiest reputation, and how many people are comfortable communicating their desires with a partner.
---
Which orientation is the kinkiest?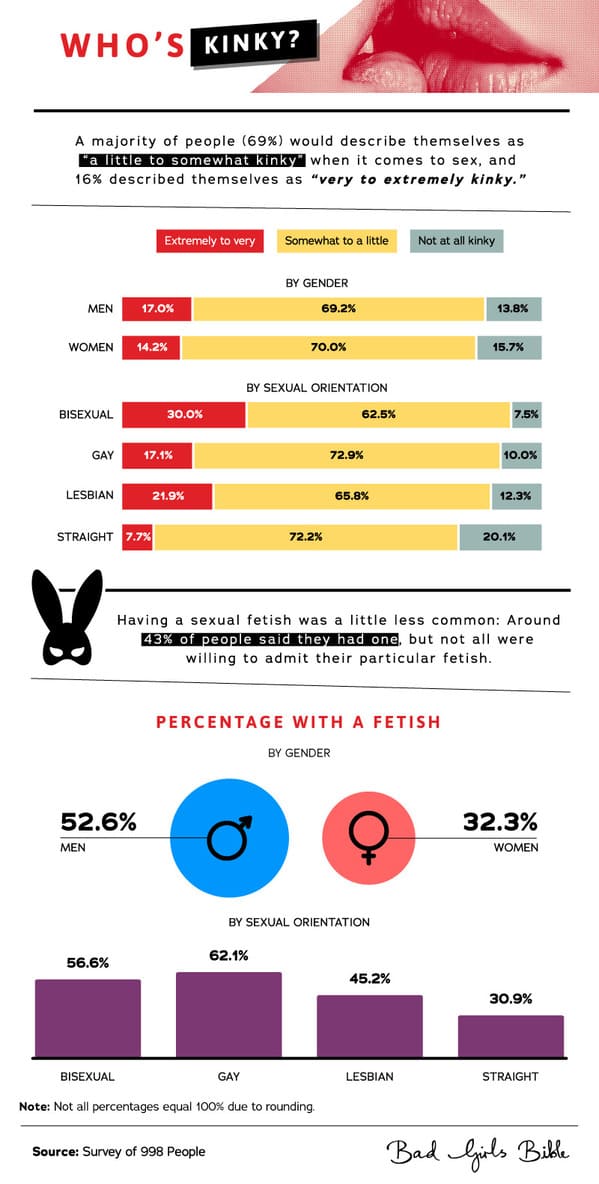 Everyone differently defines what it means to be kinky. The more aware of different kinks someone becomes, they might differently decide how they define themselves sexually.
The majority of people (69%) described themselves as somewhat kinky. 16% of people said they embraced these interests and described themselves as extremely kinky. Bisexual people reported being the kinkiest. Good for them!
It looks like pretty much everybody but straight people view themselves as extremely very kinky. 30% of bisexuals, 22% of lesbians, and 17% of people identifying as gay view themselves as extremely kinky.
Once someone becomes comfortable enough to come out as a sexuality other than straight, it becomes easier to be honest about what else might interest you. The more communication people have about sex and gender, the easier it becomes.
However, only 43% of people said that they have a fetish. Men were 20% more likely than women to consider their sexual desires a fetish. These answers depend on what someone defined as a "fetish."
Fetishes are sexual desires for scenarios that aren't generally seen as sexual; this doesn't necessarily mean these desires are unhealthy. 62% of people who identify as gay acknowledged having a sexual fetish. People who identified as straight were once again the least likely to admit to having a have a fetish.
What do people think is "kinky?"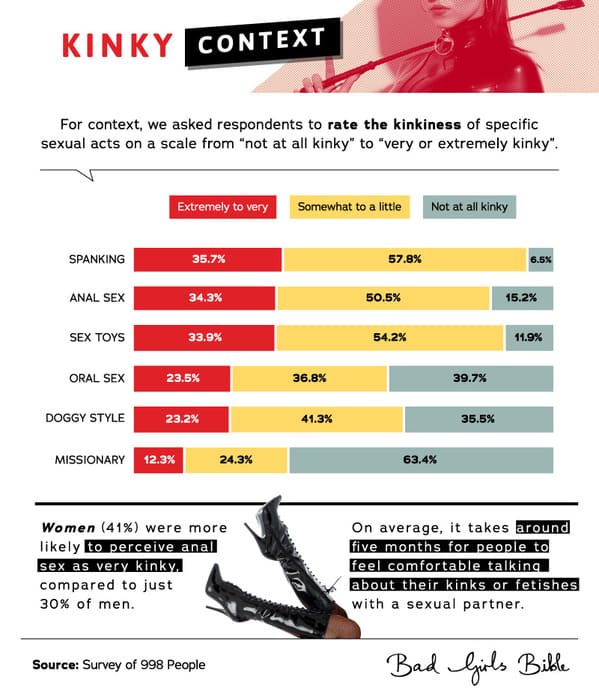 It can be difficult to open up to a new partner about what you are into sexually if it's outside the realm of "normal sexual desires" or fetishes. 12% of people identified missionary sex as very extremely kinky.
36% describe spanking is kinky, 34% described anal as kinky, and 34% of people think sex toys are kinky. 25% of people consider oral sex or doggy style very kinky.
What do the people want?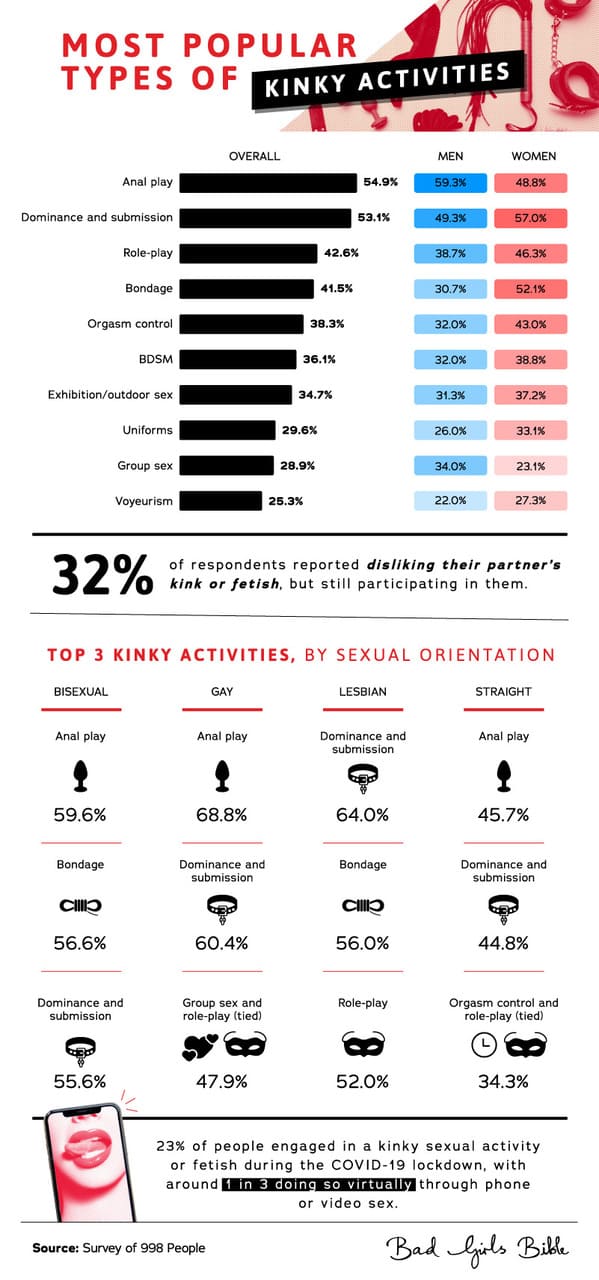 The best way to get what you want sexually with a partner is to properly communicate your interests and what makes you comfortable. Before trying anything new, make sure you talk to your partner. Pick a safe word. Know how far you would like to go.
Nearly 30% of people said that they didn't like their Partners Kinks but still participated in them. Don't feel pressured to participate in a kink that makes you uncomfortable, but if you have a partner you can communicate well with, it's a good way to try something that might otherwise make you nervous. Pour a few drinks and try some butt stuff, life is short.
The most common kinky activity was anal play at 55%, and 53% said they enjoyed dominant and submissive roles. Men are 10% more likely to enjoy anal play and women were 8% more likely to prefer dominant and submissive roles.
Anal play was the most popular kink from straight respondents at 46%, bisexuals at 60%, and gay respondents at 69%. Lesbians were in general more interested in dominant and submissive activities (64%).
The pandemic has made it hard for some people to find sexual partners but 23% of respondents in the survey found a way to engage in kinky sexual activity during lockdown. Roughly 30% of people used phones or video chat to go to the bone zone.

Let's get comfortable.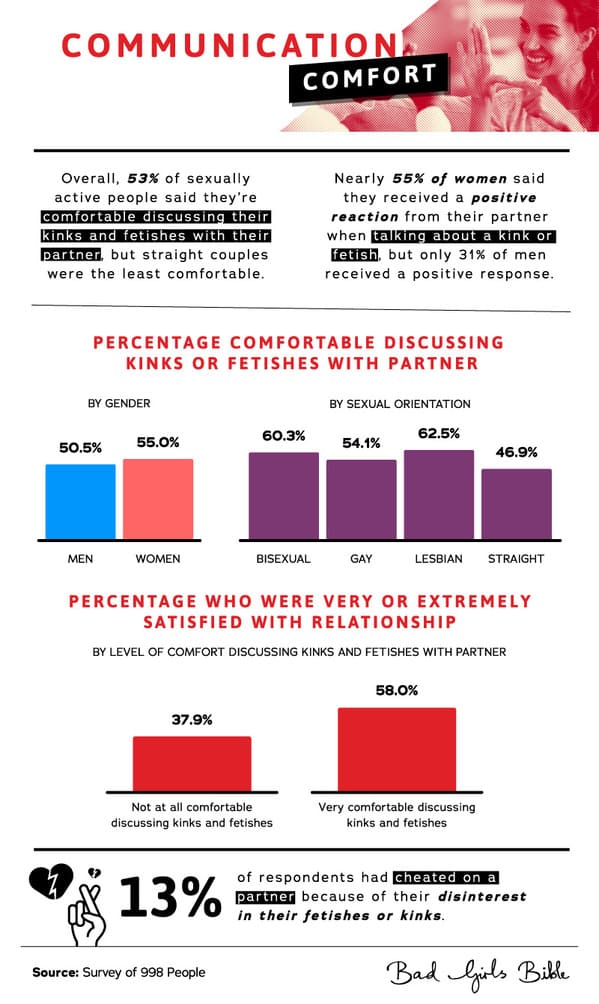 Again, the most important part of sex is good communication in any relationship. 53% of sexually active people felt comfortable discussing kinks with their partner. Straight couples were the least comfortable talking about this.
55% of women reported a positive reaction from their partner and only 31% of men received a positive reaction when sharing their fetish with their partner. Lesbians were the most comfortable talking about their sexual preferences, followed by bisexuals and gay respondents.
58% of people who felt very comfortable sharing their kings with their partner felt satisfied with their relationship. The people who felt uncomfortable discussing kinks with their partners reported less satisfaction in their relationship.
38% of those who did not communicate well felt fully satisfied with their relationship. 13% of people admit to cheating on their partner because of their disinterest in trying new things in the bedroom.
Methodology
This survey interviewed 998 sexually active people aged 19 to 80 from the UK in the US in order to explore Kinks and fetishes. Respondents had to indicate they were sexually active at the time of the survey. Sample sizes were as follows.
Men: 523
Women: 464
Nonbinary: 11
Bisexual: 267
Gay: 140
Lesbian: 73
Straight: 518
---
You may also want to check out our favorite links from this week: