There are some things that happen to us in our lives that are so unbelievable, it doesn't feel like we can even share the story with anyone. So when writer Aidan Moher asked their followers to "tell me a story about yourself the sounds like a lie but is absolutely true," the dam burst. Twitter was flooded with extraordinary tales that all definitely sound like lies.
In theory, they could be, but what's fun about the exercise is how much wild stuff can really happen in this life if you manage to stick around long enough.

Even Moher was impressed, saying that they intended to impress everyone with their story, which was this:
My contribution to this thread was going to be that I once spent the night in a hostel across the street from the Queen of England in Ljubljana, Slovenia, with pics to prove it, but you all have… greatly surpassed this tame story.
As they admit, it really can't hold a candle to some of the stuff people on Twitter have gotten up to.
Scroll through for some of the wildest stories, some of which will have you wondering if you need to get out there and start living bigger immediately. The rest will just have you asking follow up questions, like, "Is that TRUE?"
1.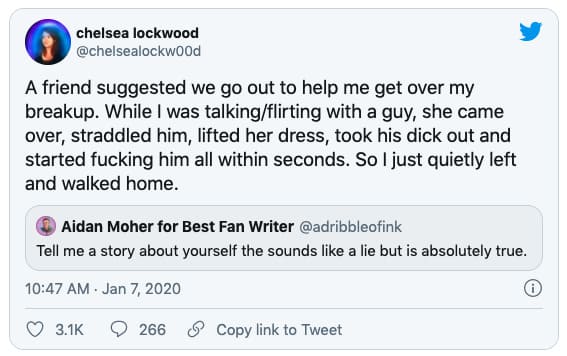 2.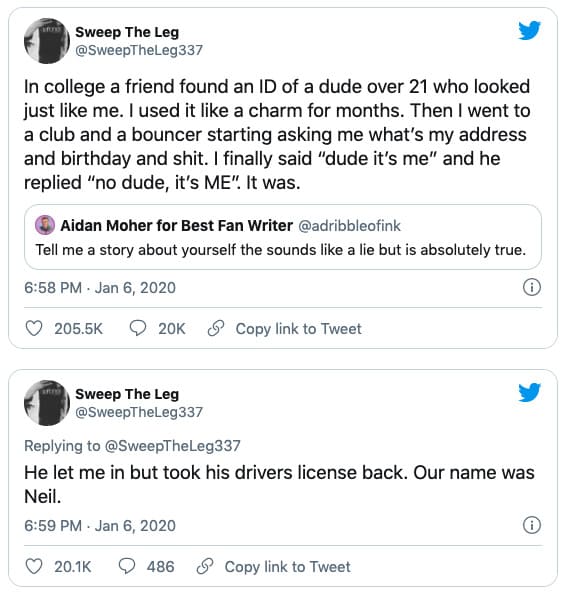 3.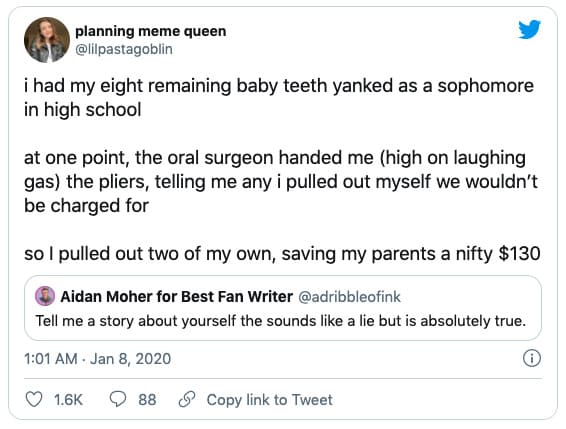 4.
I met this dude on tinder and asked what his last name was.. he told me, then replied " you doing a little background check? You might find out I'm a murderer, just ignore that ???? " okay so a good sense of humor.. well I googled him and he was a murderer. https://t.co/II55zBGfNj

— Emily (@emilychyanne_) January 8, 2020
5.
one time i had a dream of my grandma (who had died 5 years prior) telling me to go to her house and look on a certain shelf of her bookshelf and open a specific book to find something important in the back cover so i did and a handwritten letter of life advice from her fell out https://t.co/RILpP0J0K8

— alex •• (@thunderrmuffinn) January 7, 2020
6.
My high school had to evacuate because of a bomb threat written on a bathroom wall. Turns out it was written by our school's security guard, whose handwriting incriminated him when his write up of the incident was compared to the threat itself. #LivinLikeLarry https://t.co/muqrMZBtKt

— Haley???? (@haley_lando) January 8, 2020
7.
At my great uncle's funeral, the priest giving the eulogy's pants fell down. He stood there in his tighty whiteys, the whole room in utter disbelief, until someone ran on stage and pulled them up for him. https://t.co/P1aZal3H4X

— Addie (@a_rodey15) January 8, 2020
8.
I was diagnosed with clinical depression while wearing a children's bee costume https://t.co/V6vZPajG09

— Leon Thotsky (@jamesbarrettwif) January 7, 2020
9.
Once accidentally kidnapped a drunk man who was trying to get into his own home. Saw him slumped by the road, coaxed him into the cab to 'take him home safely' and ignored his slurry protests. Some 30 mins of confusing directions later and we… end up at exactly the same place. https://t.co/cwj43Fig8g

— Sara Spary (@saramayspary) January 7, 2020
10.
I won $4,300,000 in a civil rights lawsuit.

Then Detroit declared bankruptcy.

True story. https://t.co/D9M7dR1XOC

— Reverend Calvin Barnes (@VoiceofCal) January 8, 2020
11.
When Taylor Swift was like 12, her father asked me to build her a website (our fathers were friends and I had learned web design). I blew him off because I was busy and while talented for her age, this Taylor girl wasn't going anywhere… https://t.co/YkdIuNhcnX

— Lambgoat (@lambgoat) January 7, 2020
12.
I met Pierce Brosnan on a school trip to the National Gallery and asked him to sign my sketchbook. He instead went through the book and graded all my work with B+'s. https://t.co/7gYKibqTBQ

— Chloe Dungate (@ScarfDemon) January 8, 2020
13.
Someone tried to kill me (in Uni) once but let me off because his girlfriend and I were from the same state and he was madly in love with her https://t.co/pEIeID1jXZ

— Imoh (@ImohUmoren) January 8, 2020
14.
My mom sewed all the gold we had into the in seams of my jeans when I was five years old so that we could escape from Bosnia to a neighboring country and not have it confiscated by the army. https://t.co/hjzqTpJfdz

— The Impatient Tourist (@ImpatienTourist) January 7, 2020
15.
I shut my nose in the fridge door.

Twice. https://t.co/9crmnF3KYz

— Damon Young (@damonayoung) January 7, 2020
16.
When I was 6 years old I got kicked off a swing by Avril Lavigne because she wanted to use it https://t.co/e2JzAcLYfu

— Jeb (@LlamaInaTux) January 7, 2020
17.
I got a call from the US Secret Service that @BarackObama wanted to use our school's gym to play some hoops prior to campaigning at 6am. I thought somebody was messing with me, but… he showed up and he was a baller! #truth https://t.co/e9tCp1Spk6 pic.twitter.com/JIf45O33Qs

— ★彡 Cᴏᴀᴄʜ Bᴀɪʟᴇʏ 彡★ (@coachbaileyFB) January 8, 2020
18.
I got off a plane once cause I knew it would crash. And it did. https://t.co/WpTsg34DaB

— Emily Andras (@emtothea) January 8, 2020
19.
Used to teach English and one of my fav students was a wealthy businessman, then one day I turned up at his villa for his weekly lesson and his bodyguard asked if we could cancel that week because he (my student) had just shot the gardener https://t.co/dBJoFyZleI

— Hashashin (@HashashinTag) January 8, 2020
20.
When I was 9 mos old I drowned my twin bro in the bathtub. He was saved by a neighbor who lived in the basement apt. 25 yrs later, I'm sitting in PT school, listening to our professor tell a story of how he saved a 9 mo old neighbor boy who was drowned in the bathtub. Same story https://t.co/4JGAToZKfQ

— Kalani's Calves (@KalanisCalves) January 8, 2020
21.
I worked at the county hospital in Des Moines, Iowa when a band called Black Sabbath came to town. I drew Ozzy Osborne's blood in the ER after he bit the head off of a real bat. He was very sweaty and polite. https://t.co/nOc0dJz6Ei

— Theresa (@FarmgirlTheresa) January 7, 2020