When Lauren French asked her housemate Dave to watch her plants while she traveled, she probably didn't expect him to document the whole thing.
I asked my housemate to look after my plants whilst I'm away for the next couple of weeks. He sent me these. pic.twitter.com/7q0Q31kj6H

— Lauren (@laurenfrench) July 5, 2019
But, in a series of images Lauren posted to Twitter, it's evident Dave took his job as plant guardian seriously—and wanted Lauren to see the lengths he went to in order to keep her plants happy and healthy.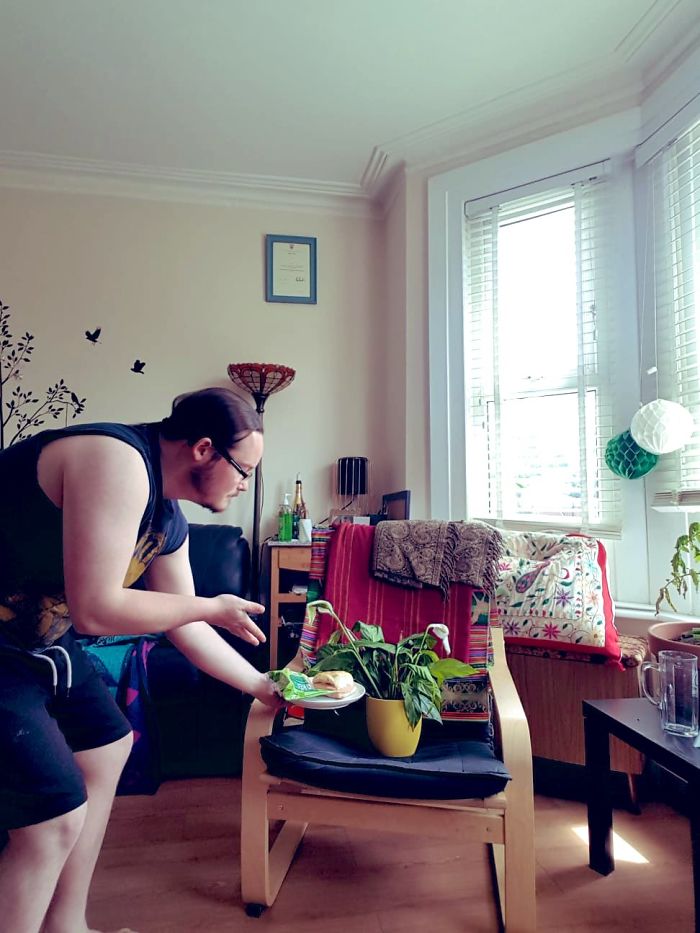 "I just howled with laughter," Lauren told Ruin My Week. "It's such a Jack thing to do. Jack's just the loveliest, funniest and wittiest person ever. Not only are we all housemates, we're all really close friends."
One image shows Dave sharing a glass of wine with a Peace Lily at the kitchen table. Another shows him offering the plant a sandwich.
And another shows the two cozy on the couch, reading the Necronomicon (plants love otherworldly horrors, didn't you know?)
I like how he is reading the plant some Lovecraft! pic.twitter.com/lC046kVdjD

— ravenousreader (@RRavenousreader) July 6, 2019
"The comments were really positive which was surprising for Twitter," Lauren said. "An odd comment here and there about him fancying me o

r that he was shagging the plant haha, but few and far between."
I hate people but I love him.

— Clara Sia | SeriouslyClara | 🎊 VidCon (@seriouslyclara) July 6, 2019
Can you ask your housemate to come and look after me for a few weeks now?

— Jo Chopra McGowan (@JoChopra) July 6, 2019
Now, thanks to Twitter, Dave is cultivating a reputation as a world-class plant sitter—kind of.
That's all very well, but the plant in these pics is in desperate need of water!!!

— Sonia Sivewright (@SoniaRayS) July 5, 2019
Best flatmate ever! https://t.co/4oSYpmwoT1

— Pip Courtney (@pipcourtney) July 7, 2019
"Comments have overall been lovely," added Lauren.