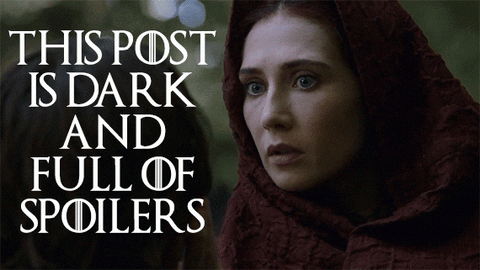 After an entire hour of screaming, asking "what the fuck just happened," and more screaming—we finally defeated the goddamn Night King. Arya Stark, everyone—the actual Queen of the Entire World.
Between the White Walkers, the blood, and the poor fucking lighting throughout the entire episode—I had a lot of thoughts.
1. Here we go HERE WE GO HERE WE GO.
2. I'm really not ready for this. THIS IS THE TRUE MEANING OF SUNDAY SCARIES.
3. *Cue Ariana Grande's "Breathing"*
4. Does anyone else sing "Peter Dinklage" throughout the entire opening scene? No just me?
5. I haven't been this nervous since I lost my virginity.
6. Oh hey Sam, you look nervous, too. Glad we're in this together.
7. Why is this music so SUSPENSEFUL. MAKE IT STOP.
8. Everyone looks like their holding in a really, really bad fart.
9. What a fucking crew. Too bad they're all going to die.
10. GHOST!!!!!!!! WHO DECIDED TO LET GHOST GO FIRST?!? F**K YOU GUYS.
11. So this is what they mean when they say the "calm before the storm."
12. You're telling me Jon Snow isn't even on the battlefield? Some leader.
13. OH SH*T SOMEONE HIDE SER DAVOS, HE'S ABOUT TO SH*T BRICKS WITH MELISANDRE BACK.
14. Oh, here we go, with this saggy titty lady dark magic shit.
15. OH WAIT, WHAT?!?
16. The lord of LIGHT is RIGHT Y'ALL.
17. See, Davos is going to kill her himself before the battle even starts, he's not about this ghost fetus life.
18. Arya come through with the evil eye, you know she slept with your man.
19. Here we GOOOOOOOOOOO.
20. The Dothraki look like sorority girls on ladies night at the local bar.
21. If Ghost dies I'm going lose it.
22. Wait WHAT THE F*CK JUST HAPPENED
23. Podrick looks like he's gonna piss himself
24. WHY CAN'T I SEE A DAMN THING???????
25. $15 million and no f*cking LIGHTING?!?!?
26. LET'S GO DANY. LETS F*CKING GO.
27. So wait WHO IS EVEN DEAD SO FAR I CANT SEE A DAMN THING.
Me trying to see where the Dothraki went pic.twitter.com/jwaRMN3qFt

— Karina (@delgadokarinaa) April 29, 2019
28. WHAT IS THIS GUST OF SNOW?!?
29. Don't kill Sam!! Don't kill Sam!!!!
30. So if Jon's a Targaryen, can he "Dracarys" too? Let's get this FUEGO BABY!
31. Did Dany and Jon just hit each other? Amateurs.
32. Do they think the dead won't come into the gate? Is this a thing?
33. Melisandre use your goddamn dark magic and fix this sh*t girl, be useful for once!
34. Yeah, light it UP B*TCH!!!!!
35. My name ain't Bic but I keep that flame.
36. Looks like the Lord of Light > Dragons. Who would have thought?
37. Tyrion acting like he wouldn't get bodied right away in this fight.
38. Sansa's right—out of all the dudes on GoT, Tyrion is one of the good ones.
39. Oops, you forgot Dany's homegirl was sitting there huh Sansa. THIS TEA IS EXCEPTIONALLY GOOD TODAY. This is like my high school lunchroom all over again.
40. Well, there goes my theory that the Night King is at King's landing.
41. What is he doing? Wait if they all go on the fire will it go out???????? OH, SH*T!!!!!!!! Now everyone's going to die.
42. This is the craziest shit I have ever laid my eyes on.
43. You're telling me The Hound is out here hiding like. Little b*tch? GTFO.
44. Don't you dare kill LYANNA MORMONT on my watch! DON' YOU DARE.
45. Lyanna Mormont for President with that sacrifice. She may have been small but SHE TOOK DOWN A GIANT ZOMBIE.
46. It's too quiet somethings going to happen.
47. If they kill Arya and Lyanna in one episode no no no no no. NOT TODAY ARYA NOT TODAY.
What do we say to the god of death?

NOT TODAY.

👏👏👏✊#AryaStark #DemThrones pic.twitter.com/ySO4UZClng

— CJ Johnson (@cjjohnsonjr) April 29, 2019
48. My heart is racing I think I need a defibrillator I'm going to actually have a heart attack.
49. So the Hound will only save Arya and I'm okay with that.
50. Melisandre you give that pep talk girl. NOT TODAYYYYYYYYYY ARYA!!!!!!
51. Theon has what, 15 men protecting Bran? And there's 100,000 walkers? Come on Theon…
52. Oh, sh*t Viserion going in for the WHOLE kill. Sock 'em Boppers, but like…with dragons.
53.Wait did the Night King just fall?? We got King v King???
54. Jorah hears dragons and all he cares about is saving Dany, he's literally like "Brb f*ck the dead army, OMW to steal your b*tch, Jon Snow.."
55. Is Dany about to kill the Night King????????
56. He's definitely not dead. Nope. Too easy. Still like 30 min. left in the episode.
57. FANTASTIC WHAT A WASTE.
https://twitter.com/dhoolface/status/1122683688167329793
58. Jon, he obviously knows you're there you fool. Who the hell do you think you're charging at? #YouKnowNothing
59. WHAT ARE YOU DOING!!!!!! Does this dude have amnesia?!? Don't you remember he has powers you dumba**!!!!!
60. Oh here we go again. ROUND 2 EVERYONE!!! BATTLE STATIONS!
61. "WHAT IS DEAD MAY NEVER DIE" but like…literally.
62. Told you the crypts were never safe y'all. WHO THE F*CK PUT PEOPLE IN THE CRYPTS WITH A KING WHO RAISES TEH DEAD? Y'ALL ARE TRIPPING ON SOME LEAN.
63. This Sansa and Tyrion moment though, a true tear rolling down my face. Pour one out for the marriage that never lasted.
64. Oh sh*t, Dany fell. PROTECT YOUR QUEEN!
65. LEAVE IT TO JORAH FUCKING MORMONT TO COME RUNNING TO HER RESCUE. AND HE'LL STILL BE IN THE FRIEND ZONE AFTER THIS IS ALL OVER.
66. This music has to stop right now. This is the "everyone's going to die soon" music. That "let's give the viewers a heart attack" music. It's WORKING.
67. Let's GO THEON!!! REEK WHO?!? SHOW HIM YOU'RE A TRUE STARK!
68. The Night King is coming for Bran already????????????? My heart is breaking right now what is happening.
69. Omg Theon. Noooooooooooooo. NO NO NO NO NO you were on such an upswing!!!!!
70. Wait so now what…what happens to Bran? THAT'S IT?!?
71. JORAH TOO? We out here dying today y'all. FORREAL.
72. Does the Night King talk? I'm just curious.
73. ARYA!!!!!!!! NOOOOOOOO.
74. OMFG.
75. No, she did NOT.
76. ARYA F*CKING STARK EVERYONE.
77. Holy fucking sh*t.
78. No, she didn't.
79. No, she DIDN'T.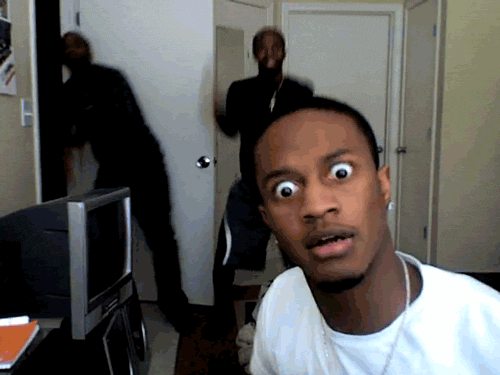 80. Oh, my actual God.
81. I'm SCREAMING.
ARYAAAAAAAAAAAAAAAAAAAAAAAAAAAAAAAAAAAA! YAAAAAAAAAAAAAAAS BEEEEEEEEEEEEEEEEEETCH! #GameofThrones #DemThrones pic.twitter.com/lOhlJheaGQ

— MoCha (@Foodie_Lee) April 29, 2019
82. GO OFFFFFFFFF ARYA!!!!! NOT TODAY!!!!!!!!
83. Poor Jorah, saved Dany's ass a billion times, never got out of the friend zone. But, aww look at Dany's dragon comforting her—that's cute as sh*t.
84. The Red Woman's out? What a weird ending.
85. Can we just talk about ARYA F*CKING STARK?!
Man. I'll see y'all next week after I get some anxiety meds for this last episode 🤦🏿‍♂️ @HBO @GameOfThrones #GoT #Season8 #DemThrones #Episode3 #BattleOfWinterfell

— T-Pain (@TPAIN) April 29, 2019
86. Forget all the Democratic nominees, Arya Stark 2020.
87. Naming my first born daughter Arya and no one can stop me.
What do we say to the God of Death? #GameOfThrones pic.twitter.com/BqyyTEHi3k

— Jon Snow (@LordSnow) April 29, 2019
88. So, wait, I need a rundown of everyone who died for my death pool.
89. Ok, ok so—
Eddison Tollett

Lady Lyanna Mormont

Theon Greyjoy

The Night King

Jorah Mormont

Beric Dondarrion

Melisandre
THE LORD OF LIGHT KEPT BRINGING BACK BERIC DONDARRION BECAUSE HIS ROLE WAS TO SAVE ARYA — THE GIRL WHO WOULD DELIVER THE FINAL BLOW.

MELISANDRE KNEW IT. BRAN KNEW IT. BERIC KNEW IT. RIP TO A REAL ONE.#GameofThrones  #DemThrones pic.twitter.com/JJfZGwI2Wi

— Ãtíf ChOwdhari (@AtifChowdri) April 29, 2019
90. Jesus F*cking Christ. What a ride.