HBO's smash hit series Big Little Lies season 2 is in full swing, and fans are thrilled to see Meryl Streep portray Mary Louise Wright, the mother-in-law of Celeste Wright (Nicole Kidman) on television. While Streep's performance has been lauded by critics and TV buffs alike, many folks have been anticipating one particular scene.
Last year, photos from the set of Big Little Lies revealed Reese Witherspoon's character Madeline Mackenzie throwing an ice cream cone at Streep. When season 2, episode 5 aired, fans were really disappointed that the scene had been cut. And who could blame them?
here's an appreciation tweet for the scene where madeline throws an ice cream cone at mary louise because it sadly got cut off from the season #BigLittleLies #bigLittleLies2 pic.twitter.com/BgYyOwMb58

— a (@foolsqueer) July 8, 2019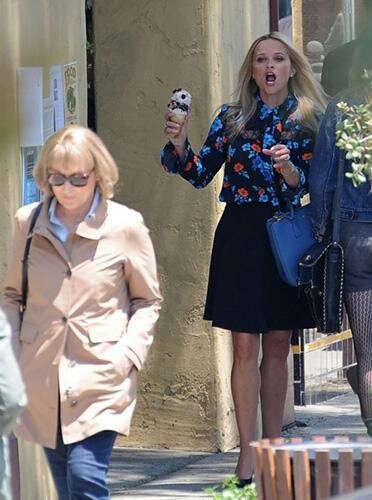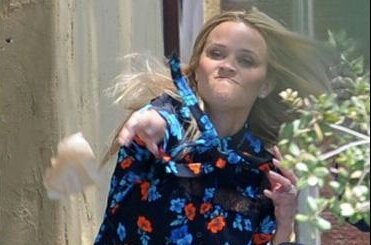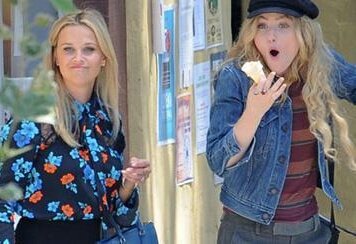 The episode, appropriately titled "Kill Me," sees Streep and Witherspoon's character get into an argument, which was supposed to end with Streep covered in delicious sprinkle-covered vanilla two-scoop cone. Instead, the scene was cut and replaced with Witherspoon scoffing and walking away with her tasty treat. Suffice it to say, fans were apoplectic, and shared their bitterness on Twitter.
THEY CUT THE ICE CREAM SCENE #BigLittleLies pic.twitter.com/kSU4WzdchC

— jack! (@jackkrsch) July 8, 2019
Ocean's Nine but it's Sandra Bullock, Cate Blanchett, and the rest of the gang breaking into HBO to steal the deleted scene of Reese Witherspoon throwing an ice cream cone at Meryl Streep

— Sam Stryker (@sbstryker) July 9, 2019
me when they didn't show Madeline throwing her ice cream at Mary Louise. I WAITED A DAMN YEAR FOR THAT SCENE. #BigLittleLies

— W (@WilliamR13) July 8, 2019
WE WERE PROMISED AN ICE CREAM THROWING SCENE. THERE WERE PICTURES. #BigLittleLies pic.twitter.com/1UbHk1Oumw

— Raquel (@raquel2e) July 8, 2019
my only thoughts about tonight's big little lies pic.twitter.com/UcEZ7CuX7I

— gabriel brujería chupacabra cucuy bergado (@gabebergado) July 8, 2019
Even Witherspoon was just as bummed as the rest of us. "And I will always share these memories with you all," she wrote on Twitter. Last year, Witherspoon responded to the photos on Good Morning America, calling it one of the "top moments of her career." She also confirmed that the ice cream did, in fact, last on Streep's face. "And I hit her! Like, I nailed it! She turned around and she was like, 'Yeah you got me!"
https://twitter.com/ReeseW/status/1148258220613332992?s=20
Why HBO cut this scene, we may never know, but luckily the scene will be included on the DVD as special content, confirmed Streep. "[Reese] just told me it's not in the show. It's [going to be] in the DVD extras," Streep said to Entertainment Tonight.