Most people don't realize that Ariana Grande has over two dozen tattoos.
She's got ink on her toes, her fingers, her arms, her neck. She's got film references, multiple Harry Potter nods, boyfriend tributes, stars, hearts, letters, and phrases.
But her latest may be her greatest yet. On January 13th, the pop queen debuted a tattoo of the Pokémon Eevee on her arm via Instagram Stories. "I've wanted this for so long. thank u sm," Grande captioned the photo, adding the tag for Los Angeles-based tattoo artist Kane Navasard.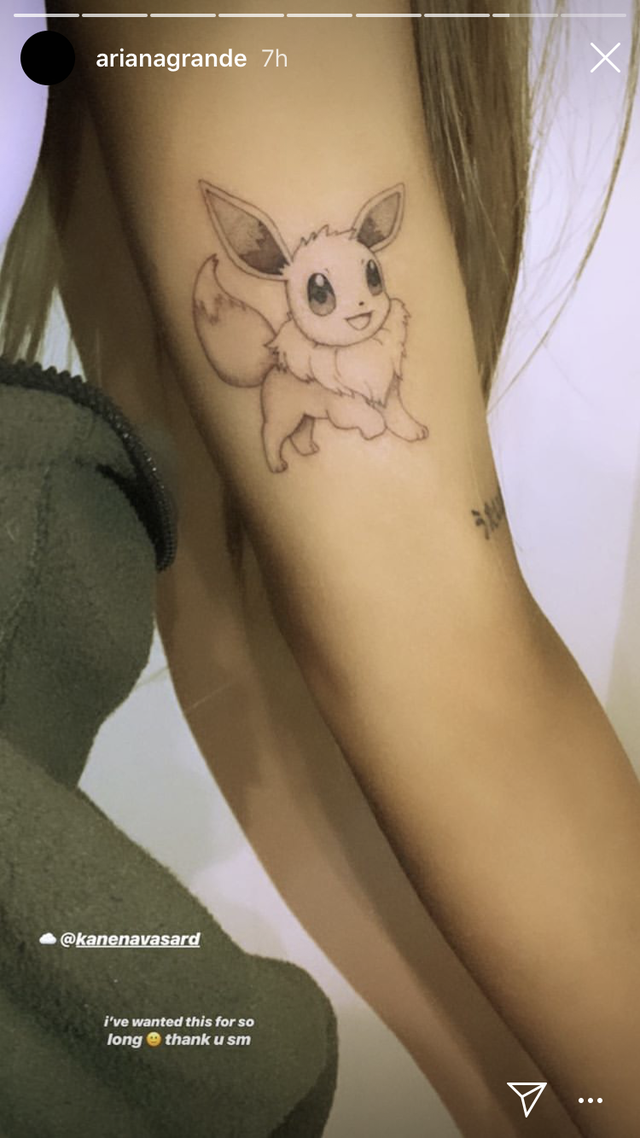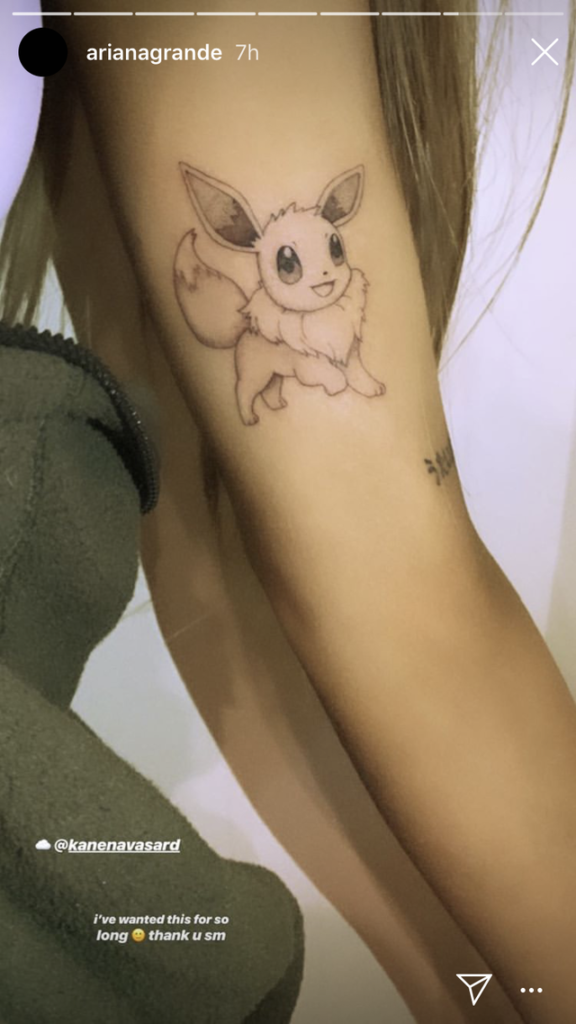 Grande unveiled the tattoo just a few hours after sharing on Twitter that she had played popular game Pokémon: Let's Go, Eevee! on her Nintendo Switch for nearly an entire day. "Honestly. yesterday i had a day off and i played pokémon let's go eevee for fifteen hours. honestly," she wrote.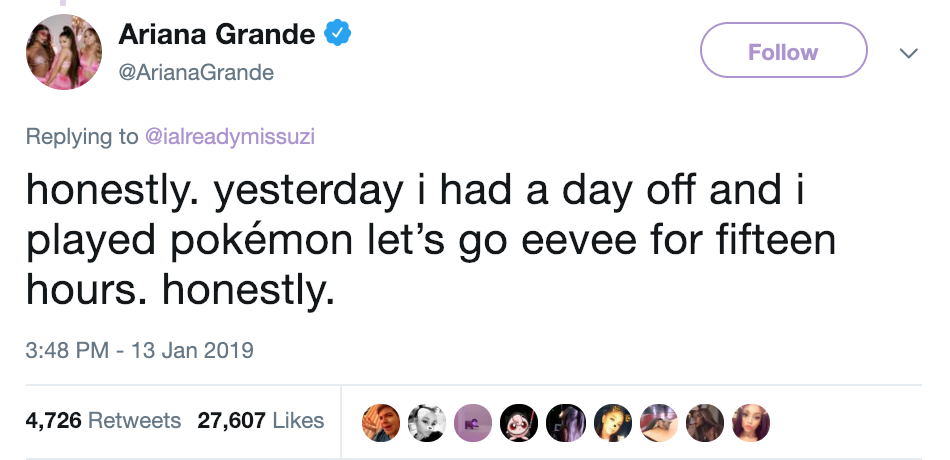 Though Grande's love of both Pokémon and Eevee in particular has been noted (she's shared pictures and videos of the critter to her Instagram, as well as Instagram Stories where she is shown playing Pokémon Go on her phone), her choice in inking Eevee in particular may have deeper significance.
Besides the parallels between the Pokémon's bushy tail and Ariana's trademark ponytail, Eevee is known for its ability to adapt based on its surroundings (Eevee is often called the "evolution Pokémon" since it has the highest number of evolution possibilities given its "unstable genetic makeup").
Fans were also quick to note that back in October 2016, Grande and then-boyfriend Mac Miller dressed as Eevee and Pikachu for Halloween, prompting questions about whether the new ink is in tribute to her ex.
Ariana Grande, pop legend, got an Eevee tattoo! We stan! pic.twitter.com/zm3YSPPp08

— PokéJungle (@pokejungle) January 15, 2019
Whatever the case, Pokémon nerds worldwide were stoked.
after a lifetime of not having an opinion about Ariana Grande she went ahead and got a Pokemon tattoo and now i must stan her for life pic.twitter.com/NwzbYasbx8

— adam22 (@adam22) January 15, 2019
https://twitter.com/whytrysdevils/status/1084829133161578497
https://twitter.com/sumsum6/status/1084943718061359106
ariana grande got an eevee tattoo??? i'm shaking pic.twitter.com/gigXbE7QTK

— s e n s e i (@seupo) January 14, 2019
Whatever the case, we stan. Do you, Ari, and please get more tattoos in 2019 so we can pick them apart for our own entertainment ad nauseam.