It all started a week ago, when Instagram account @themorganletters_ reminded us of a beloved seasonal meme.
The Elf on the Shelf rhyming format has been around for a couple years and somehow, the meme never gets old. Now that we're getting deep into December, the meme has re-emerged — with celebrities jumping onboard this time around.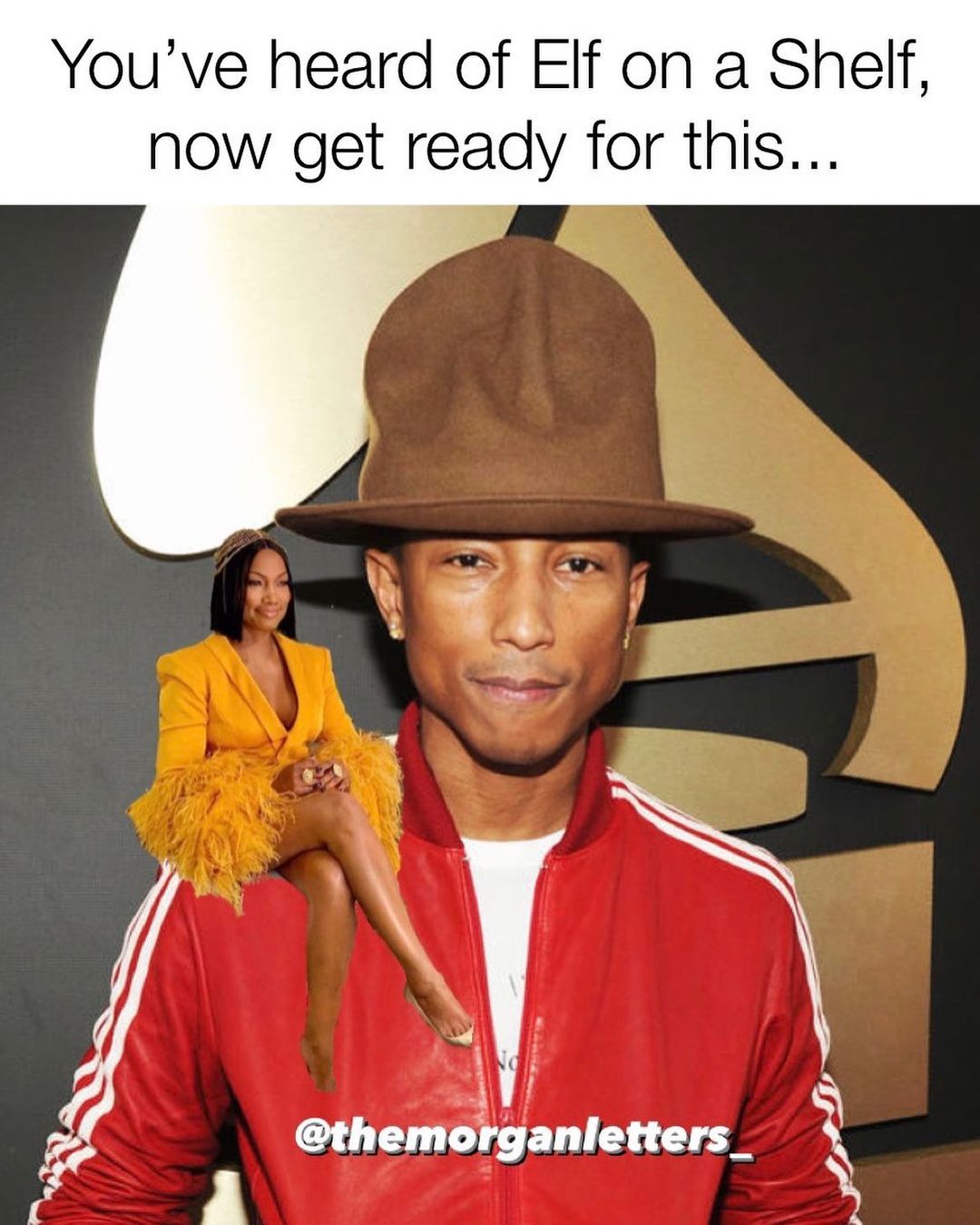 The image features music multi-hyphenate Pharrell Williams with Real Housewives of Beverly Hills star Garcelle Beauvais on his shoulder. Garcelle on Pharrell. GET IT???
The meme spread and word got to the celebrities that a fun thing was happening online. Generally, celebrities have had a hard time this year when it comes to Online Things ("Imagine" might be the best-known flounder). But this time around, it's fun and silly, instead of a video reminding us they get to quarantine in luxury.
1. Actor and director Elizabeth Banks picked up on the meme and posted Hanks on Banks. So delightfully wholesome.
2. Banks' post prompted Reese Witherspoon to follow suit with Grease on Reese.
View this post on Instagram
And once Reese Witherspoon gets word of a meme, it's all over. The meme floodgates opened up for the celebrities.
3. Witherspoon's Cruel Intentions co-star Sarah Michelle Gellar posted Best-seller on Gellar.
View this post on Instagram
4. Witherspoon and Banks' buddy Kerry Washington joined in with her friends and posted Perry on Kerry.
View this post on Instagram
5. Wonder Woman star Gal Gadot is making amends for the "Imagine" video by plopping Mandalorian star Pedro Pascal on her shoulder and calling it Pascal on Gal.
View this post on Instagram
6. Obviously, Christmas Queen Mariah Carey got word of the trend and contributed Carrey on Carey.
View this post on Instagram
7. Avengers star Mark Ruffalo got one of his Avengers buddies on board when he posted Stark on Mark.
View this post on Instagram
8. Janney on Annie, from Anne Hathaway
View this post on Instagram
9. Penn on Jen, from Jennifer Garner
View this post on Instagram
10. Ryan Seacrest's Luke Bryan on Ryan
View this post on Instagram