Not everyone who gets in front of a camera is destined for fame. Chrissy Teigen was, but she didn't know that when her face was cut out of a scene in a Fast and Furious movie. On Twitter, she recounted how only her boobs made it into Tokyo Drift.
My boobs are in fast and the furious Tokyo drift. I sat on the floor with 200 people in a parking garage in downtown la. They pulled me to be "girl getting out of car"'and the shot ended up cutting off at my face as they panned up my body. Lmao

— chrissy teigen (@chrissyteigen) April 30, 2020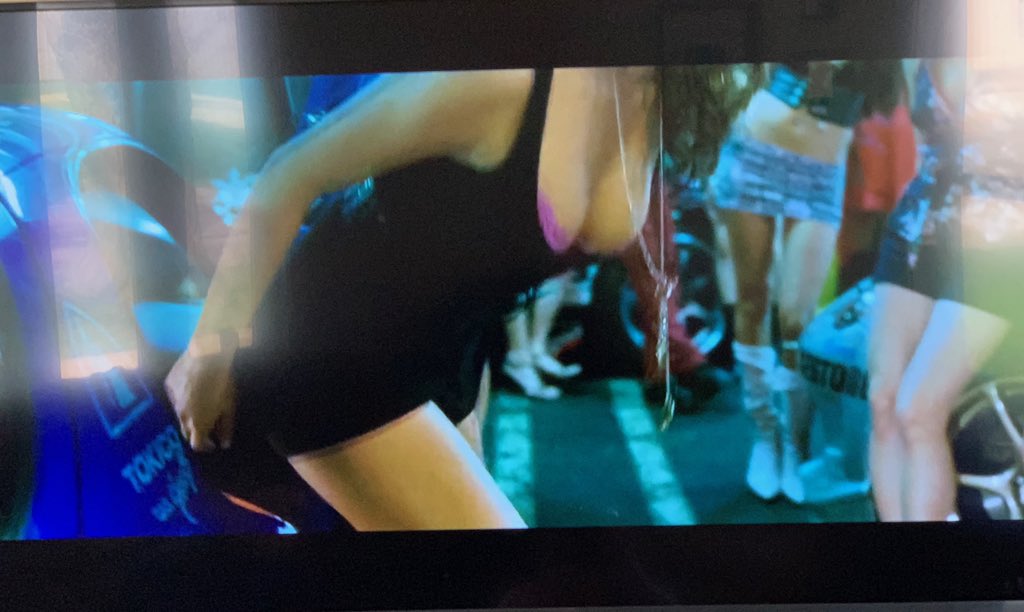 Her fans found her boobs for her almost immediately, and they are certainly stunning. They deserve their own movie:
My wife and aunt had nothing better to do than find your boobs. pic.twitter.com/3D0cjgfGTA

— Alex Owens (@crazyphatdude14) April 30, 2020
— madison moll (@madisonmoll) April 30, 2020
But the moment got Teigen thinking—how many people show up for just a second somewhere and felt like it was their moment of fame? And then it just became a goofy story only your friends and family know about?
have you ever been famous but for like 1 minute? a talking head on an infomercial, in the background of a big movie? something u share with people at dinner parties but it's so stupid..I would like to see it

— chrissy teigen (@chrissyteigen) April 30, 2020

People poured into her mentions with screenshots and clips of their one moment of fame. Teigen was delighted except for the fact that so many people were being exploited:
like if you said ok to taking an internal use only photo for your company and it ends up being used nationally for ads you need to get paid for that lol

— chrissy teigen (@chrissyteigen) April 30, 2020
Yeah, if your face ends up in a national ad campaign you better be getting money. On the other hand, who could have predicted how these images would eventually pay off: by getting to interact with Chrissy Teigen.
1.
Here's the time Sky News caught me lacking outside Tesco and asked me what came first, the chicken or the egg? https://t.co/bjACfacWRq pic.twitter.com/Y3OkIqJAAa

— RETWEET MY PINNED TWEET (@munchclubtv) May 1, 2020
2.
I show up on SABC 1 to show people that they are going on an ad-break. 💀 https://t.co/1tZwzSadPO pic.twitter.com/ej7Btzr1Vr

— Olo (@Olo_Mongale) May 1, 2020
3.
Used to work for a sporting goods store & a model didn't show up so they asked me to take a single photo. Wound up in every store on the east coast and in the newspapers for 6 months. And yes they made me wear spanx & had to cut them off bc I couldn't get them over my shoulders. pic.twitter.com/0QXQ8byzr6

— Ahri Findling (@THEYCALLMEAHRI) April 30, 2020
4.
I looked *very* uncomfortable in the background of Very Cavallari once. pic.twitter.com/YE3ZPlRGWs

— Anna Rumer (@AnnaRumer) April 30, 2020
5.
This is where it all began https://t.co/nFTdLXep0s pic.twitter.com/H7lwwHEJv3

— le petit géant (@nathi_fani) May 1, 2020
6.
i used to be a model for Mr Price 😅 https://t.co/tPgusFgLhu pic.twitter.com/MR3IFDtsHx

— Kholiswa Mqina (@KHOLiMQiNA) May 1, 2020
7.
this is now my claim to fame lol pic.twitter.com/IPFe1A6T4D

— Taylor Phillips (@TaylorJPhillips) April 30, 2020
8.
i used to work at John Oliver and for 5 seconds I was in this photo being punched in the face pic.twitter.com/H8PMV7p32b

— sam thor (@sthor97) April 30, 2020
9.
Hey Chrissy, I'm the @tesco delivery van beetroot salad girl. My friends like to send pictures where vandals have graffitied the 'Freshly Clicked' to say 'Freshly Dicked'. I hope this is fun for you to know. https://t.co/hPZD9h1NFp pic.twitter.com/lmOLEMYwkR

— Amy Nickell (@AmyNicks_) April 30, 2020
10.
I LOVED ZOOM I still make zebra cake

— chrissy teigen (@chrissyteigen) April 30, 2020