Justin Bieber and Hailey Bieber post a whole lot about how in love with one another they are. They're both very religious, and being married is a huge part of their relationship. For Hailey's birthday, Justin shared pictures of them on their wedding day, and one of her dressed up in her wedding dress alone. He gave it a pretty suggestive caption, writing, "Happy birthday babes! You make me want to be better every day! The way you live your life is so attractive.. ps you turn me on in every way 😍😍😍😍 next season BABIES."
Um, what?
View this post on Instagram
Since Justin basically said we can all expect to see some Bieber Babies "next season," people naturally assumed that Hailey must be pregnant. Then some photos taken by paparazzi started circulating in which Hailey can be seen holding a hand to her stomach:
Breaking News :

Justin's wife Hailey Bieber is rumoured to be pregnant with Justin's Baby 💙 pic.twitter.com/TNjhBXA8VT

— Justin Bieber Dm Abhinav 💝😭 (@BRohitian) November 29, 2019
Does the Internet need more conclusive evidence? A woman touching her stomach while being photographed is basically as good as a sonogram for Twitter.
Hailey's pregnant 😳✋🏽😤😎😜 pic.twitter.com/MUvuZUwH8k

— a. limey (@glossywife) November 29, 2019
someone said hailey looked pregnant in this photo…. i- pic.twitter.com/BIP5qac4Nk

— Jayana (fan acc)✨ (@rhodeobiebs) November 28, 2019
Is it just me or Hailey Baldwin is officially pregnant??? I swear every time a woman is pregnant I guess it right🤷🏻‍♀️ @haileybieber @justinbieber pic.twitter.com/f2UzaQJPTM

— Lex (@lexy_carrillo) November 28, 2019
Hailey Bieber pregnant!!!

— Kassandra Ashley (@kassie_ashley) December 1, 2019
So Hailey Bieber came forward to say that she definitely is not, sharing an Instagram story in which she wrote, "The Internet is funny! No, I'm not pregnant I just really love food."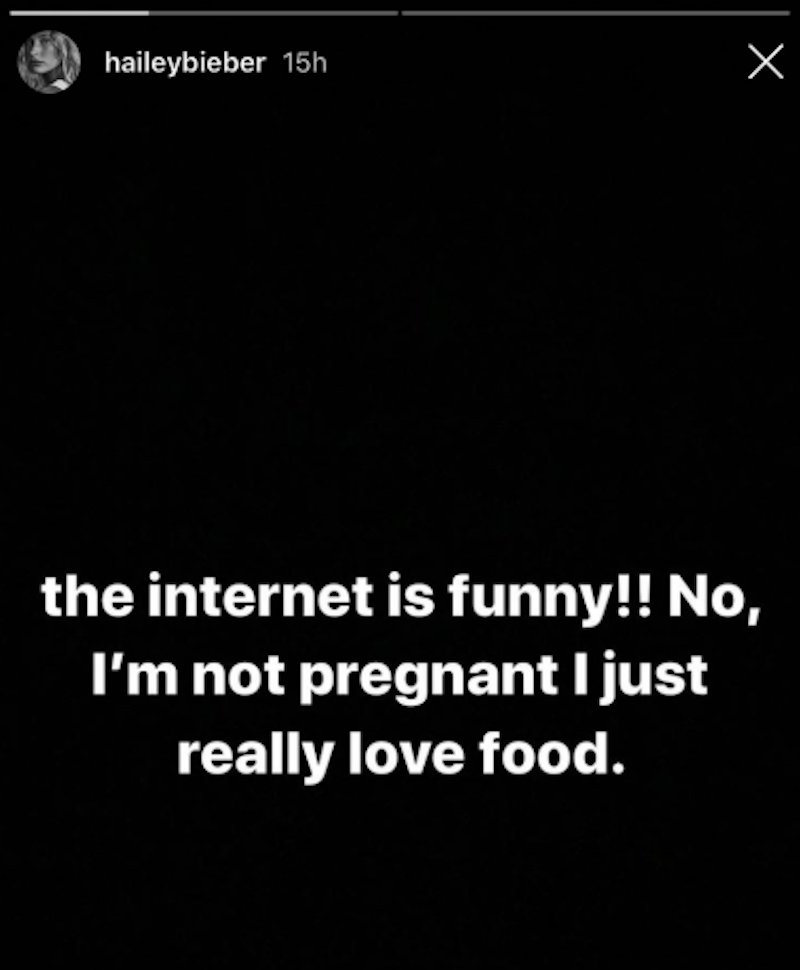 Ohhhh, a food baby! I gotcha. Have one of those myself.