Nothing sells tabloids like celebrity relationships, especially when they're either just beginning or getting ready to implode. Mila Kunis and Ashton Kutcher have seen their fair share of divorce rumors and now they're fighting back by mocking the tabloids.
Mila Kunis and her former That '70s Show co-star Ashton Kutcher have been together for seven years and married for four of them.
Despite (or because of?) the fact they're such an adorable Hollywood couple, tabloids loooove speculating that the pair is on the verge of breaking up.
Mila Kunis-Ashton Kutcher divorce rumors grace the covers of celebrity gossip rags A LOT.


So when the recent In Touch Weekly announced—YET AGAIN—that the two were destined for splitsville, Mila and Ashton decided to have a little fun with the news. Ashton posted a video of the two ShOcKeD by the news to his Instagram account:
Ashton Kutcher: Babe, what's happening?
Mila Kunis: It's over between us.
Ashton Kutcher: It's over between us? What are we gonna do??
Mila Kunis: I felt suffocated.
Ashton Kutcher: You felt suffocated by me? I was just so overbearing, wasn't I?
Mila Kunis: Also, I took the kids.
Ashton Kutcher: You took the kids? I don't get the kids anymore?
Mila Kunis: You had a dark secret.
Ashton Kutcher: Oh my gosh, what was the dark secret??
Mila Kunis: I don't know, I only have this photo.
Ashton even tagged @InTouchWeekly in his caption: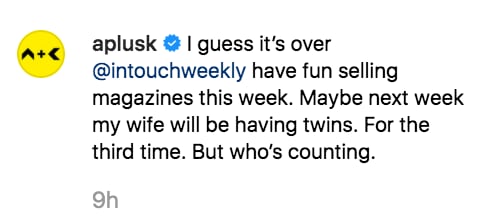 And Dax Shepard, one half of a Hollywood super couple himself, chimed in to express his dismay (wonder how Kristen Bell feels about that):

Demi Lovato and Ashton Kutcher's former stepdaughter Rumor Willis weighed in too:


Keep on trolling the tabloids in style, you two.