Rihanna is back in relevancy after revealing in her Super Bowl Half-Time show that she's pregnant with her second child. The famous pop and hip-hop singer has one child already with boyfriend A$AP Rocky and dropped hints before her show that someone would be joining her.
The majority of her performance consisted of the singer dancing in a puffy red coat and rubbing her baby bump. Around a hundred backup dancers in white rolled and jumped around her while she performed multiple popular songs. However, the "We Found Love" singer's half-time performance was quickly jaded after she posted a picture with her baby in a bed.
Rihanna posted a series of Instagram photos that led to her strange "so fine" description of her son.
While on her Instagram spree, Rih dropped a little surprise for her fans by revealing the first photos of her nine-month-old son in a British Vogue photo shoot.
Rihanna and A$AP Rocky posed in stride on the beach with their son – whose name is yet to be revealed. The post included a cover shot of the singer, her boyfriend behind her, planting a kiss on their son's head.
It wasn't her cover shot that raked in the questioning comments, but a later post of her and her baby boy in a bed with red satin sheets. The image was one of the first that gave viewers a look at her new child. However, the close-up of the baby wasn't enough to distract people from the weird context of the image.
As if posing sexually in the bed wasn't strange enough, followers checked out the caption that read "My son so fine! idc idc idc!" and immediately called Rhi Rhi out on her strange choice of wording.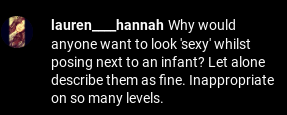 Rihanna was quick to respond to her haters.
These days, celebrities have to monitor their choice of words very closely. With millions of eyes on you, it's one little slip-up that could cost a star their platform. A recent example and a little more extreme is the cancellation of Kanye West. Calling your baby "fine" maybe isn't quite as intense as anti-Semitic comments, but regardless, all it takes is a solid spin on your words to strip one of their royalties.
Luckily, Rihanna was quick to clap back at her haters and defend her son. She responded to a fan who wrote: "Who calls a baby fine?", replying: "His mother!!!", and snapped at another who claimed she was referring to her toddler as a "grown man" by saying: "You just keep your lil cougar paws away from him and we good!"
Her responses to nay-sayers had thousands of fans and some of her celebrity friends backing her up.


What are your thoughts on Rihanna's baby photo-shoot? Let us know!