Sunday's Super Bowl Halftime Show was basically instant iconic performance status as J. Lo and Shakira went absolutely H.A.M. on stage, pulling out all the stops, from the stripper pole to playing their own instruments, to flying the Puerto Rican Flag, to showing kids singing in cages, to including Lopez's own daughter out there harmonizing with mom. It was so much to take in, you just had to let the greatness of these two Latina stars wash over you. The show was so larger than life, it almost escaped being broken into little Shakira memes. Almost.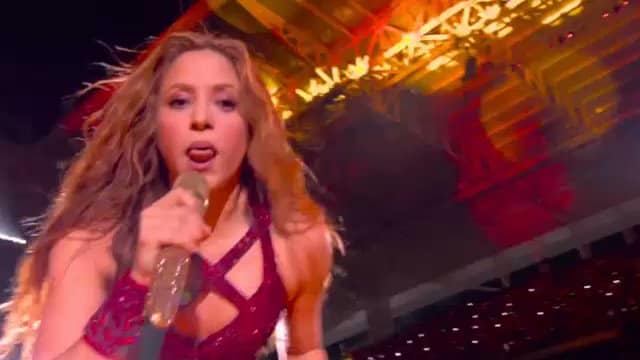 The one moment that's been recorded and shown over and over is a clip of Shakira leaning into the camera and doing something called a "zaghrouta," a form of vocalization called ululation. With the sound off, it looks like her tongue is just waggling back and forth pretty powerfully (and suggestively). With the sound on, you can hear she is making the high-pitched trill that is used as a sound of celebration or applause in some cultures. Shakira is half-Lebanese, and many Arab cultures use the zaghrouta. She was representing all of her cultural backgrounds that night.
Shakira — whose father is Lebanese — appeared to perform a traditional Arab vocal expression known as a "zaghrouta" during her halftime Super Bowl performance.https://t.co/lkOmF35cX9

— Twitter Moments (@TwitterMoments) February 3, 2020
But not everyone at home knew…any of this. Shakira memes quickly spread, especially by people who were pretty confused by what Shakira was doing and why.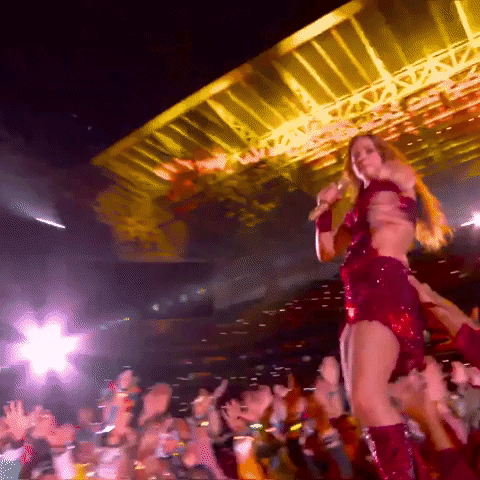 Below are some of the most baffled and funny reactions to the clip misheard around the world.
1.
Idk what was better… that #HalftimeShow or the memes about Shakira doing whatever that shit was pic.twitter.com/rv1kJspm1r

— Fernando (@fernan_doe) February 3, 2020
2.
Not sure what Shakira did here but I'm still into it pic.twitter.com/xx2X7jxOOS

— gifdsports (@gifdsports) February 3, 2020
3.
Me getting to the center of a Tootsie pop pic.twitter.com/Z5khD8n9dG

— Marc (@MarcSnetiker) February 3, 2020
4.
My cats when I put out a can of soft food pic.twitter.com/Pan88utRPE

— Zack Bornstein (@ZackBornstein) February 3, 2020
5.
my therapist: Shakira gobbling in your face can't hurt you

Shakira:pic.twitter.com/x87O5rRg9D

— Aaron Serna (@AaronSerna) February 3, 2020
6.
My mood for the rest of 2020 #PepsiHalftime #SuperBowl
pic.twitter.com/EyP7i6YxGJ

— Nick (@gshockey93) February 3, 2020
7.
Shakira's tongue is the new left shark. #SuperBowlLIV

— Jen Santamaria (@jensantamaria) February 3, 2020
8.
When Shakira said:

I felt that#PepsiHalftime pic.twitter.com/81OZGCdBOO

— David Lezcano (@_theDL) February 3, 2020
9.
Okay Shakira we see!! #PepsiHalftime pic.twitter.com/rX4kasw9Kv

— Christopher Villalobos (@Vspot1225) February 3, 2020
10.
me wasted in the mirror makin sure I'm good #PepsiHalftime pic.twitter.com/dF1DlEv69K

— alex (@aloomf) February 3, 2020