Meek Mill pissed off the internet's many, many Kobe Bryant fans and also generally decent people when he referenced the late NBA player's death in his leaked song with Lil Baby.
"This b**** I'm f***in' always tell me that she love but she ain't ever showed me," he raps. "Yeah, and if I ever lack, I'm goin' out with my chopper, it be another Kobe."
Lots of people jumped on social media to tell Meek to keep Kobe's name out of his mouth, but none said it as poetically as Vanessa Bryant, Kobe's widow.
She posted on her Instagram stories with a screenshot of the lyrics, writing over them.
"Dear @meekmill, I find this line to be extremely insensitive and disrespectful. Period. I am not familiar with any of your music, but I believe you can do better than this," she wrote. "If you are a fan, fine, there's a better way to show your admiration for my husband. This lacks respect and tact."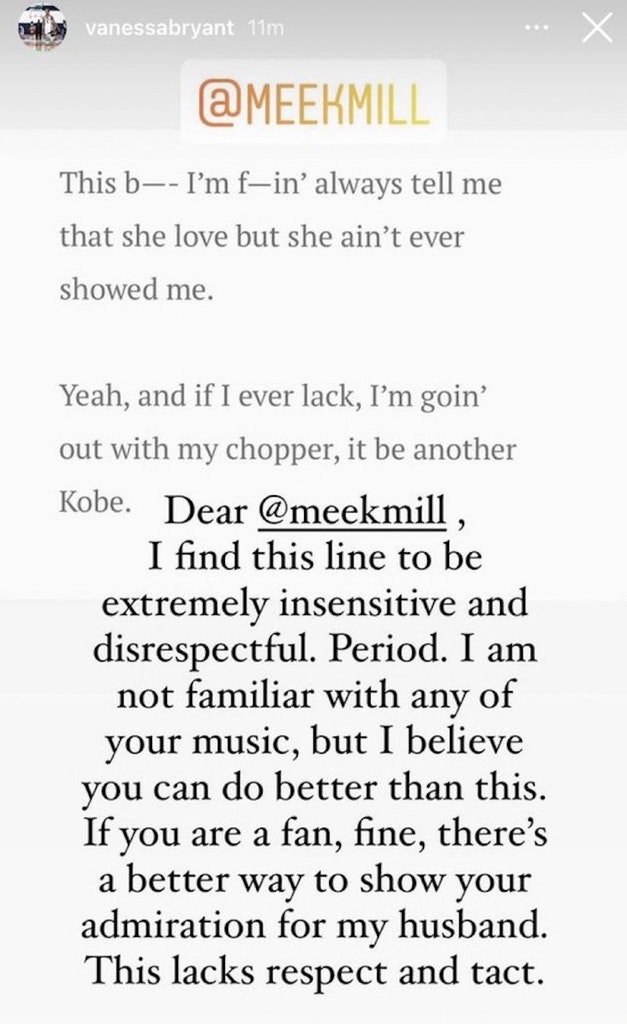 She didn't mention Lil Baby, who also referenced Kob, rapping about having kids so he "can name him Kobe/Daughter Gigi."
Definitely more respectful.
Meek has responded on Twitter, mostly accusing everyone of overreacting and hating on him like a mob of sheep or whatever:
He even said he enjoys it:
And then claimed he apologized to Vanessa Bryant in private and claims that nothing on his timeline is about her, though people have been accusing him of subtweeting her:
People do seem to enjoy trashing Meek Mill, but reading the responses, they might enjoy applauding Vanessa Bryant more:
1.
2.
3.
4.
5.
6.
7.
8.
9.
10.
11.
12.
13.