If everyone just stopped paying attention to influencers they wouldn't exist anymore. They would all have to go get real jobs instead of getting paid to post pictures online. The worst part of influencers is how entitled they are for free things. It's not uncommon to hear than an influencer asked a small business for something free simply because of their status.
Unfortunately, exposure doesn't pay anyone's bills and taking offers like this from influencers just doesn't make sense for businesses. Recently, more and more businesses have been standing up for themselves and putting influencers in their place when they rudely ask for free products. Good for them.
---
1. This Artist Greets All Influencers With An Offer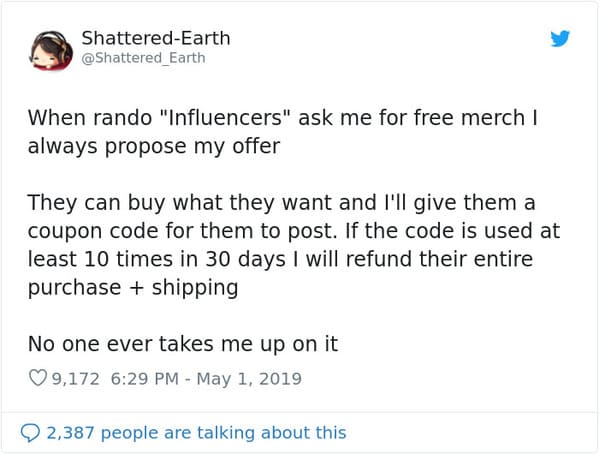 2. Influencer Tries To Get Accommodation For Free, They End Up Banning All Bloggers From Their Business

3. White Banana Beach Club Makes A Wild Suggestion To Influencers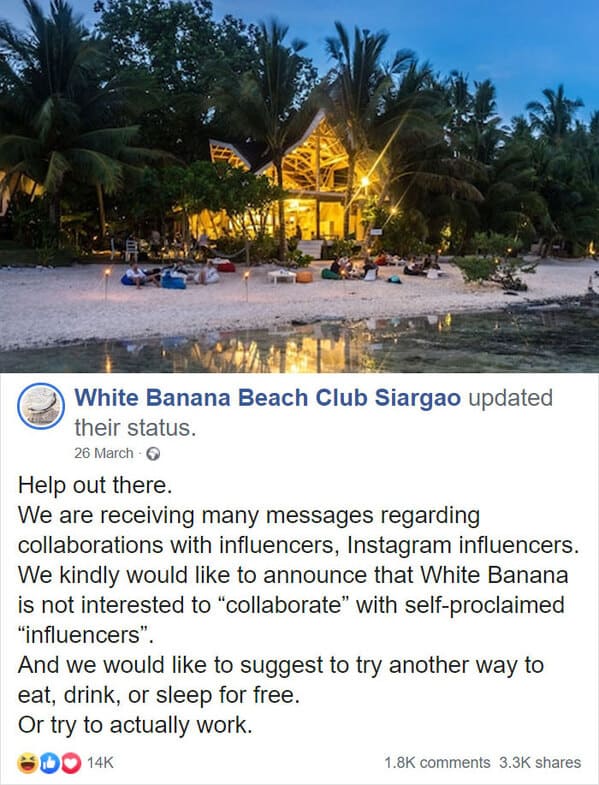 4. This Ice Cream Man's Response To A Choosing Beggar Gives Me Hope For Humanity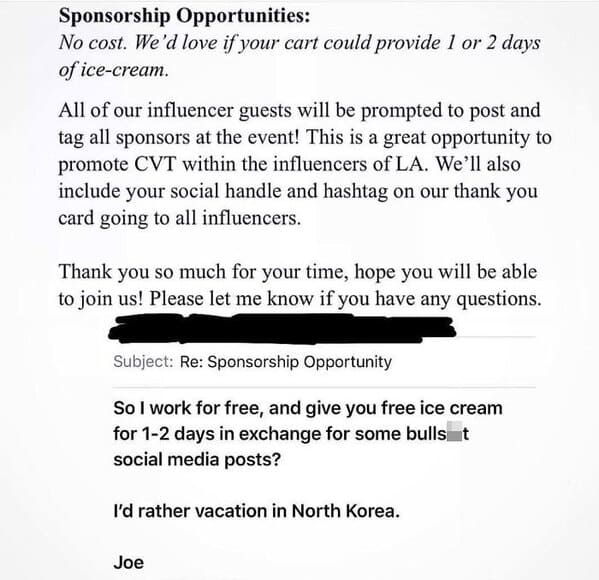 5. Sick And Tired Of Influencers This Ice Cream Place Introduces A Special Offer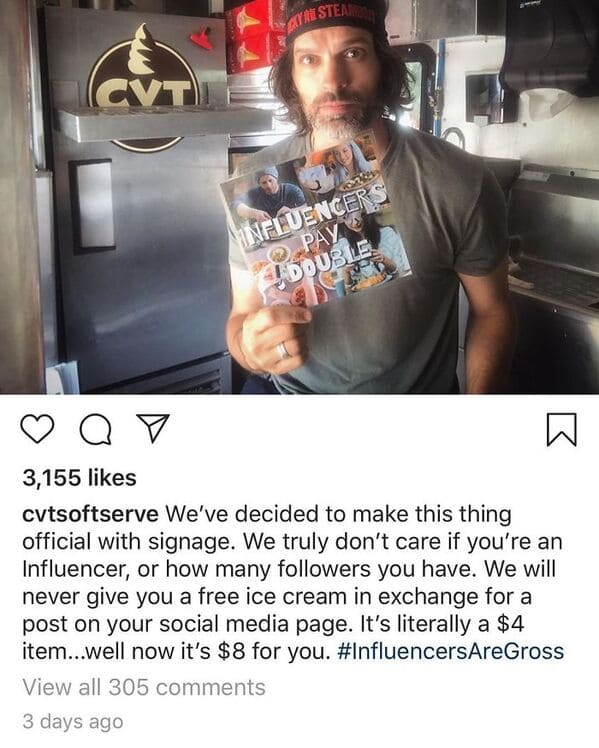 6. Influencer Claims Their Work Is Very Hard, Gets Shut Down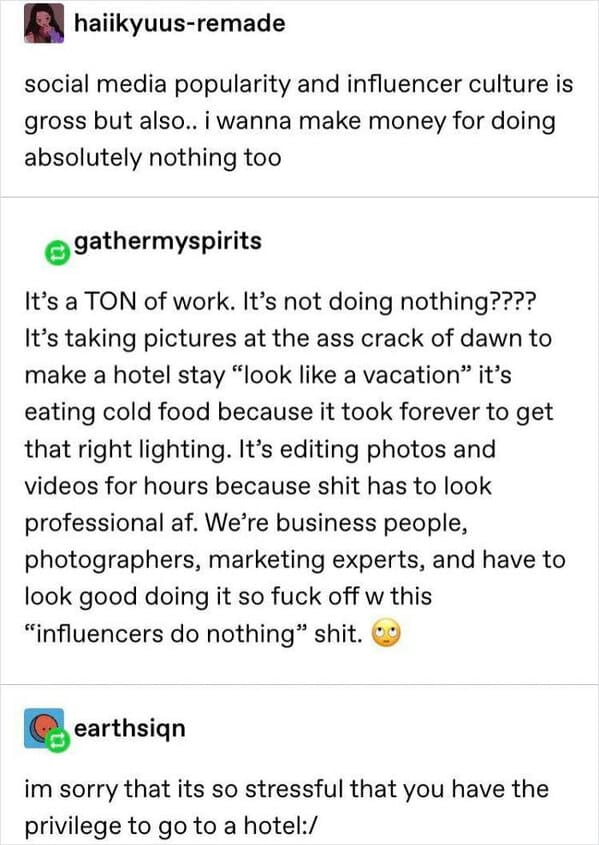 7. The Only Way To Protect Your Business From Wild Cb's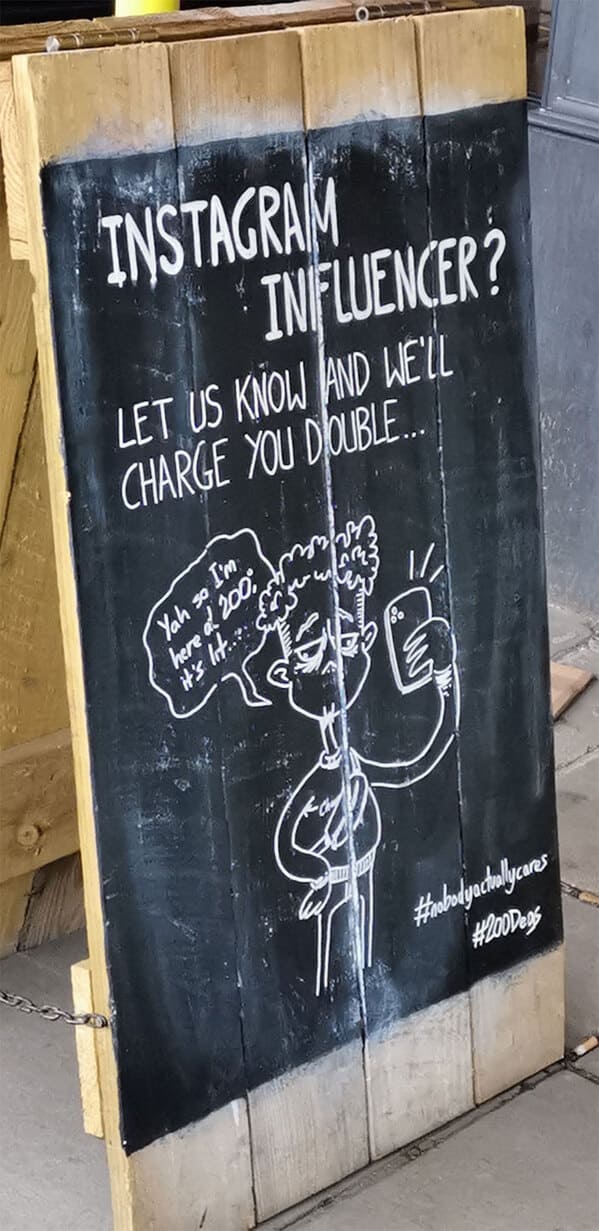 8. This Fake Guru Has 186k Followers And Always Post About How Much Money He Makes


9. The Way They Started Their Letter Is Worth A Separate Post

10. D Grade Reality Cook Tries To Offer Exposure To Award Winning Restaurant

11. Influencer Asks To Provided Food For 300-320 Guests For Free

12. "I Guess I Just Lost The Biggest Opportunity Of My Life"

13. Restaurant Believes This Influencer Has No Right To Review Their Place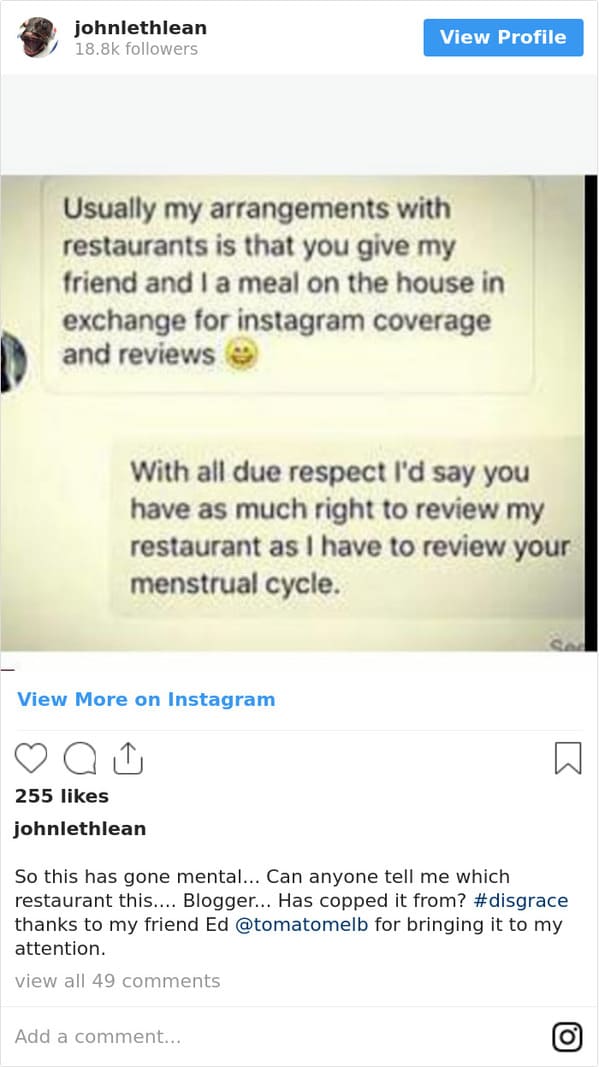 14. This Influencer Was Looking For A Personal Trainer That Would Pay Her For The 'Incredible' Opportunity Of Training Her

15. My Friend Is A Photographer And He Told Me That He Usually Gets Tons Of Messages Like This One!
16. Clothing Designer Is Surprised With Influencer's 'Great' Offer

17. Yelper Is Mad Because Restaurant Didn't Them Free Meal In Exchange For Potential Ig Exposure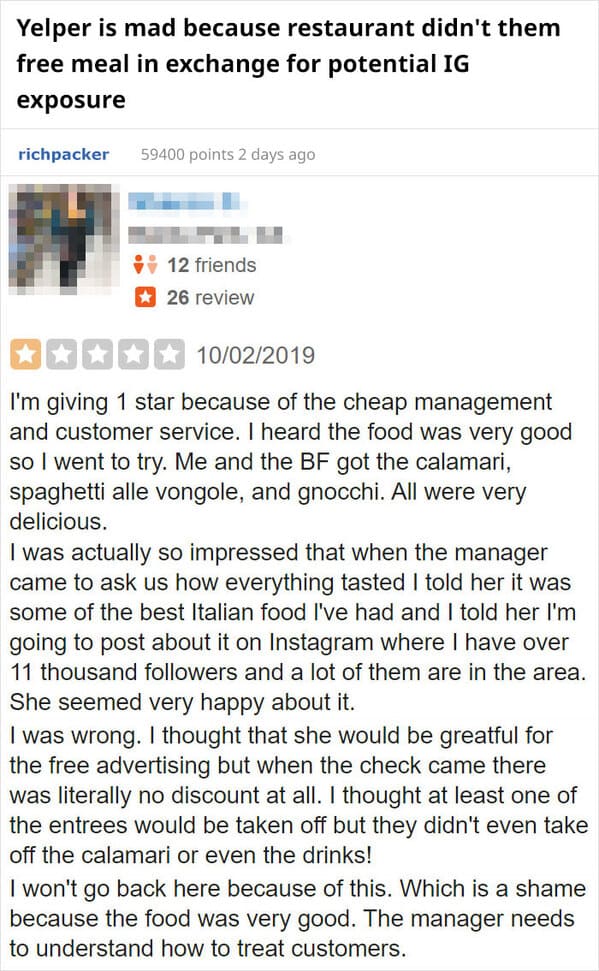 18. Yeah I Need Exposure, But Not This Way, Also I Think The Amount Of Emojis He Used Is Scary

19. Burgers For Bullcrap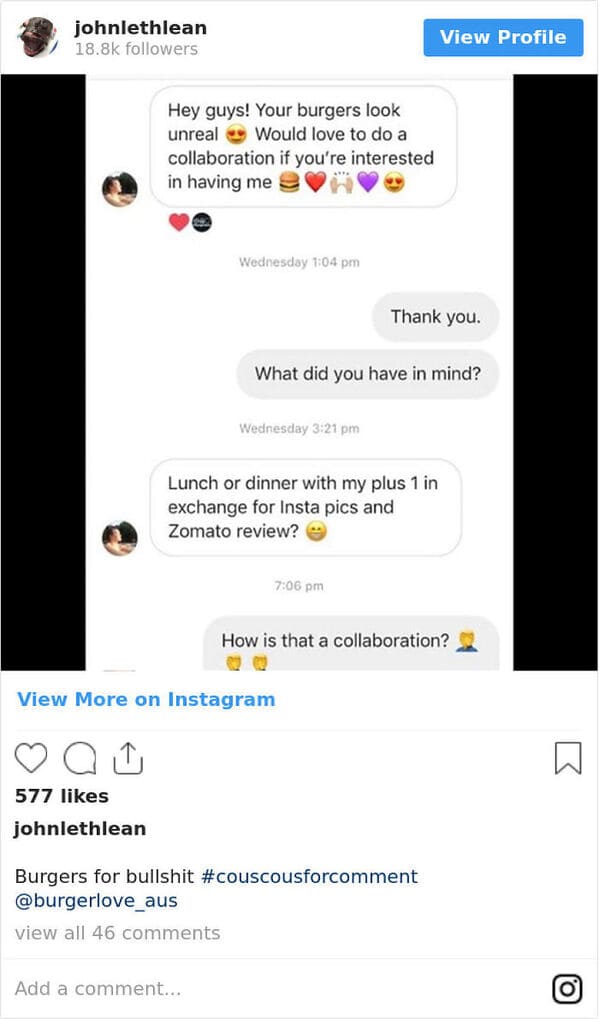 20. 'Influencer' Bride With 55k Followers Tries To Get Wedding Shot For Free, Photographers Destroy Her With Sarcastic Response

21. Why Is It That When You Turn Down "Promotion!!!" In Exchange For Real Hard Work, These People Instantly Do A 180?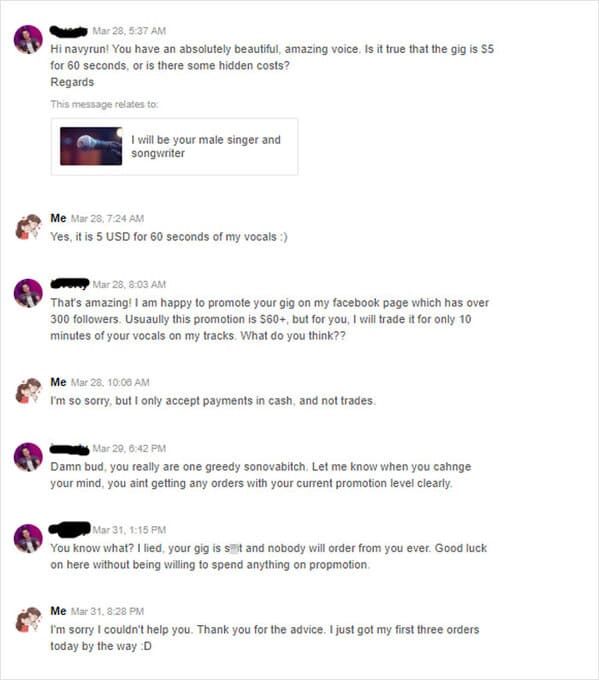 22. Likes Do Not Pay The Bills Ma'am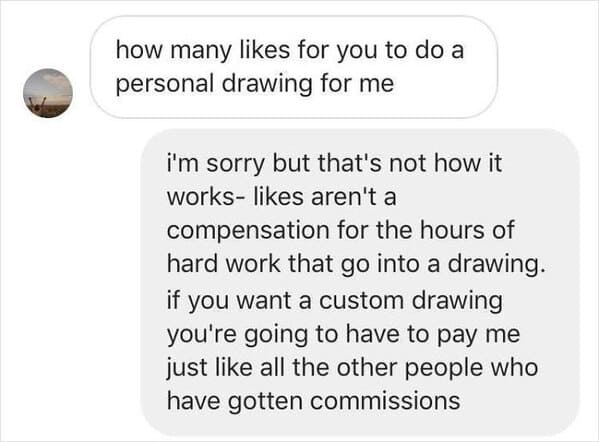 23. "We Kindly Retract Our Wish To Work With You"

24. Free Food In Exchange For Posts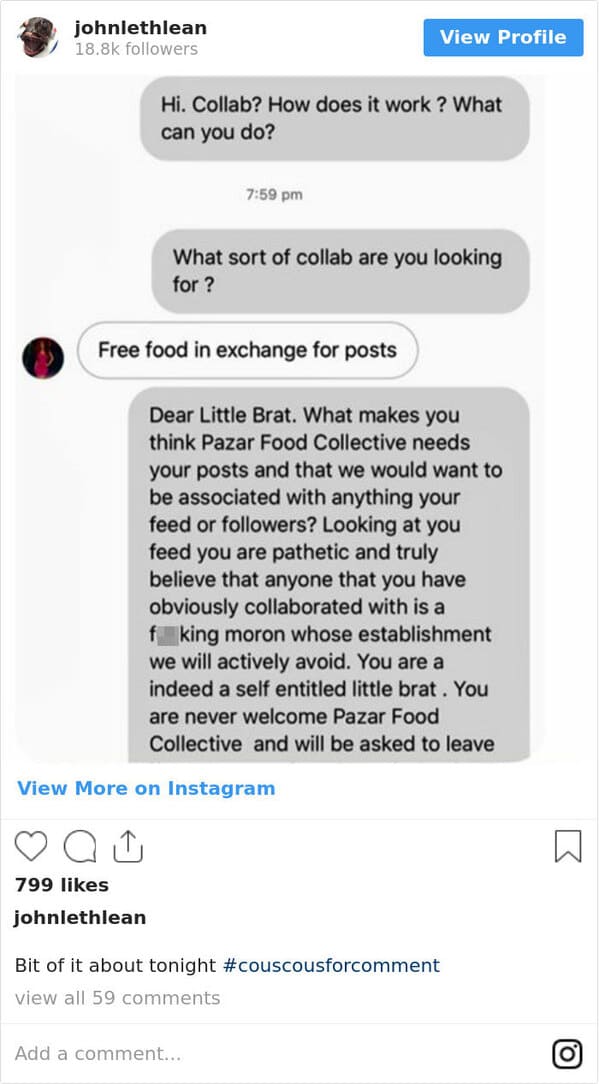 25. Traveling Blog Asks If They Can Feature A Hit Restaurant In Their Blog – Then Ask To Be Compensated For It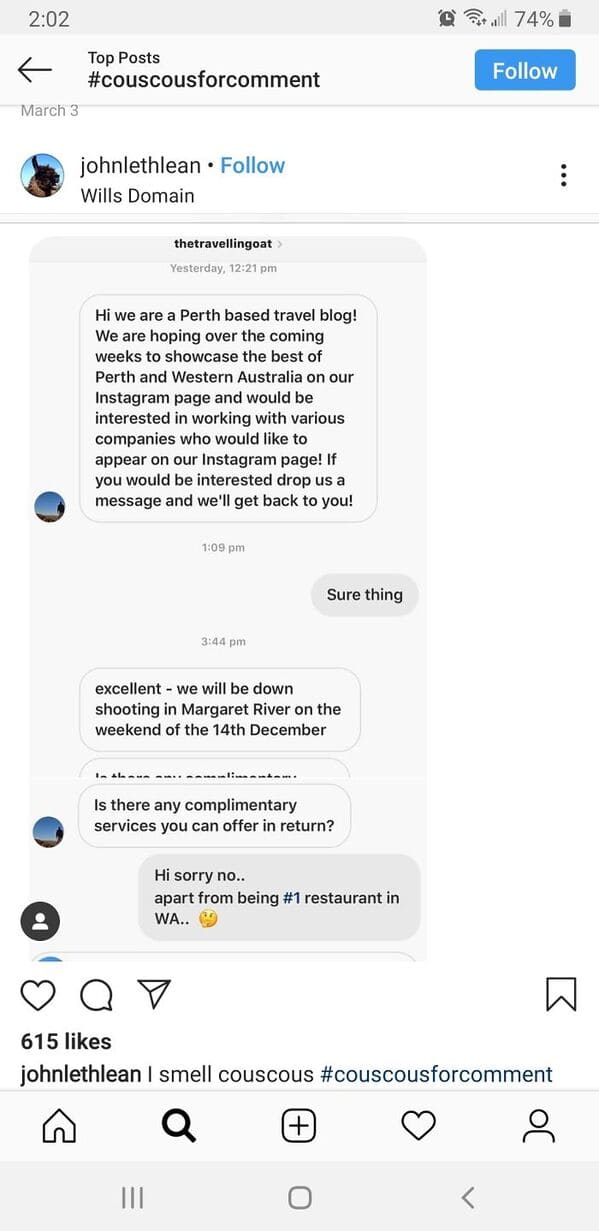 26. Laura Worthington Of Laura's Little Bakery Is Sick Of People Asking For Freebies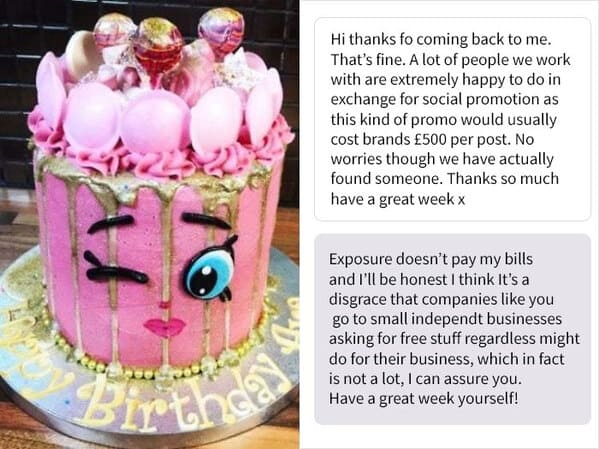 27. He Said He'd Fry My Router So This Is Goodbye

28. For Anyone Who Wants To Know What Happened To Towie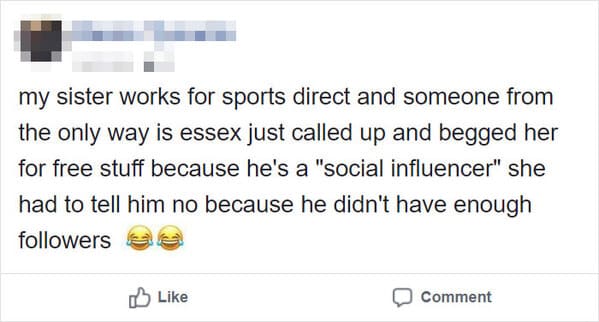 29. New Tactic Against Influencers? He Never Responded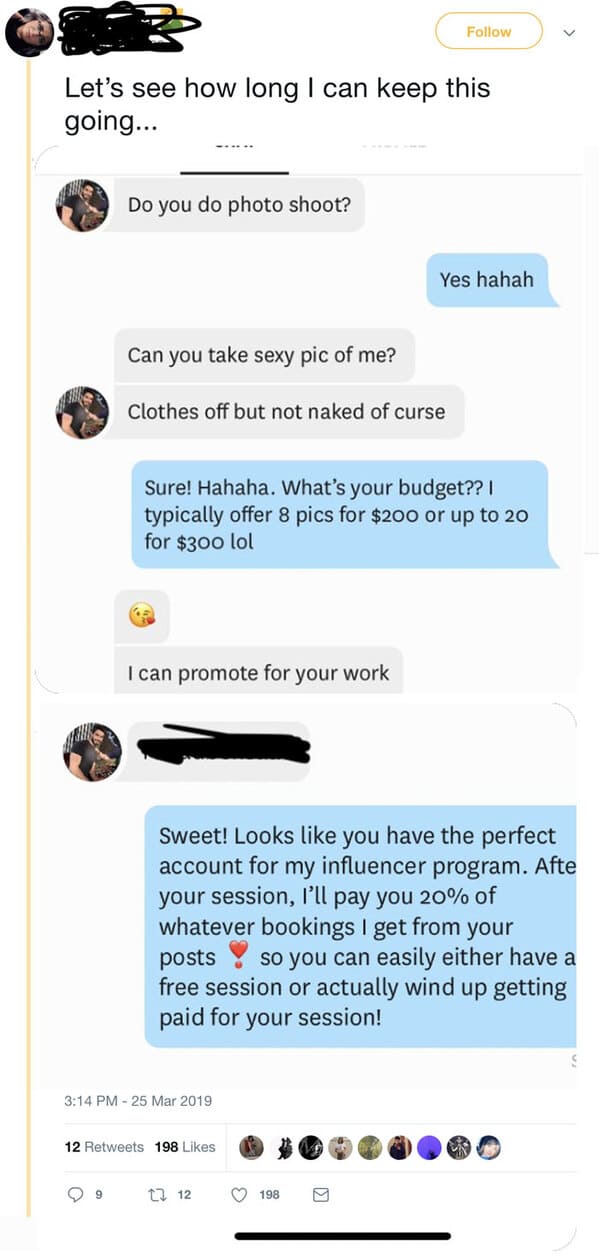 30. Bachelorette Contestant Wants Free Rent To Be "Live-In Influencer"