HBO released a sizzle reel of its 2019 shows during the Golden Globes last night, revealing a brand new Game of Thrones Season 8 teaser.
#GameofThrones returns to @HBO this April. pic.twitter.com/1muHcwJIFJ

— Game of Thrones (@GameOfThrones) January 7, 2019
Sure, it's a mere four seconds long. But subtle details abound.
For example, new credits roll over Winterfell, with what appears to be Daenerys' army camped outside: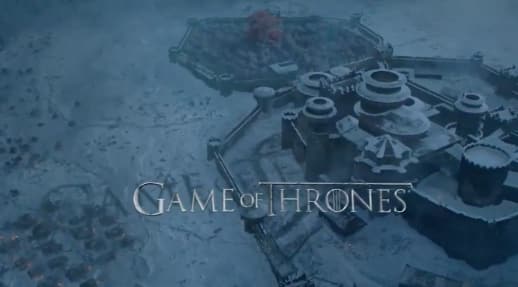 Jon introduces Sansa to Dany, who is flanked by Jorah Mormont.
Sansa Stark welcomes Dany, though not without a hint of distrust and disdain(???) as Brienne of Tarth looks on with suspicion (granted, she nearly always looks like this):
Dany nods, though the tension is PALPABLE: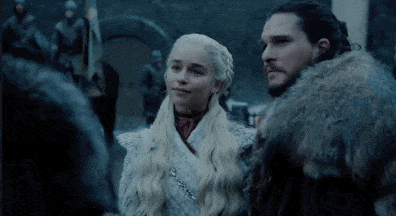 Also, dragons.
Needless to say, we're ready. WE'RE SO READY.
Jon and Dany walks up to Sansa.

Sansa: "Winterfell is yours your grace."

*Sansa secretly judges Dany.*

Dany nods in response.

I'm feeling the tension already!!! Start the intro theme 😁 pic.twitter.com/taBJibPSTu

— dahi🌌 (@dahiskywalker) January 7, 2019
https://twitter.com/mustansirt52/status/1082100292819214336
I feel like Brianne in that scene. She felt it too. pic.twitter.com/uM55SkRNUd

— dahi🌌 (@dahiskywalker) January 7, 2019
YOUR GRACE pic.twitter.com/TiE2lPT4CY

— Paul Santasieri (@paulie_nuts) January 7, 2019
GIVE ME THE FULL TRAILER SHAME

— issa (@twaimz) January 7, 2019
Sansa, before saying "Winterfell is yours, your Grace " —- pic.twitter.com/MFVopJfmyu

— Victor Mitroff (@VictorMirnoff) January 7, 2019
https://twitter.com/Suggested98/status/1082099480340635648
The entire Game of Thrones fandom to @HBO: pic.twitter.com/kSp9UT1zXw

— Game of Thrones Memes (@Thrones_Memes) January 6, 2019