If you grew up basically anytime after the movie Grease was released, plus or minus five years, you almost certainly know the iconic duo, Danny Zuko and Sandy Olsson, two hot young kids who met one summer and thought they'd never meet again. Until! Sandy shows up at Danny's high school, where she's thrilled to be reunited with her beau. Unfortunately, he's not the big romantic softie she remembers. He's a dirty greaser, with a reputation for womanizing to uphold.
The two eventually find their way back to each other, and Sandy reforms her image to be a little more daring and to include a pair of pants so tight she had to be sewn into them for the final number.

That was not the outfit actress Olivia Newton-John chose to wear to a recent reunion with her co-star John Travolta. The two appeared in their first scene costumes at an event Buzzfeed reports is called Meet 'N Grease in Florida this weekend. Newton-John posted a picture to Instagram of herself and Travolta walking hand-in-hand to meet a huge crowd of fans who had arrived to do a sing-a-long viewing of the film and a special question and answer session with the stars.
She captioned it, "First time in costume since we made the movie! So excited!!"
View this post on Instagram
Travolta posted the pic to his Instagram, too, along with some videos of the crowd going wild for the stars. The songs are so catchy, the dances so lively, the character accents so iconic. Seeing these two together again made everyone lose their minds.
"#Grease is still the word," Travolta wrote, and it sure seems to be true:
View this post on Instagram
He also shared a picture of himself and Newton-John sitting in their magic car, looking over their shoulder, as they did at the end of the film: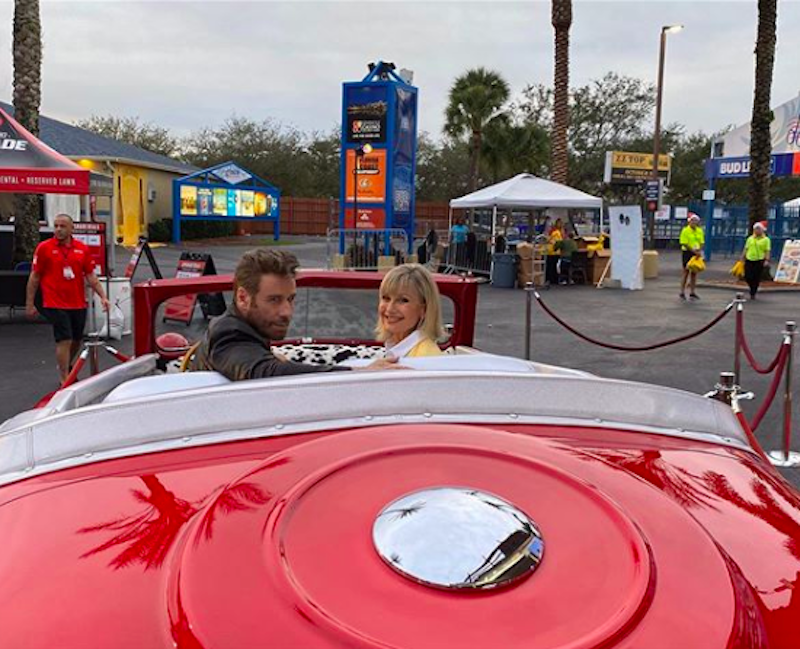 Sandy! Danny! Don't leave us!
Grease is still the word, baby.