It seems like forever ago, but before internet streaming and before DVDs we used to watch movies on VHS tapes. Actual, physical tapes that would get watched in the VCR, and would have to be rewound at the end of each viewing. VHS tapes, while big and clunky, were nowhere near as durable as DVDs, and some tapes we watched until we literally wore them out. It was like the Dark Ages. I don't know how we ever survived.
Some of you are probably too young to even remember VHS tapes! But recently, comedian Jesse McLaren tweeted, "Reply with the VHS you wore out as a kid," and oh boy, did that bring the memories flooding back.
Reply with the VHS you wore out as a kid.

— Jesse McLaren (@McJesse) May 3, 2019
McLaren posted the tape he'd watched the most, which was Peter Pan starring Mary Martin from 1960 (the movie, not the tape), writing that it "pretty much sums up my twenties in Brooklyn."
This is mine which pretty much sums up my twenties in Brooklyn. pic.twitter.com/1m1hHsc6b0

— Jesse McLaren (@McJesse) May 3, 2019
His answer was a super popular one, because so many people replied that they also watched their copies to death.
Same!!

— Lady of House Cats (@jodieorcutt) May 5, 2019
I can second this

— Michelle (@Sunraeson) May 5, 2019
OMFG I WATCHED THE SHIT OUT OF THIS but thankfully it never stopped working.

— Lau(Ryn) (@ryncogneato) May 5, 2019
I was obsessed with this – so much so that there was a three-week period at age 6 where I wouldn't leave the house if I wasn't wearing a Peter Pan costume. I pity my mother.

— Ingrid Catlin (@blueingy) May 5, 2019
I wore that one out, too! But the first was definitely Bambi when I was a toddler. I watched that the way kids were watching Frozen.

— Sarah (@Lynariela) May 5, 2019
Holsy shit I've never come across some else obsessed with that. When Mary Martin died my parents let me stay home from school.

— Mariah Klapatch (@MKlapatch) May 5, 2019
Omg I was going to say this!!!! But ours was taped off the TV! ❤️❤️❤️

— Sarah Weng (@SarahLWeng) May 5, 2019
I WAS LITERALLY ABOUT TO TWEET THE PETER PAN WITH MARY MARTIN IN SCREAMING AHAHAHABA

— stitch (@randahaley_) May 5, 2019
Hook, which starred Robin Williams (RIP) and which was also a Peter Pan story, was another popular one.
— I'm Not Josie Grossie Anymore (@_CousinPete) May 3, 2019
And the replies started pouring in. People posted all sorts of movies they were obsessed with as children.
LOVE IT pic.twitter.com/g77nR1opE9

— saltine -A SIMP STAN ACCT- (@saltinesquad) May 3, 2019
It goes to 11… pic.twitter.com/lGrGWlzPCp

— Paul Myers (@pulmyears) May 5, 2019
Since most people didn't have the actual VHS tapes anymore, a lot of people sent gifs of their favorite flicks.
An American Tail pic.twitter.com/BMPZud3Yqe

— Mike P Williams (@Mike_P_Williams) May 4, 2019
Omg yes. And Rescuers pic.twitter.com/IoXvLwfemq

— joe (@goulcher) May 4, 2019
Home Alone. Multiple copies.

— Ashley Nicole Black (@ashleyn1cole) May 5, 2019
— Yashar Ali (@yashar) May 5, 2019
Sweatin' to the Oldies, biiiitch pic.twitter.com/pPbX9TWVqM

— Louis Virtel (@louisvirtel) May 5, 2019
People also brought up the bootleg tapes, the ones you made yourself using a blank VHS tape and waiting until the movie you wanted was being shown on cable.
A relative taped it when it first came on cable. pic.twitter.com/MB2ccBV1BO

— Jamil Smith (@JamilSmith) May 5, 2019
My grandparents gave me a bootleg tape of this for my 10th birthday in '85. Still to this day, one of my most meaningful gifts ever. pic.twitter.com/mjCsO2FhOB

— Jamil Smith (@JamilSmith) May 5, 2019
— MovieBitches (@MovieBitches) May 4, 2019
I remember sobbing when the VCR ate my Mary Poppins tape right at this exact moment. pic.twitter.com/p06uLxc6K0

— Jennifer Land (@JenLandSD) May 5, 2019
— heather leigh (@hotshoes) May 3, 2019
Didn't have VHS when I was little but I wore out my copy of the Terminator a wee bit later. pic.twitter.com/ByPvPaOyHU

— Victoria Rudd ️‍ (@Babyshome42) May 5, 2019
— Sean Erreger, LCSW (@StuckonSW) May 5, 2019
Some people even watched the movies so often they wore out more than one copy. That's dedication.
Twice! pic.twitter.com/XznWOkgLyU

— Ellejay (@ellejay1501) May 4, 2019
Nowadays, people don't have to worry about VHS tapes wearing thin from being played so often. But there's something a little sad about that, too.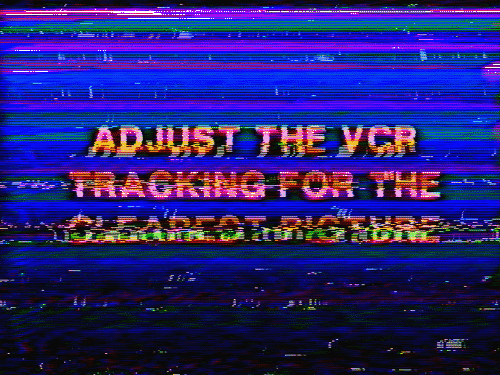 h/t: Twitter: @McJesse