Style is subjective. Fashion trends and fads change all the time. For men, though, these sartorial shifts are slower than they are for women. Frankly, men have been wearing crew neck sweatshirts for 50 years, and no one's really complained.
Occasionally, however, men take a stand. They say goodbye to their Rick & Morty t-shirts, and try to spice it up. Sadly, they often take it a step too far.
The hilarious writer Jessica Saia compiled a list of the "shoulds" and "should nots" of men's clothing. Men need guidance in just about everything except "how to talk exhaustively about Bitcoin." Jessica Saia is here to help. I had the pleasure of interviewing her about this piece and what she's working on now.
Here's how she introduced the original piece: "Fashion is a slippery slope, and if American Apparel has taught me anything, it's that we're just a few seasons away from a deep V that ends at the Earth's mantle." How far will men take it? Hopefully Jessica can stop them before it goes too far.
Here are the funny dos, don'ts, and please don'ts of men's fashion:
---
1. How to wear cutoff shorts.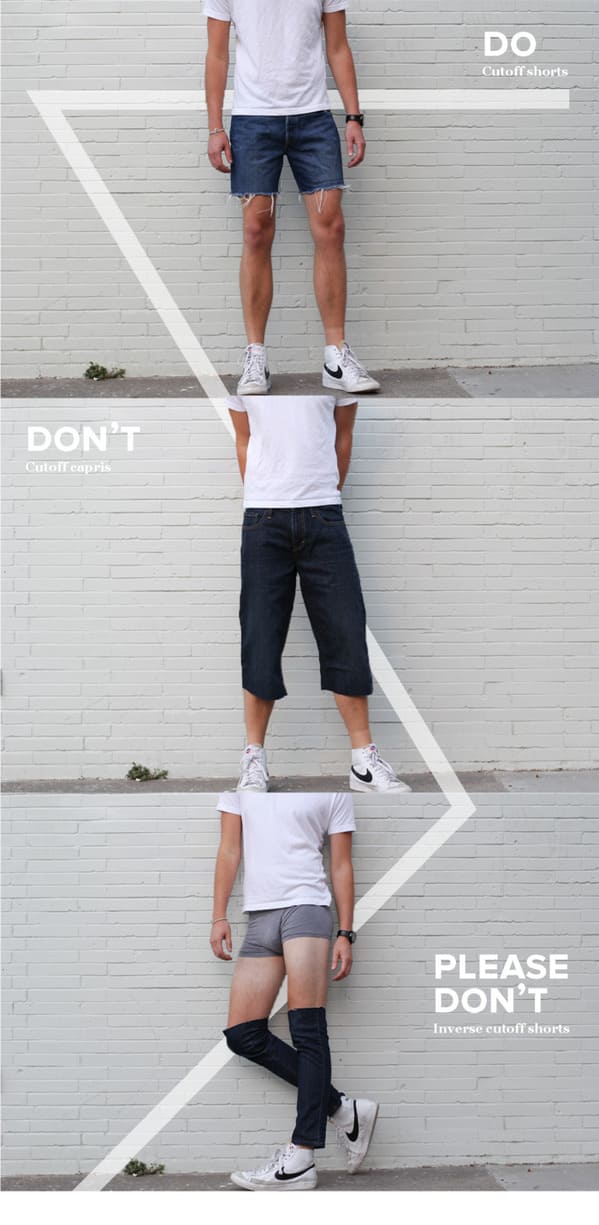 Times are strange in America. We're a full year into the pandemic, and I wondered if anything had changed, fashion-wise now that we don't actually see other humans all that often.
Jessica knows there's a balance between style and comfort even now: "At a point during the pandemic—sometime last summer—my mom mailed me a pair of shoes that are incredibly ugly but incredibly comfortable. Just, wow. Wow to both the ugliness and comfort. They look like… how do I describe these shoes. They look like scrunched up, two-toned socks attached to giant black plastic soles with an air bubble in the heel. She saw an ad for them online and you had to buy three pairs at once to get a deal (of the same size??). I don't get it, but I can NOT stop wearing these FREAKY SHOES. When I wear sunglasses on walks, I see people do double-takes and stare at them. I was hoping they might be cool, somehow. They're not. "
2. Teaching men how to wear a watch.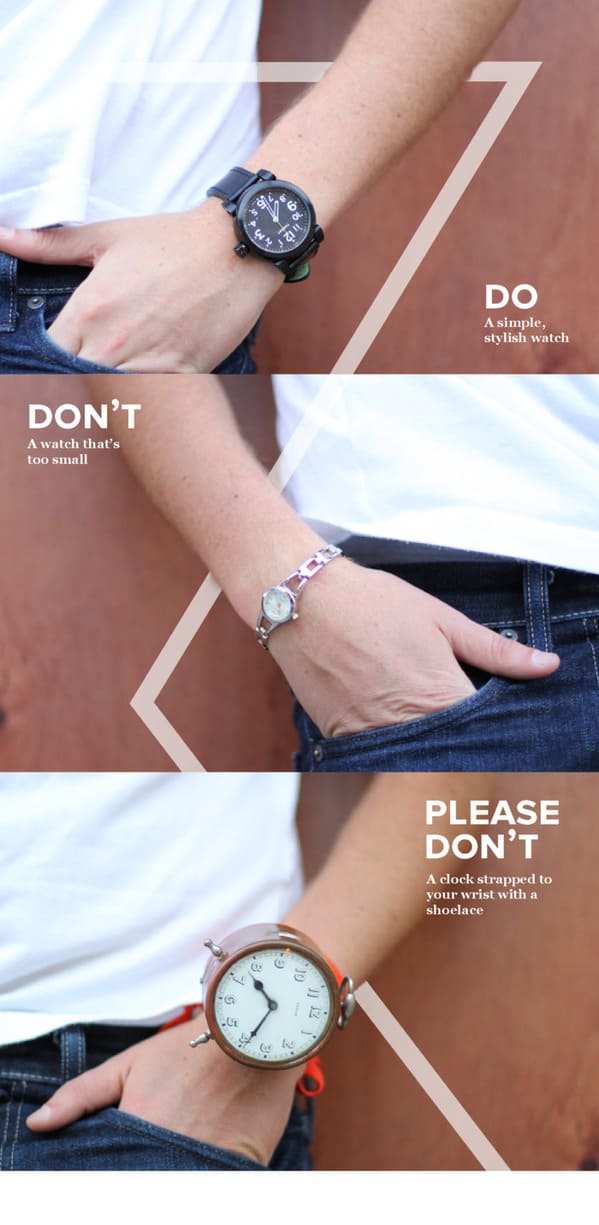 3. The infamous V-neck.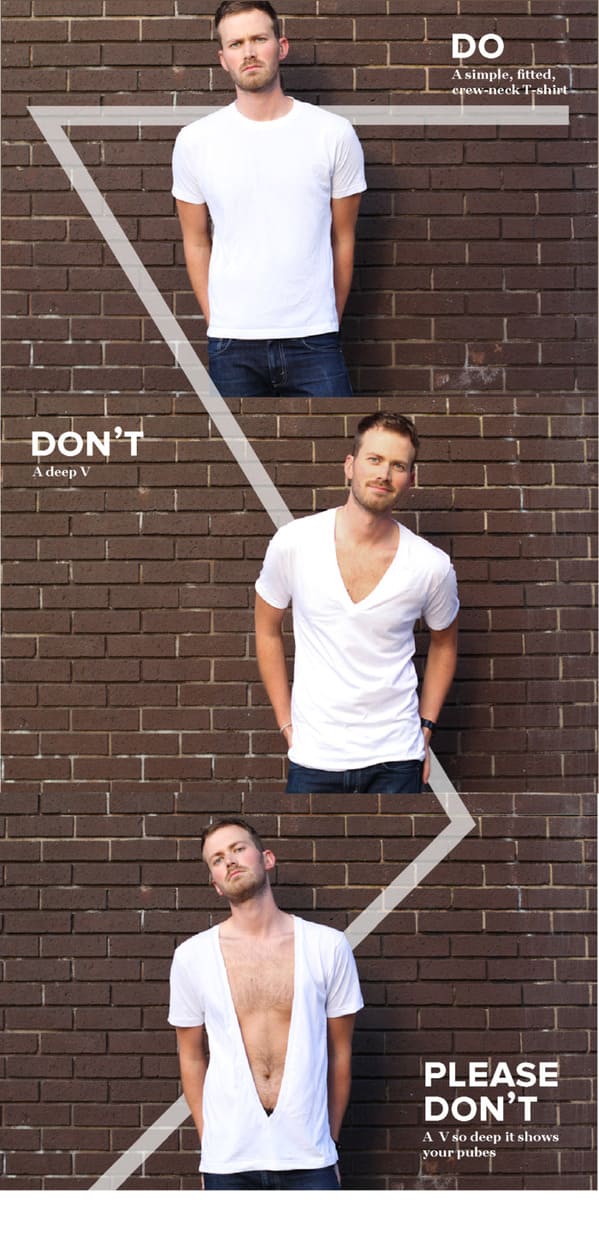 At the time she wrote the piece, Jessica knew the deep V would continue to grow. I asked if she currently had any fashion pet peeves, and she had a very specific answer: "I'm peeved that parasols aren't more fashionable yet. YET!!"
When I asked if the pandemic specifically helped or hurt her prolific parody writing, she wasn't afraid to tease a cutting-edge new video project: "I've been working on a music video of my friend whistling. COVID has definitely made it worse."
4. Here's how to wear sandals, guys.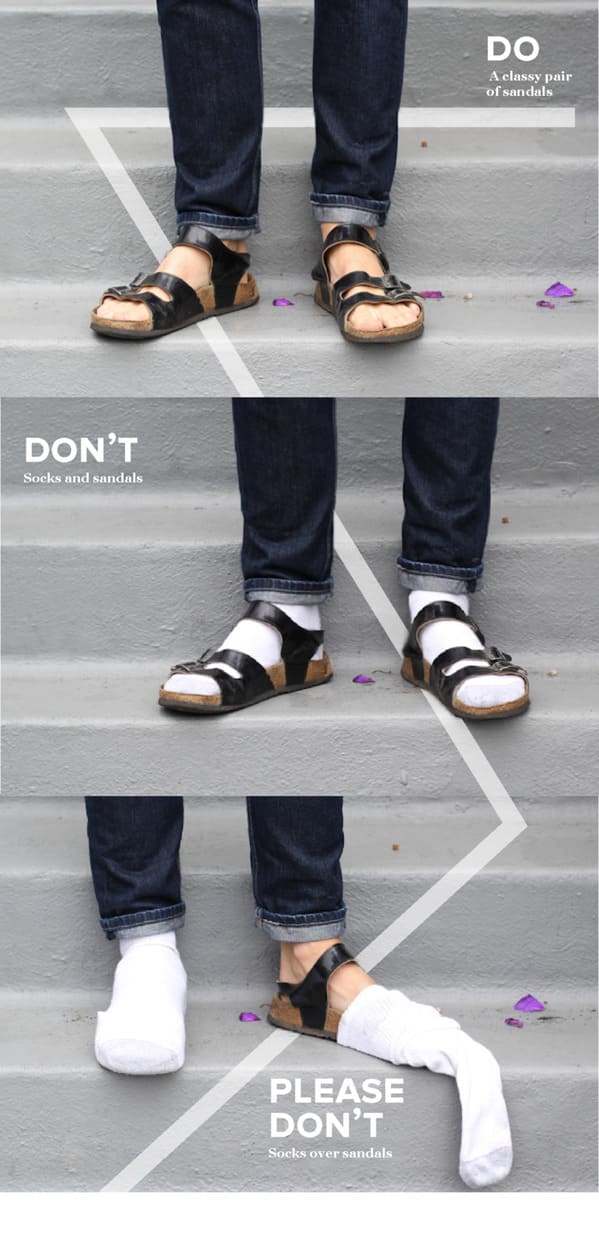 On the list of funny projects she's worked on, Jessica's finest might be the postcards created with her friend Luke Foss about the lovely (but overrated?) site of San Fransisco.
When I asked about her favorite project, however, Jessica had a sweet story to share: "This was more of a prank than a parody, but my fiancé (Ryan) and I go to a thrift store in the neighborhood pretty often. He always looks at the paintings. One day as we were leaving, he told me, 'I just know one day I'm gonna find an amazing painting there.'"
"About a year later, I sent a photo of a shelf in his room (he calls it his 'shrine area' with all his favorite tchotchkes) to a professional artist and commissioned him to paint a two-foot still life painting of it. It took months, but when it was finished, I asked the thrift store to hang it with the rest of their art. Then I casually asked Ryan to get lunch (this was pre-COVID). We passed it on the way to the restaurant and casually popped in. I was dying the whole time. Finally, finally on the way out he stopped to check out the paintings and let out the most dramatic gasp I've ever heard in my LIFE.
"It was like a BAD PLAY! I got to watch his brain short circuit in front of my eyes. "This is…my room?! This is mine!" God, it was incredible. My roommate was hiding in a rack of clothes filming it and I've watched the video well over 100 times."
5. The choice of glasses and the way you wear them count, men.
6. Do not do this.
Check out Jessica's other work here.