It's hard to believe Christmas is only a week away, but we couldn't be more excited. One of the most enjoyable parts about the holiday season—aside from the gifts and eggnog—is the decorations.
Author Diana Rowland is no stranger to this and loves to cover her own lawn in Christmas decor. This year, she decided to take a fun but less traditional route with her decorations and one of her neighbors wasn't too thrilled.
In anticipation of the holidays, author Diana Rowland decked out her lawn with three playful Christmas dragons.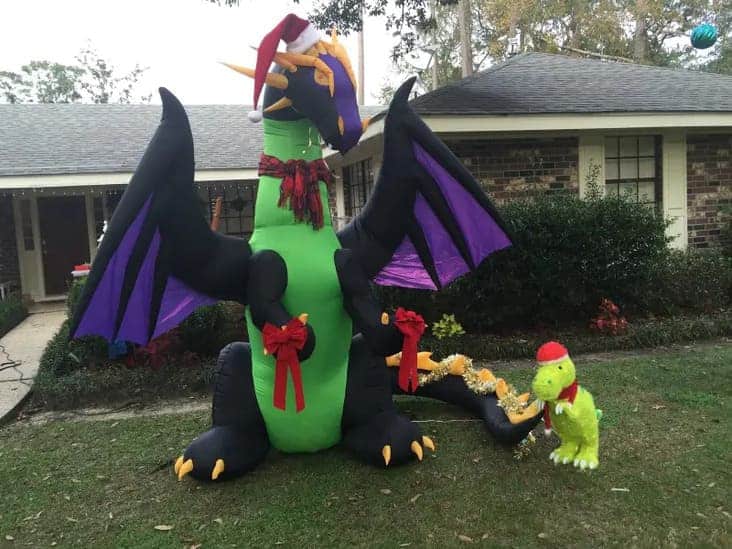 Unfortunately, not all of her neighbors were on board with the display.
One rather uptight Grinch left an anonymous letter on the Rowlands' door expressing their distaste.
An update to yesterday's tweet re the letter I received from an anonymous, judgy-mcjudgyface neighbor who disapproved of my dragon display and asked me to consider removing them: I have added more dragons. pic.twitter.com/OxsFQs5yQ1

— Diana Rowland (@dianarowland) December 16, 2018
Fortunately, Rowland has a great sense of humor and kindly agreed to "fix" the dragons by adding halos.
She also added two more friendly dragons to the display.
Needless to say, commenters loved the entire exchange.
Our dragon holiday display got fan mail! (And apparently the "true meaning of Christmas" involves judgmental bullshit?) 😂 pic.twitter.com/7NLZKkEW2x

— Diana Rowland (@dianarowland) December 15, 2018
Rowland was more than grateful for the support and used her newfound virality to inspire followers to help support an important cause.
Hi, everyone! I've been getting a lot of messages about fundraisers/collections to buy me MORE DRAGONS, but I would much rather any Dragon Army money be donated to a worthy charity of your choice. Let's make this holiday season about joy and charity for all. Thanks!!

— Diana Rowland (@dianarowland) December 16, 2018
Moral of the story, never mess with the Mother of Dragons.