Until you've worked in the food service industry, you have no idea how difficult the job can be. The customers, the meal-time rushes, the hot kitchens, the customers, the lousy tips, the mess (and oh, did we mention the customers?) can really be a lot to deal with.
There are certain truths that only servers know (like that the customer definitely isn't "always right") and those truths are encompassed in these 21 tweets.
1.
Waiting for the day emojis are on POS systems at restaurants. So when a guest is being annoying I can put "🙄" on the ticket.

— Alyssa Baker (@a_bakee) December 10, 2017
2.
customers wanna be right sooooo bad. like damn go clock in since u know so much

— NM (@ninamorla) October 3, 2018
3.
I just want customers to know when they complain we don't get in trouble we just make fun of you later..so who's the real loser here

— Too Sassy (@IssaSassyBitch) August 5, 2017
4.
There's 7 million people in this world and you think I'm gonna let one customer with a bad attitude to ruin my day??? damn right I am I'll probably even go cry in the freezer too

— Jenna Cherry (@maybe_jenna) July 14, 2018
5.
The only people that will ever have cash on them: 1. Drug dealers 2. Servers

— Hales (@haleyoliviaa) July 25, 2018
6.
I could die and my job would get a ouija board and ask if I got someone to cover my shift

— kimzee (@life_iscraZZy) March 27, 2018
7.
the Purge but instead of killing for 24 hours we get to talk to customers the way they talk to us

— Amy Carroll (@Carroll_Amy_) November 9, 2018
8.
no situation is more uncomfortable than when a parent orders a drink and then their 21 year old orders a drink so u HAVE to id them but then the parent asks why didn't u id me? bc u have wrinkles sharon stop making me feel weird

— marina (@marinagovv) July 29, 2018
9.
Millennial who is probably struggling to pay for their rent and education: tips at least 20% every time

Above 40 with a platinum black credit card that weighs 3lbs: $1

— Andrea (@andee233) January 29, 2018
10.
I finally got to use the restroom since coming in at 10:45 am to my customer coming in and knocking on my stall asking for another round and letting me know she was ready to order dinner

— hot tamale (@champaaaanemami) December 31, 2018
11.
I gotta get this off my chest. I accidentally served a lady spinach artichoke dip thinking it was broccoli & cheddar soup. she ate the whole thing and said it was one of her favorite soups she's ever had

— David Dunkovich (@DavidDunkovich) May 25, 2018
12.
Me training a new person at my job:
"So you're not really suppose to do this but this is what I do"

— Mariah Hartjes (@mariah_hartjes) July 17, 2018
13.
Carried 3 desserts over to a table for a customer to say 'Yh we actually ordered 2 cappuccinos with that' RigHT I must of accidentally left them in the kitchen along with my 3rd arm Brian

— charlotte (@CharlotteCrook2) June 16, 2018
14.
I wish that guest checks showed all of their modifications so they can see why their 'bacon burger medium well no bacon sub tomato add jalapeño sub lettuce wrap cut in half no burger sub pasta add shrimp' took 25 minutes instead of 15

— Giselle Mitchell (@giselllleeee) May 26, 2018
15.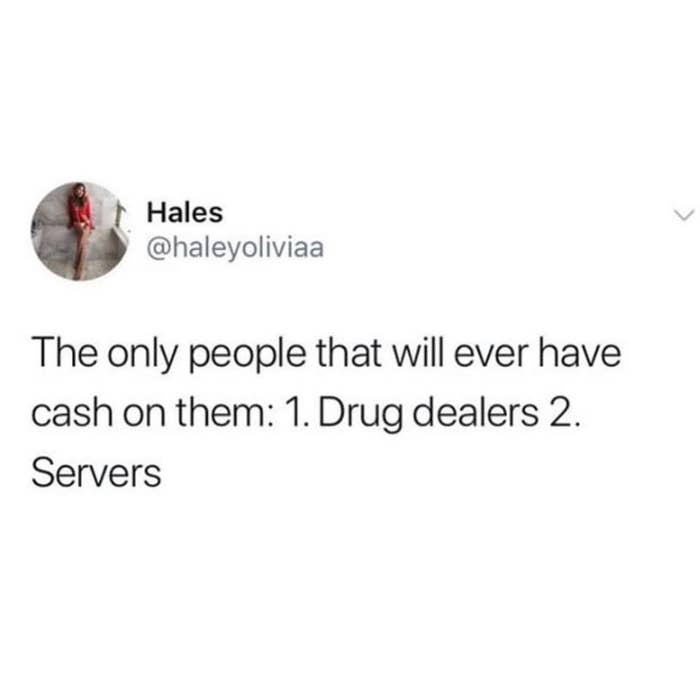 16.
Said "sorry for the wait" to customer today and she turned around and said "no you're not". you know what you're right

— Stephanie France (@Stephfrancex) November 26, 2017
17.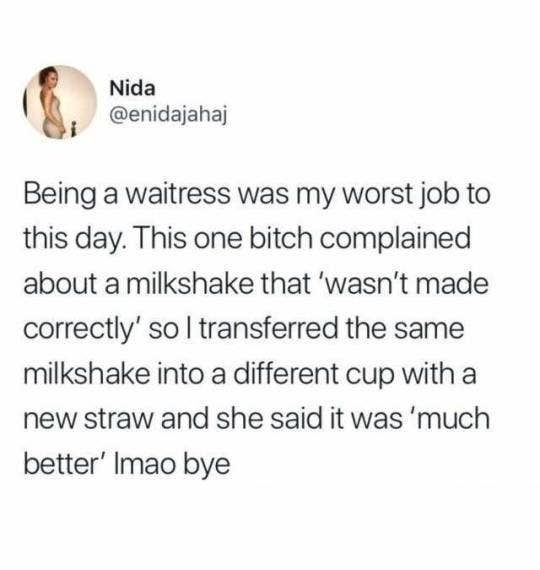 18.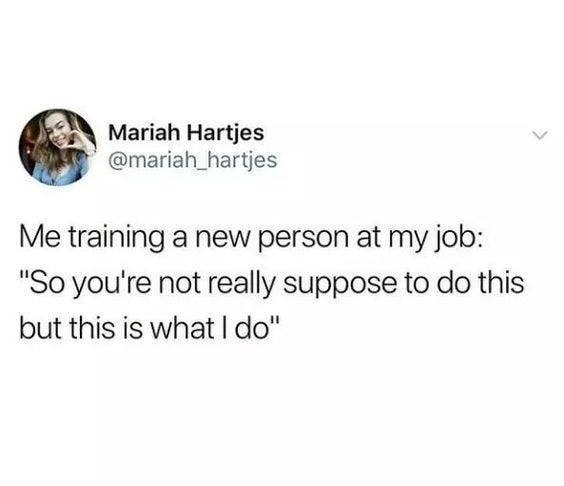 19.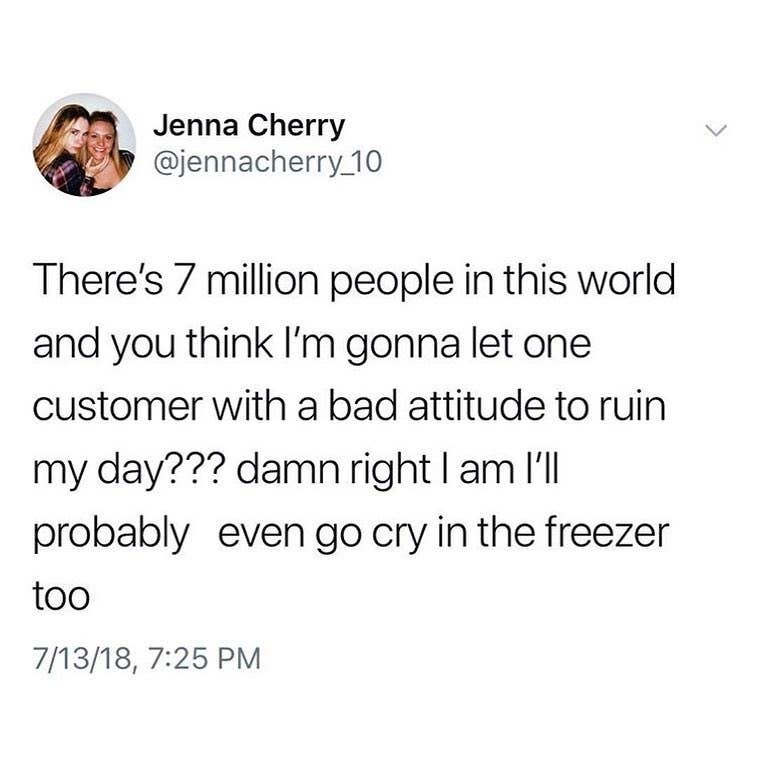 20.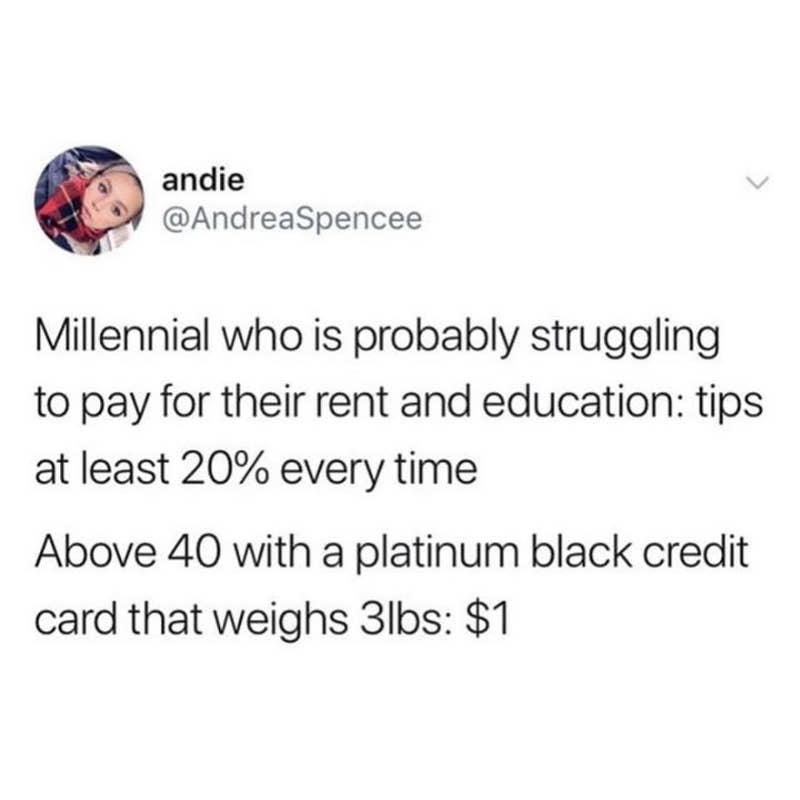 21.
Therapy: expensive

Venting to your coworkers bc you know they literally can't walk away and are stuck near you for another 3 hours of this shift: free

— Kels (@Keally22) November 30, 2018
h/t:BuzzFeed