You can learn a lot in the review section for a product on Amazon. You can find out if people like the product. Or see if they absolutely hated it.
Or you might even hear a story about how they use that product to get hilarious revenge on their ex-wife. Wait…what?
Yeah, you heard me.
That's what this bitter husband did when he left a review for a smart touchscreen thermostat that allows you to control temperature from anywhere.
I'd tell you more, but you should just read the review in all it's glory. Of course there's always the chance that this entire thing has been made up, but isn't it so much better if we all believe it to be real?
And even if it is fake, at least give the person some credit for creativity. It just might be the greatest Amazon review ever.
Note: The text in the screenshot might be a little small, so the review has been transcribed right below.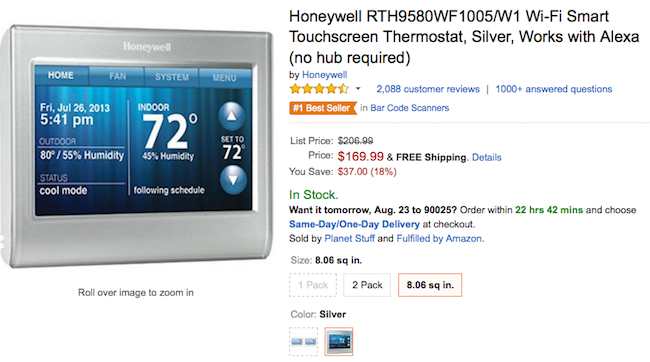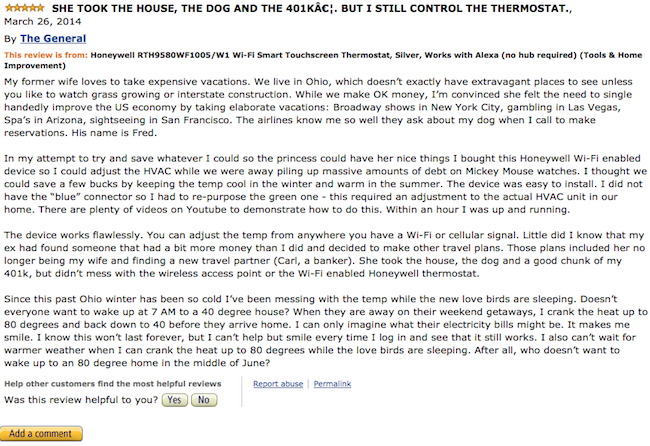 SHE TOOK THE HOUSE, THE DOG AND THE PENSION, BUT I STILL CONTROL THE THERMOSTAT., March 26, 2014
By The General
My former wife loves to take expensive vacations. We live in Ohio, which doesn't exactly have extravagant places to see unless you like to watch grass growing or interstate construction. While we make OK money, I'm convinced she felt the need to single handedly improve the US economy by taking elaborate vacations: Broadway shows in New York City, gambling in Las Vegas, Spa's in Arizona, sightseeing in San Francisco. The airlines know me so well they ask about my dog when I call to make reservations. His name is Fred.
In my attempt to try and save whatever I could so the princess could have her nice things I bought this Honeywell Wi-Fi enabled device so I could adjust the HVAC while we were away piling up massive amounts of debt on Mickey Mouse watches. I thought we could save a few bucks by keeping the temp cool in the winter and warm in the summer. The device was easy to install. I did not have the "blue" connector so I had to re-purpose the green one – this required an adjustment to the actual HVAC unit in our home. There are plenty of videos on Youtube to demonstrate how to do this. Within an hour I was up and running.
The device works flawlessly. You can adjust the temp from anywhere you have a Wi-Fi or cellular signal. Little did I know that my ex had found someone that had a bit more money than I did and decided to make other travel plans. Those plans included her no longer being my wife and finding a new travel partner (Carl, a banker). She took the house, the dog and a good chunk of my 401k (pension), but didn't mess with the wireless access point or the Wi-Fi enabled Honeywell thermostat.
Since this past Ohio winter has been so cold I've been messing with the temp while the new love birds are sleeping. Doesn't everyone want to wake up at 7 AM to a 40 degree house? When they are away on their weekend getaways, I crank the heat up to 80 degrees and back down to 40 before they arrive home. I can only imagine what their electricity bills might be. It makes me smile. I know this won't last forever, but I can't help but smile every time I log in and see that it still works. I also can't wait for warmer weather when I can crank the heat up to 80 degrees while the love birds are sleeping. After all, who doesn't want to wake up to an 80 degree home in the middle of June?
Oh, and This Amazon Review Tells You Why You Should Never Fill A Big Gulp With 5-Hour Energy.
Save
Save
Save