1. This woman, who almost gave her mom a panic attack.
I was using talk to text trying to tell my mom I filled my car up for $15 dollars and it almost sent this!!!!! pic.twitter.com/BBtwJDayOm

— Rachael Norman (@rachaelnorman39) January 17, 2019
2. This person, whose voice-to-text drastically changed the focus of the event.
After 15 years of attending and talking about @edmfolkfest, it finally happened today : the dreaded talk-to-text-autocorrect-disaster: 😳 #oopsies #FOLKfest #ThatsFOLKfest pic.twitter.com/7ttEb4NacZ

— Julie Rohr ( ͡° ͜ʖ ͡ °) In Memoriam (@JulieRohrYEG) June 26, 2018
3. This grandpa, who managed to succeed and is an adorable inspiration to all of us.
https://twitter.com/faulkner_paige/status/933172632081588224
4. This person, who all of a sudden had a pressing emergency that voice-to-text was rude enough to record.
This is what happens when you try to use talk-to-text and a spider crawls across your screen. pic.twitter.com/gFnoGVKwc3

— Delinquenetta (@straddleyomind) December 28, 2018
5. This person, who was talking to someone else, Siri.
Sophie uses voice to text when she's walking outside pic.twitter.com/zq8ORC0727

— con____artist (@ConnorYearwood) February 7, 2019
6.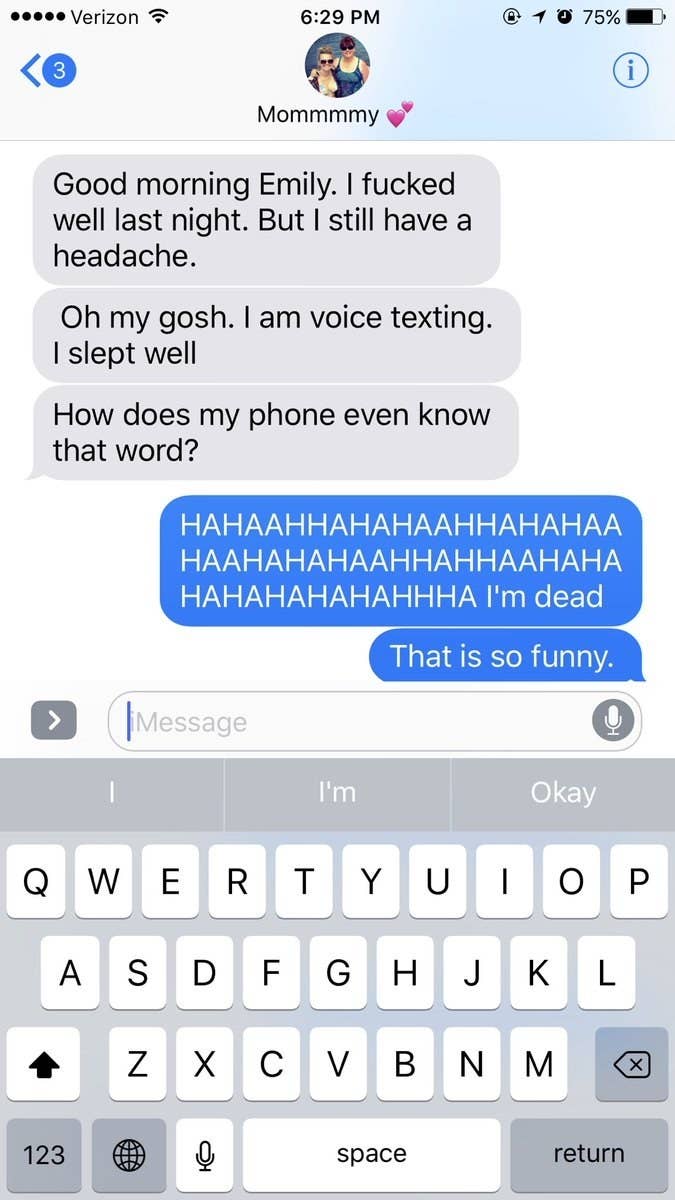 7. This woman, who sounds like she had a real time of it.
When you use voice to text to tell @TheTrueVanguard to call you after work 😂😂😣 pic.twitter.com/kkqAqUx9NP

— TrueWifeguard (@GirlOnAHippo) March 23, 2018
8. This person, whose relationship could easily have been ruined, thanks so much voice-to-text.
Voice to text ruins marriages pic.twitter.com/g6tGAOeKC3

— Brandon Warne (@Brandon_Warne) September 29, 2017
9. This awesome mom/mum/hilarious potty mouth who is just keeping it real.
my mom uses voice to text to text me and this is what just happened.. pic.twitter.com/cUsge6gwBv

— king poop (@JennyShazaaaaam) September 23, 2017
10. This person, whose voice-to-text had other ideas for the car.
Siri talk to text failed me #momfail #thatescalatedquickly @TheEllenShow 🤦🏽‍♀️ pic.twitter.com/MANS0velRu

— Laura (@clift_laura) March 8, 2019
11. This mom, who just invented her hot new catchphrase.
Of all the voice-to-text typos from Mom, this has to be my favorite: pic.twitter.com/aAygq4Wf35

— Dawn M. Bennett (@DawnMBennettVA) March 12, 2018
12. This driver, whose voice-to-text wants something entirely different.
13. This person, whose phone obviously has other stuff on its mind.
you can't trust talk-to-text pic.twitter.com/tyE8M3a7yo

— lady tsunade (@stonedtomato) May 1, 2018
14. This Grandma whose voice-to-text at least censors itself.
my grandma was using the talk to text feature on her phone when she was texting my cousin during the World Series… pic.twitter.com/OrhI4W5Muv

— suz (@susannahhenman) November 5, 2017
15. This grandpa, whose phone has an interesting idea of a fun thing to do.
my grandpa likes to use the "talk to text" function on his phone pic.twitter.com/QlQi8TpPGX

— Riley Colley (@rileycolley) November 2, 2018
16. This person, whose Starbucks order we now know.
when Sam uses voice to text and forgets to send the text before ordering Starbucks pic.twitter.com/bH2VmPtjfu

— Madeleine (@coolgirl_maddie) October 4, 2017
17. This honestly very cute attempt.
My little learned what talk to text was today pic.twitter.com/ubcwfgW3wd

— Moro (@2mAnthony) February 14, 2019
18. This person, who, to be fair, was using the wrong app.
Trying to record a musical idea and then realizing you pressed voice-to-text instead of audio 😂🎙 pic.twitter.com/FjvAfzF7FB

— Andrew Huang (@andrewhuang) February 26, 2019
19. This person, who came across as slightly violent.
Ah… voice-to-text 😂 #WonderCon pic.twitter.com/RVy50doRoN

— Trisha Hershberger (@thatgrltrish) March 30, 2019
20. And this dad, whose phone really changed the message into something scarring.
My dad texted me the other day. This is why he needs to stop using voice-to-text…. He meant "Loki" aka our puppy 😂 pic.twitter.com/NcQzFddlcY

— chey ☁️ (@Cheyrassic) May 25, 2016
h/t: BuzzFeed