We're living in a weird age, you guys. If you look anywhere, you'll find people taking mirror selfies at coffee shops (or, hey, gas stations!), contorting themselves on the edge of literal bridges, or doing a very not-casual "casually walking" pose in the middle of a trendy street. These people are called influencers. They are the people who document everything and will go to the ends of the earth—very literally—to get a shot of themselves "in action." These folks are cringy, awkward AF, and relentless—and no one can stop them. Because we follow them (and we secretly aspire to be them!).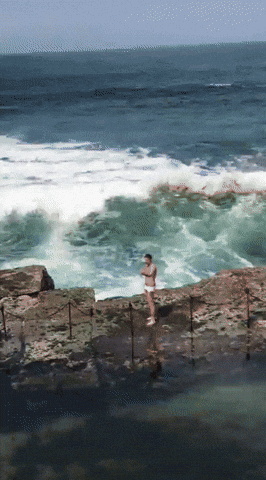 But the struggle IS real. Our social media accounts need good photos, damn it, and our "audiences" are hungry for aesthetically interesting photos. They desperately want to see us naked in the snow, posing in front of the BEST most colorful buildings, and pretending to laugh mid-step!
To document just how weird the world of influencer images is, the Instagram account Influencers In The Wild (super meta, we know) shares pics and videos of people do all that weird (and potentially hazardous) stuff they do to get the shot. Here are some of the most cringy, hilarious Influencers In The Wild. Don't worry — you're not the only one who can't look away in horror.
1. This is pretty classic. Unlike some of his influencer peers, this guy is both the subject and the photograph. No shame.
2. This feels…risky. Maybe don't?
View this post on Instagram
3. Hey, they were feelin' sexy. Why not writhe in the ocean?
4. And while you're out there Influencing, train your kids up, too!
5. There are influencers. And there are influencer jerks.
6. This was never not going to be very dangerous (and hilarious).
7. Sometimes you just have to climb into the trash to make beauty happen.
View this post on Instagram
8. Don't forget the fake laugh.
9. It's important to pick the colorful walls with intention.
View this post on Instagram
10. These heroes are out here redefining what "going to great lengths" means. Changing the game.