You might be having a bad day. You might have woken up late, or sat in gum on the bus, or forgotten your phone, or any number of small annoyances. But whenever things seem bad, just remember—at least you're not these people. It could be so, so much worse.
1. At least you're not the person who's the reason for this sign.
Every warning label tells a story pic.twitter.com/SbS1g9P2XY

— OrthoBurg (@BurgerVonStadt) December 10, 2017
2. And at least your boyfriend didn't say THE most embarrassing thing to the worst possible person, right in front of you.
My bf met my family for the first time & we we're playing catch phrase & his word was boner. Instead of skipping it like a normal person he said "something that Bridget gives me" right infront of my father

— B (@BenedictBridget) December 26, 2018
3. At least you didn't have that one little white lie on your resume come back to bite you on the…hands.
Man has been sitting in the car for the past half hour googling "the most painless way to break your fingers".

— Mundungus Fletcher (@Shimz_Afc) August 31, 2016
4. At least your dog didn't pick a particularly expensive chew toy.
5.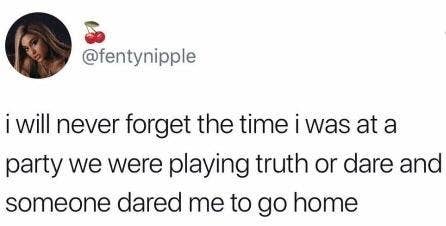 6.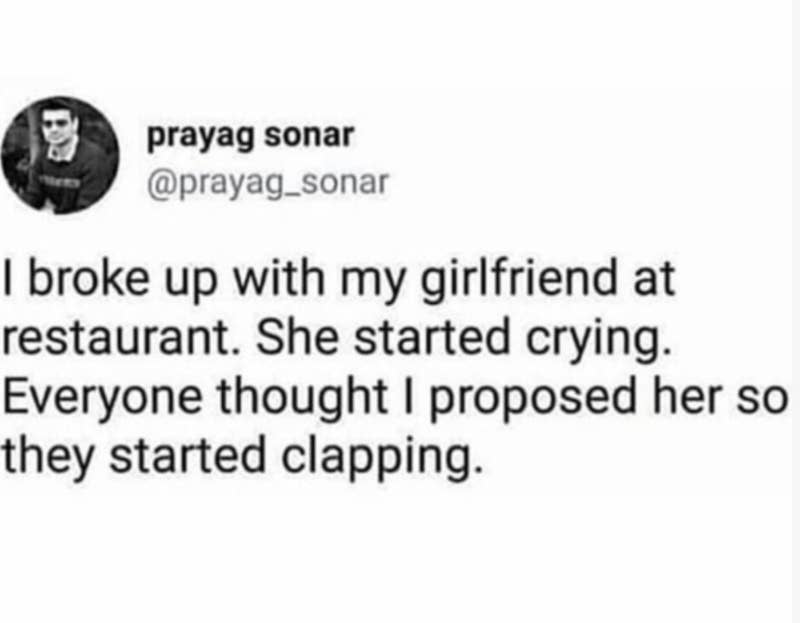 7. At least you're not this person who just dropped about $200 worth of movie snacks.
8.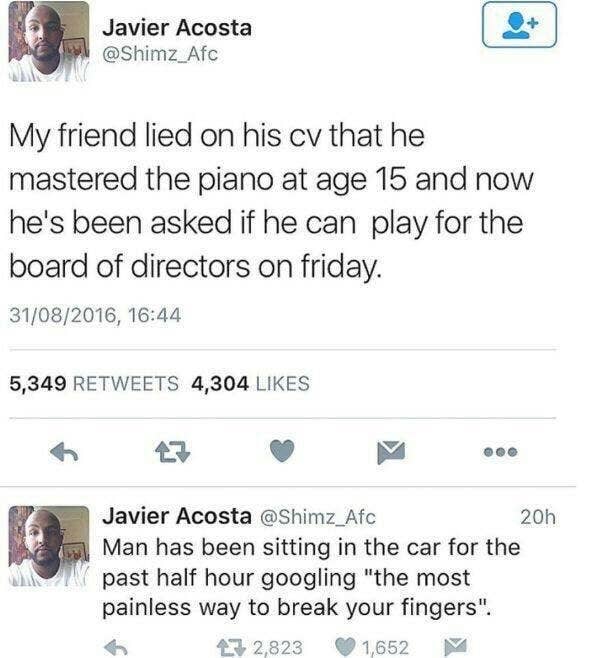 9. Look at it this way, at least when you dropped your phone, it wasn't while running from the cops.
10. And you didn't have a mouthful of something totally unexpected.
Every year our aunt in Maine sends us little handmade chocolate lobsters. This year they are soap. Guess how I found out? 🦞 🧼 👄 pic.twitter.com/GOri5LmTEM

— Jenn Ellis | 🔜 #PAXU (@jellispants) December 23, 2018
11. At least you didn't create the most awkward moment of the night.
https://twitter.com/Rachel_Bonacci/status/1081997590131023872
12. And at least you didn't suddenly turn your French toast into Chinese food.
Guess who thought the soy sauce was syrup this morning :/ from Wellthatsucks
13. You weren't responsible for getting your fake ID confiscated in what has to be the mistake of the century.
Pretty sure I just received the best fake ID of my bartending career; a girl handed me my missing license from 2 years ago

— kleo mcq (@kleo_patraa) May 8, 2018
14. Hey, you're not this squirrel, right?
15. And you didn't waste 10 buckaroos on a guy who didn't even have the decency to match with you on Tinder. Sheesh.
I was on tinder and accidentally swiped left on a guy I had a HUGE crush on and I obviously wanted to match him, so I literally BOUGHT tinder premium for $9.99 JUST to go back and swipe right on him

….we didn't match

— breezy (@brivergenz) December 22, 2018
16. You weren't the unfortunate star of a moment of silence.
u know when ur playing cards against humanity & u think ur card is unbelievably funny & the person reads it out loud & not a single person laughs ya that shit hurts

— alexis (@alexismayse) July 14, 2018
17. And finally, at least you're not this guy who did technically get what he wanted.
h/t: BuzzFeed