There are a lot of trends on the Internet that come from people trying to get attention, so the "people selling mirrors" photos are a refreshing change of pace. These are pictures of people who are trying to not be seen as they attempt to sell something designed to expose them. These pictures are found on Craigslist, Facebook Marketplace, and most prominently now on Reddit, where connoisseurs of the genre post their favs to enjoy and comment on under the subreddit r/Mirrorsforsale.
Twitter user @SivMajor started a thread of these images, titling them, "Looking at posts from people trying to sell mirrors is my new favorite thing."
Their samples did not disappoint:
The thread kicked off a huge fandom for their mirror photos as people shared their favorites:
This is a goldmine pic.twitter.com/yo88VrvHaA

— Siv (@SivMajor) March 21, 2018
Lmao pic.twitter.com/mlSBGh7ijr

— Darian S Marcheski (@dshields33) March 22, 2018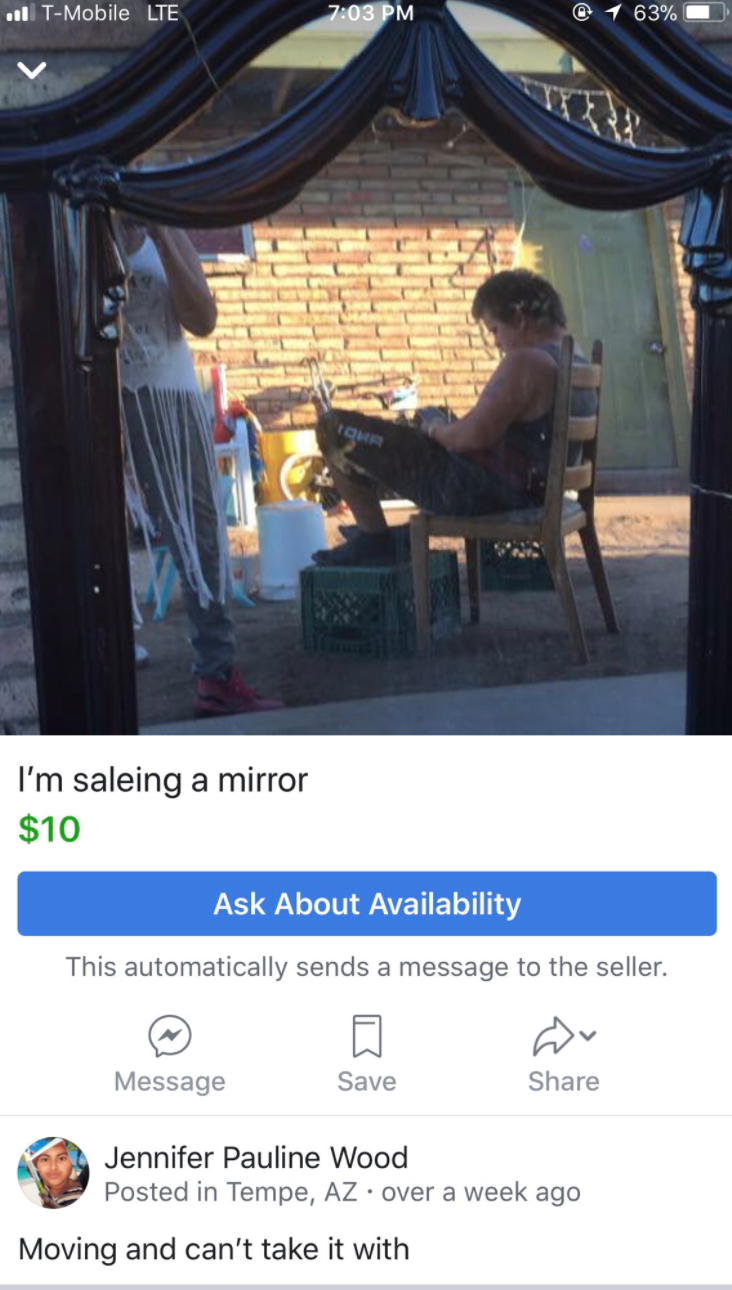 pretty pic.twitter.com/x4EpQuUOlf

— (a)bby 💌 (@abbyiscoolest) March 22, 2018
Found my new hobby pic.twitter.com/4coGVPCJ73

— robbie blm (@rovbiec) March 22, 2018
— jacob (@beandiscourse) March 22, 2018
@SilviuMajor pic.twitter.com/adfrMrbWcC

— Jess (@jethicakiely) March 22, 2018
— BLM✊🏻✊🏽✊🏿 (@cckndblls) March 22, 2018
Since then, the trend of enjoying the unsuspecting creators of the world's best art has been modernized. It's now something Gen Z does on TikTok while absolutely laughing their asses off, like @sxphie_wilkinsxn who combined the mirrors for sale pics with the viral "sound" of inaudible noises popular on the platform:

They wrote they were inspired by @jamiecarrx, who has done so many videos of people selling mirrors online that he is up to PART 16 in his series:

And he still seems to find it absolutely hilarious. As do I. I look forward to seeing the mirrors for sell photos whenever the next round of technology hits, perhaps in a chip inserted in my brain. I'd also like to buy a mirror.
More Pics & Memes You May Or May Not Enjoy: