There's only one thing better than a good laugh, and that's a good wife who can make you laugh.
Of course, in the following instances, these husbands are being laughed at more than laughing, but also if you can't laugh at yourself bro, get over it?
Anyway, being a wife comes with some unique perspectives like…
1. "You never said that"

2. I said what I said.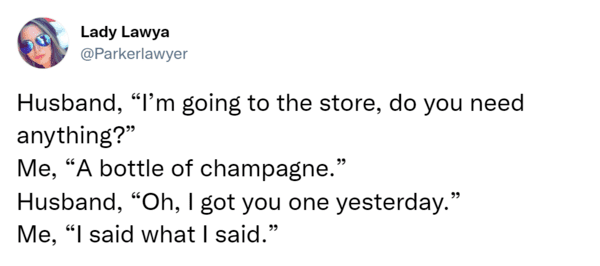 3.

4.
5. What are you even doing bruh?

6.

7.

8.
My husband thinks he can just add random items to my junk drawer and I'm like HELLO THERE IS AN APPROVAL PROCESS

— SpacedMom (@copymama) March 31, 2021
9.
10.

11. Pay attention to me unless I don't want you to.
12.

13.
I don't do escape rooms. If I wanted to feel trapped and confused for an hour, I'd ask my husband to explain how Bitcoin works.

— Jessie (@mommajessiec) September 10, 2021
14.
My husband asked me what I need at Target… Target will tell me what I need thanks

— Mom Jeans (@momjeansplease) September 28, 2021
15.
My husband just shushed me. He will be missed.

— Jawbreaker ❤️ (@sixfootcandy) January 21, 2021
16. C'mon man. I'm not about to clean up for you.
Husband: Wow the place looks great! Who's coming over?

Me: The housekeeper.

— Andi (@smiles_and_nods) September 3, 2021
17.
*me following my husband from room to room telling him everything I've just learned about penguins*

— Upile Chisala (@BeingUpile) June 28, 2021
18.
*At the reading of my will*
My husband- Did she say where my keys might be?

— Maryfairyboberry🧚🏻‍♀️ (@maryfairybobrry) December 6, 2021
19.

20. Hot.
Hubby asked me to role play sexy maid but was sold out

*Dressed up like David Spade from Tommy Boy
"HOUSEKEEPING, YOU WANT ME FLUFF PILLOW"

— Marl (@Marlebean) July 21, 2016
21.
My husband just said, "I haven't had a cantaloupe this good since 1990!" and I'm wondering what kind of man has a fruit memory that lasts decades.

— Elizabeth Picciuto (@epicciuto) July 11, 2021
22. Ew.
If I ever refer to my husband as my "rock" on Facebook, I've been hacked.

— Laura Marie (@lmegordon) August 5, 2021
23.
what my husband doesn't realize that a lot of our arguments could be solved by shoving a cookie in my face

— That Mom Tho (@mom_tho) January 22, 2021
24.
Husband: What are you watching?

Me: *names any show* wanna watch?

Husband: Ugh, no thanks.

*plot twist on show*

Husband from other room: OMG WHAT?!?

— ThisOneSays (@ThisOneSayz) January 10, 2021
25.
[going back to school as an adult]

Sorry I'm late with my presentation, I had to teach my husband how to use a blender.

— smerobin (@smerobin) February 24, 2021