Oregon is lit… by which I mean you can now more easily light, swallow, consume, or inject just about anything in the Beaver state thanks to this week's vote.
In a bold move Oregon essentially voted Tuesday to decriminalize all drugs, even the hard ones that your friends who just smoke weed warned you about. Measure 110 means that previously verboten consumables like cocaine, heroine, and meth are no longer a criminal offense to possess, at least in small amounts, but would only result in a small fine.
Naturally people online reacted with the exact amount of composure that you would expect, immediately ingesting dangerous levels of questionable memes.
Here are some we scrounged off the sticky bathroom floor of the internet for you to enjoy responsibly.
1.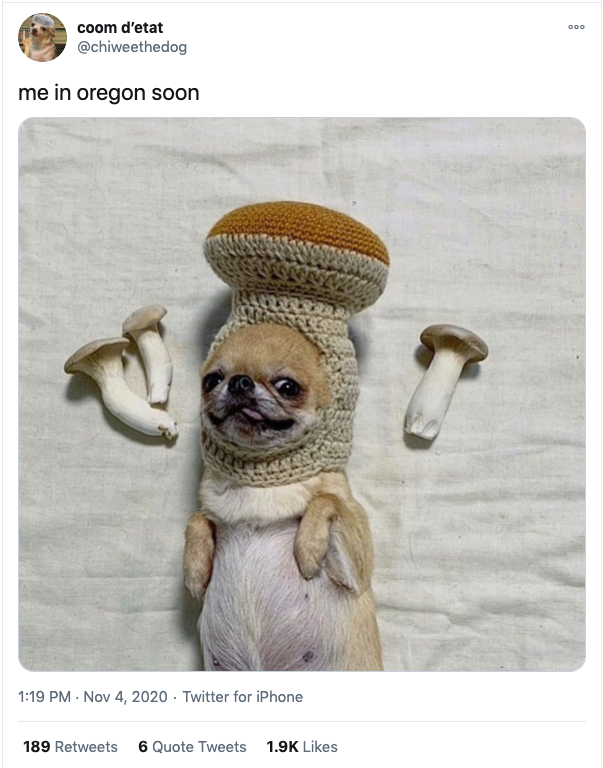 2.
"Oregon becomes first U.S. state to decriminalize possession of all drugs, including cocaine, heroin, and meth, for personal use"

Oregon: pic.twitter.com/APgDhx0jVi

— Plathanos 🐝🇩🇴 #HIVESZN (@SavinTheBees) November 4, 2020
3.
Meanwhile in Oregon pic.twitter.com/K1NqJZIxiU

— 4PF javi 🇲🇽🇵🇷 (@__jay__g) November 4, 2020
4.
Folks in Oregon now pic.twitter.com/RRXdlBaNGq

— Joe (@mojoejoejoemtz) November 4, 2020
5.
On my way! to oregon like pic.twitter.com/j2KD1rDq38

— Collin (@collmebogey) November 4, 2020
6.
after spending a day in oregon pic.twitter.com/tDYcZiWjT7

— br🥔dy (@bfermenting) November 4, 2020
7.
Lol…ok.. but which drug you want us to decriminalize?

Oregon: pic.twitter.com/SUABlQQrUK

— WeOutchea (@WeOutcheaAgain) November 4, 2020
8.
Nobody:
Oregon: pic.twitter.com/2NclkU2qTX

— Des. (@JustDesmundo) November 4, 2020
9.
California Oregon and Washington coming in to save the nation pic.twitter.com/8XOJJs1wHc

— diana (@aloeshawty) November 4, 2020
10.
Oregon said: pic.twitter.com/kYITA7hAVF

— Hades (@OfficialRonin__) November 4, 2020