The grass is always greener on the other side. When you're in a relationship you want your space, and when you're single you're lonely. I'd say the hardest part about being single is trying to figure out if you're lonely or just horny.
Whether you're happily single or not, it's always awkward hanging out with couples or your parents, who look at you like you're some kind of charity case. Saying things like "there's someone out there just for you" or "there's plenty of fish in the sea." Yeah, well the older you get the only fish left are damaged and emotionally unavailable.
Single folks, I feel your pain. These memes are for you.
1.
Life is short. If you have a crush on someone, walk right up to them then a little past them and just keep going it's probably not worth it

— Kevin Farzad (@KevinFarzad) April 20, 2018
2.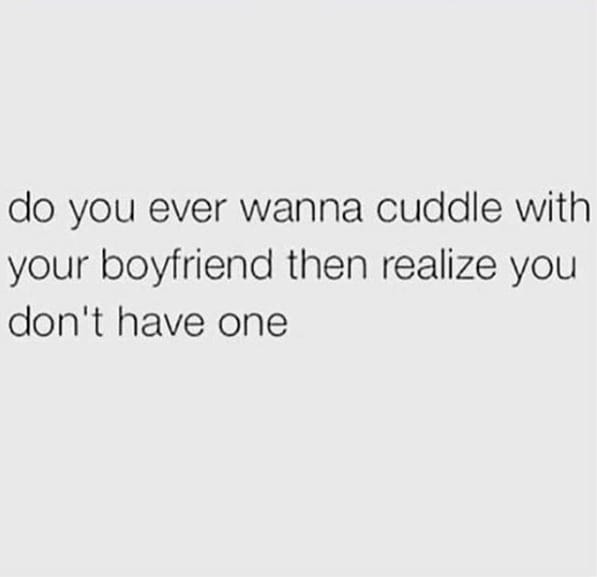 3.
Who are we?

SINGLE YOUNG PROFESSIONALS

What do we want?

FOR PERISHABLE GROCERIES TO BE SOLD IN SMALLER PORTION SIZES

— Maggie Sage Hunter (@swaggie_hunter) July 23, 2018
4.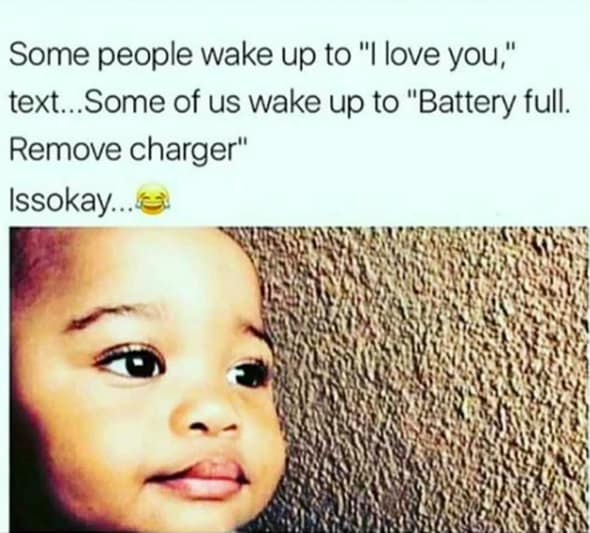 5.
https://twitter.com/roselyddon/status/994369061516693504
6.
7.
Just heard someone bragging about his one night stand. Whatever mate, I've got two night stands. Either side of my bed.

— Rhys James (@rhysjamesy) May 6, 2014
8.
me: goes on a date
group chat: 👀👀👀👀👀👀
me: pic.twitter.com/t9FXREuUEa

— Lenée, multi-hyphenate hoochie (she/ her) (@dopegirlfresh) July 30, 2018
9.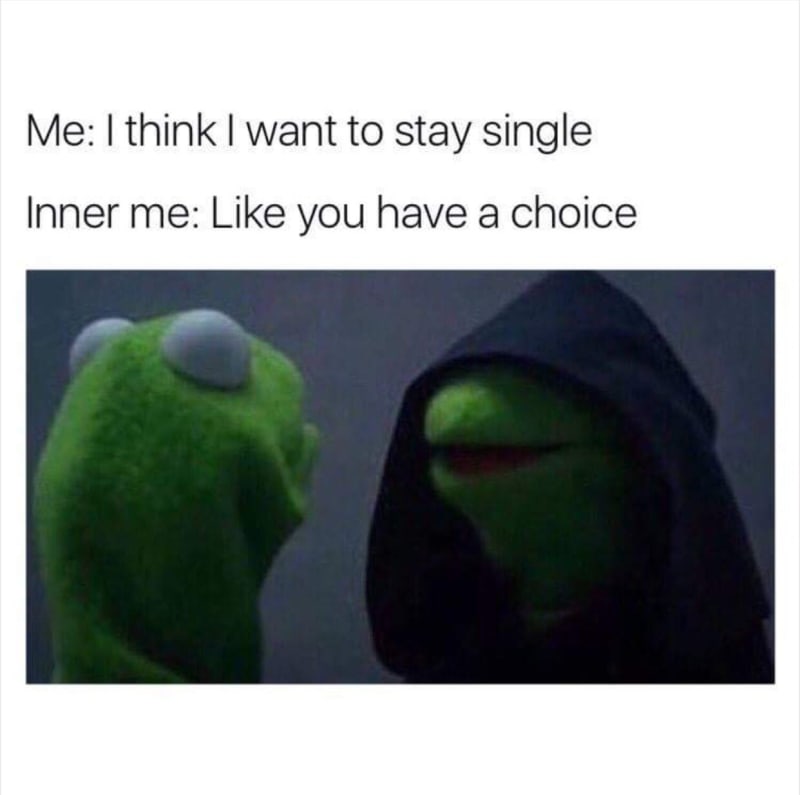 10.
him: your single? why?

me: you're*

— Dani Fernandez (@msdanifernandez) May 3, 2015
11.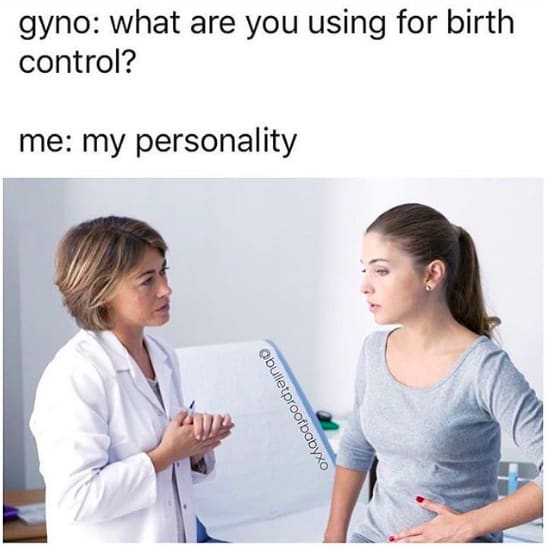 12.
Single AF. #BB20 #OGNO pic.twitter.com/lTjJta9I14

— Laurie©️ (@zombiegirl72) June 25, 2018
13.
When you can't really tell if someone is into you or not pic.twitter.com/DbtK9mCstQ

— Stumbler Top (@StumblerTop) October 11, 2015
14.
15.
being single is all fun and games until you realise it's a never ending cycle of getting to know someone, they eventually stop texting you, then they watch your Instagram story every day until you die

— senorita ugly (@bex_bambi) June 12, 2018
16.
Being single is cool bc you can eat a whole jar of pepperoncinis and spend the rest of the night farting spicily into the abyss

— Shira (@shiraselko) October 3, 2013
17.
Very flattered that you tried inviting me over at two am but, now hear me out. What if you asked me on a date instead.

— not a dime, just a Nicole (@NicoleKSchubert) July 23, 2018
18.
date: i love your shoes!

me: ugh, these old things? they were free

date: take the compliment!

me: no like a kid stole them, threw them over a guard rail & they hit me on the head

date: what??

me: ya turns out they used to belong to some basketball star

date: this is 'holes'

— Jill Gutowitz (@jillboard) July 28, 2018
19.
What is wrong with me? I'm on a first date and I asked if he just wanted hang and play trivia.

— Sanders Claus (@ThomasSanders) July 16, 2018
20.
Gather 'round you single losers so I can throw my used flowers at you -Brides

— Randi Lawson (@RandiLawson) May 1, 2015
21.
'You're beautiful and I love you," I yelled as I stood alone on the cliff, and my echo replied "I just want to be friends."

— Sasshole (@RidiculousSheri) May 26, 2014
22.
So single that I'm starting a recycling program- dudes from years ago are back in my life. Super environmental.

— Laura (@LauraLikesWine) April 17, 2015
23.
me: i swear i'm never talking to him again

him: he-

me: pic.twitter.com/qIumqKaPbL

— karim hazime (@karim_hazime) April 24, 2019
24.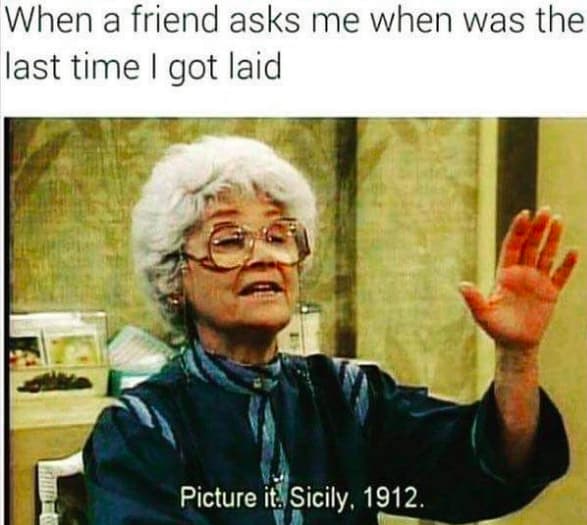 25.
26.
me running away from winston duke's evil twin in Us pic.twitter.com/wFw6vRP1Jv

— lou (@christiansbale) March 28, 2019
27.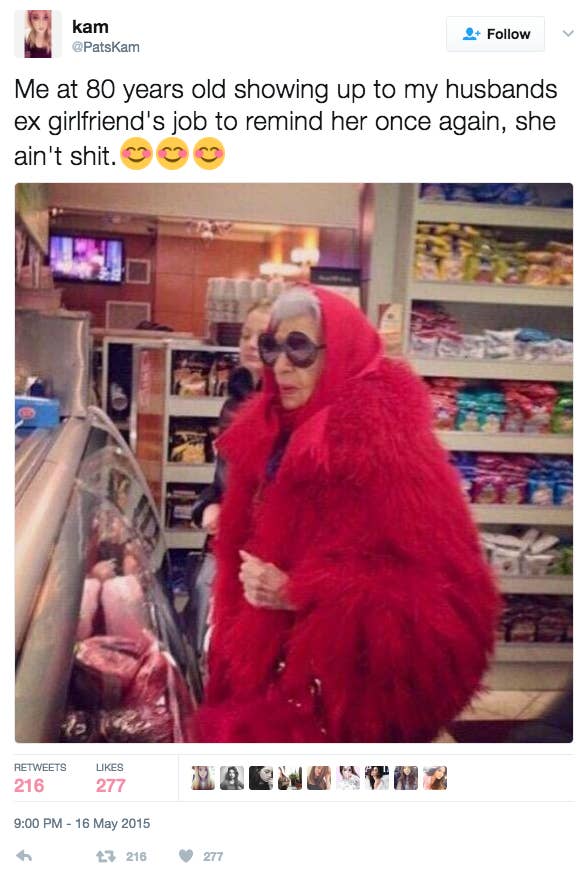 28.
https://twitter.com/ziwe/status/1116522775949320192
29.
I need to start dating old guys bc I am so tired of trying to communicate with 22 year old men, you can outline exactly how u feel with diagrams and a powerpoint presentation & they'll still b like "lol what u mean"

— ellie schnitt (@holy_schnitt) April 4, 2019
30.
https://twitter.com/_DaSickesst/status/1114680404211109889
31.
just dropped my new single

its' me

i'm single pic.twitter.com/vSeVWQL8BL

— Pakalu Papito (@pakalupapitow) March 10, 2019
32.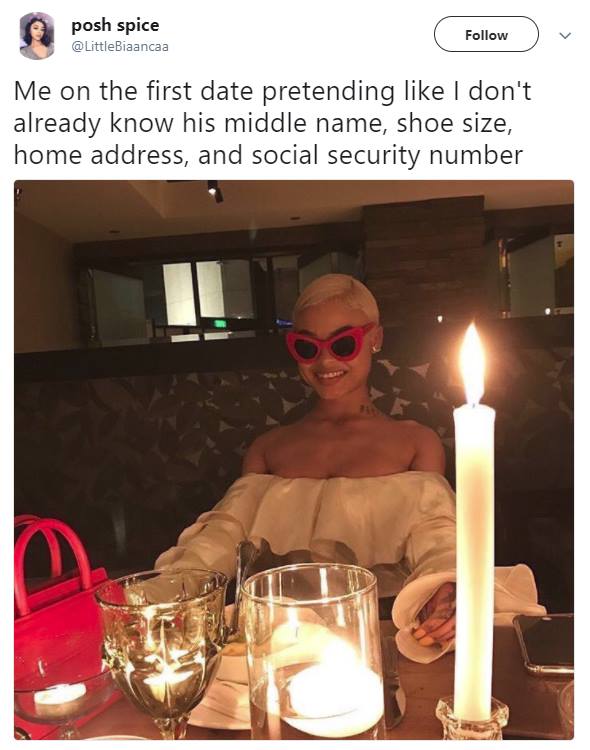 33.
Being single can make you miss crazy things🌹

I'm outchea craving for an argument….I miss being angry😢

— 🔥Nellyadore🔥Nkambule (@Nelliadore) April 15, 2019
h/t: PizzaBottle