When you think of California, you think of sunshine, beaches, and Hollywood. Well, California is a big place. While those tings are great, it also gets a fair amount of snow.
Recently, California was hit with a major snowstorm leaving up to 15 feet of snow in some places. Luckily, many folks there are used to winter conditions, but 15ft is tough on even the most seasoned veteran.
You hear 15 feet of snow but your brain has trouble even imagining what that looks like. So here are some pictures people shared of the mega blizzard's aftermath.
29 Unbelievable Pictures What 15 Feet Of Snow Looks Like
1.
This Lake Tahoe snow is not a fucking joke this year 🤯 pic.twitter.com/zSTsmgCWFz

— Roam (@DorkRoam) March 2, 2023
2.
My cousin sent me this picture going up to Tahoe from Reno. In my entire life, I have never seen this in Reno. It's just a big Wow. #snow #slammed #crazy pic.twitter.com/4tUo7QWAgJ

— Jennifer Harman (@REALJenHarman) March 3, 2023
3.
4.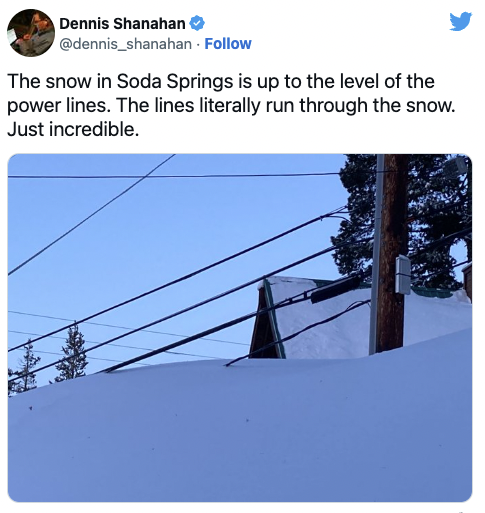 5.
#CaliforniaSnow ❄️🤍❄️ pic.twitter.com/2itNnNjV0r

— Enelra (@EOtirolf) March 3, 2023
6.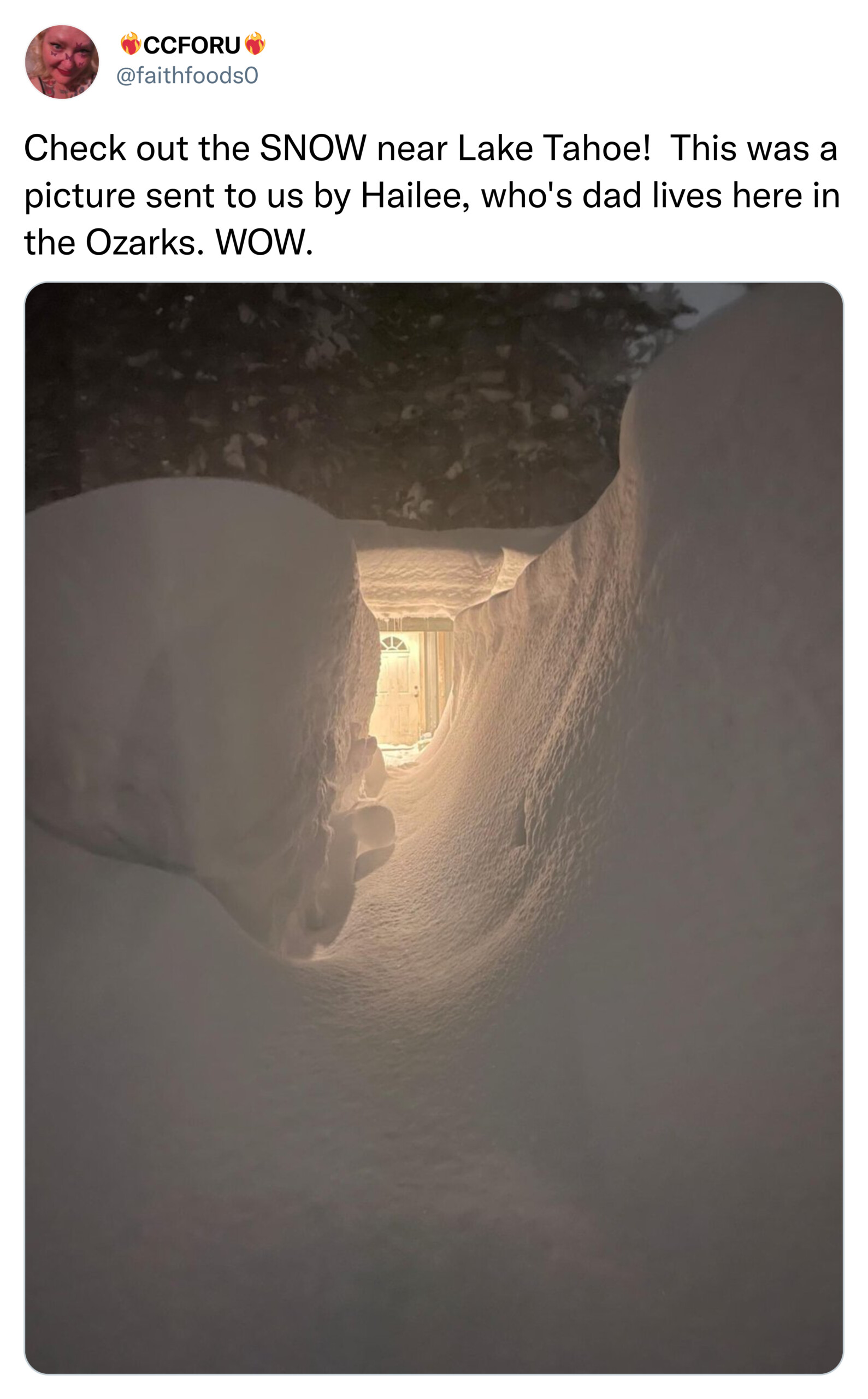 7.
We got a bit of snow here in Tahoe City the last two days. 👍 The view from the second floor kitchen window. Seems we picked up >4 ft. Wind makes it hard to be accurate. @TahoeWeather pic.twitter.com/bGotOXH9c4

— stefanbolka (@stefanbolka) March 1, 2023
8.
Thank you. Due to the high risk of avalanches at my house, I'm now at a hotel 🙂 House looked like this when I left: pic.twitter.com/F5ZgYGRF3v

— Grief & Trauma Healing with Heather (@EFTwithHeather) March 1, 2023
9.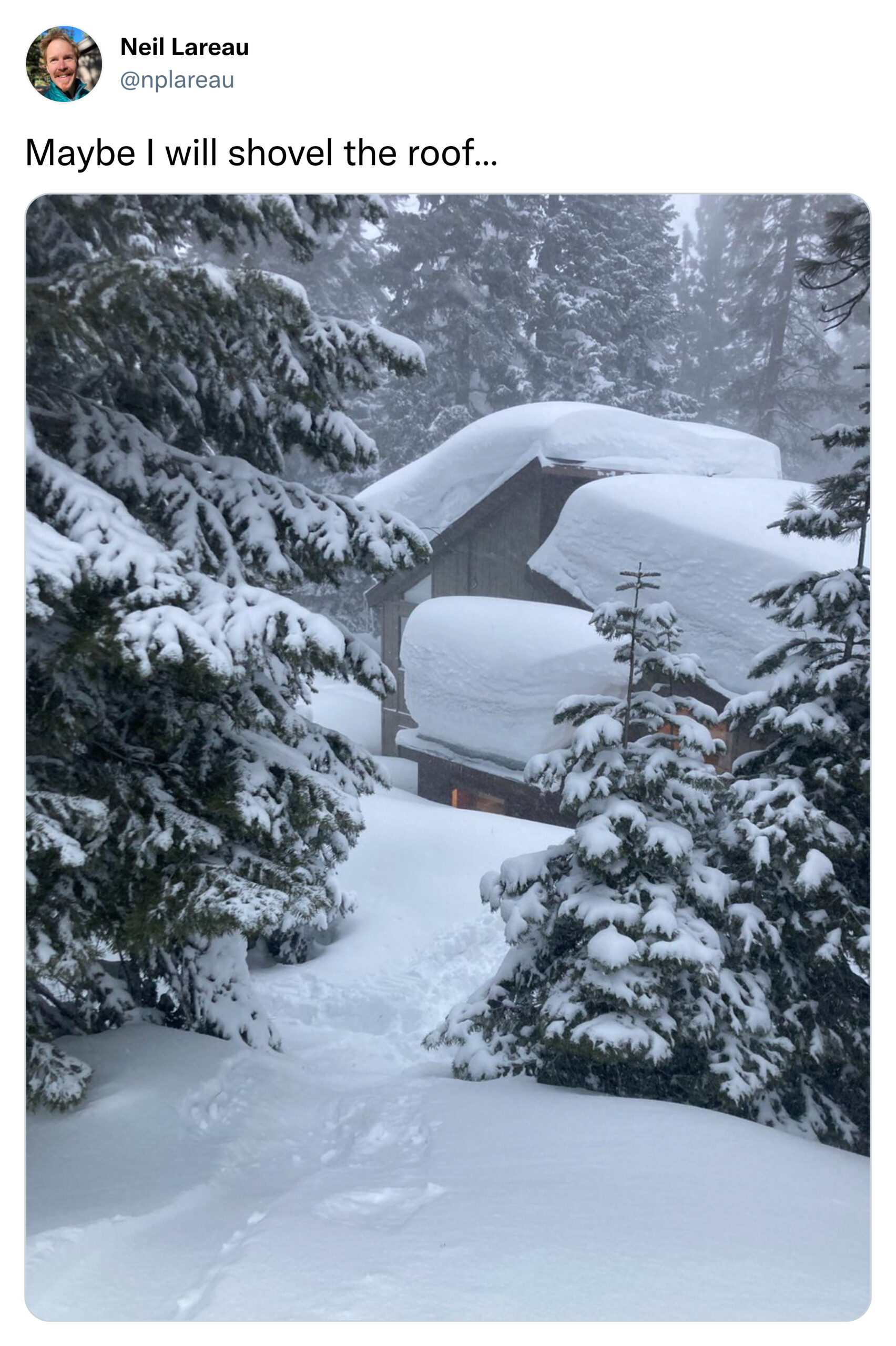 10.
Meanwhile, while we're getting tornado warnings out in the Midwest, at home in CA (South Lake Tahoe) my parents are resorting to big measures by shoveling snow into the snowblower… which is sitting on our roof!! 🤯 #cawx pic.twitter.com/Zih8ZyefeE

— Sierra Bedwell, MS (@bedwellbacteria) March 1, 2023
11.
#CaWx too much snow for the resorts. too much snow to hike. only thing accessible is the cabin roof. @kcraFinan @Weather_West @TahoeWeather pic.twitter.com/qFulAD5PKU

— Frito⛏ (@Jee_Oh_Fry) March 1, 2023
12.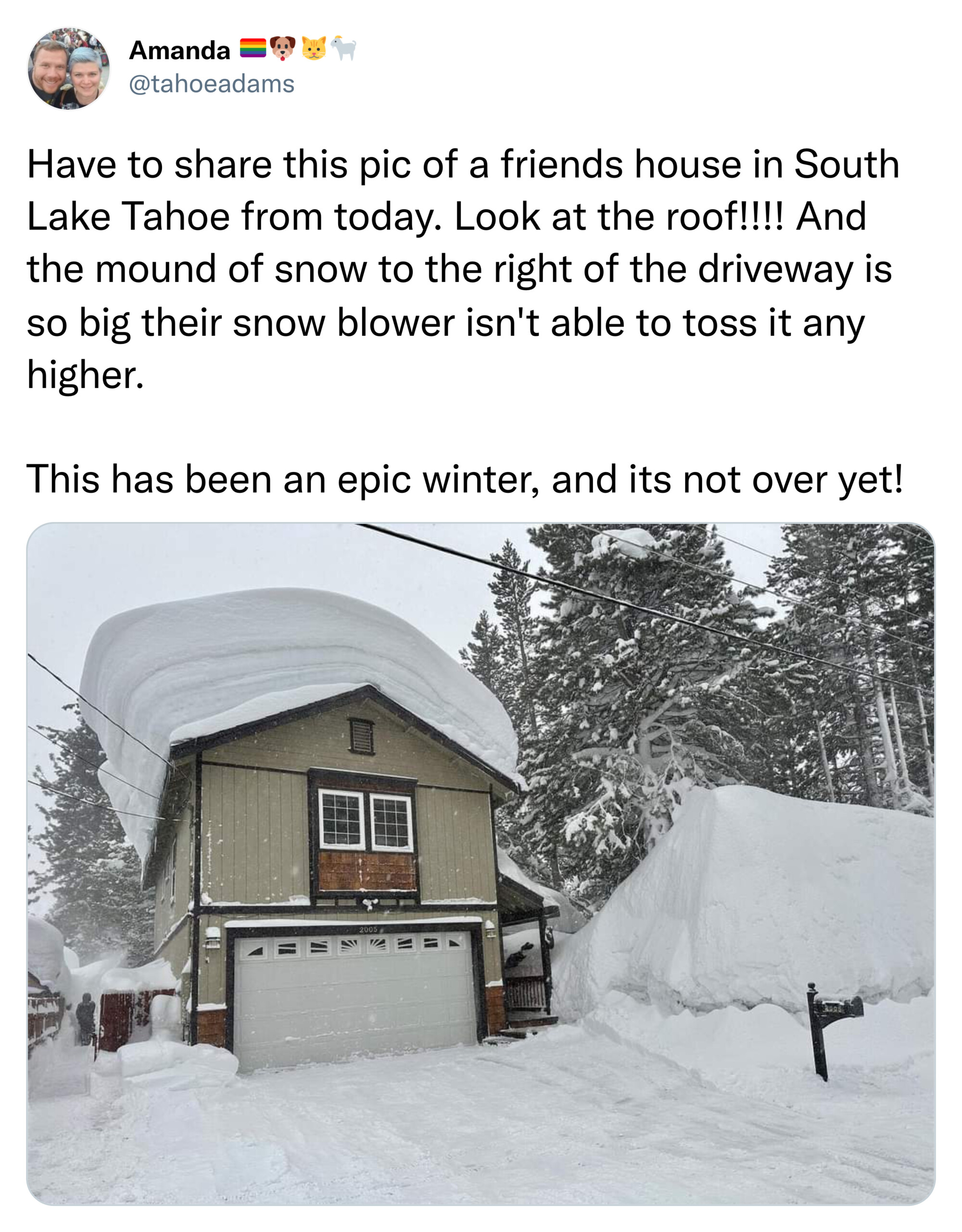 13.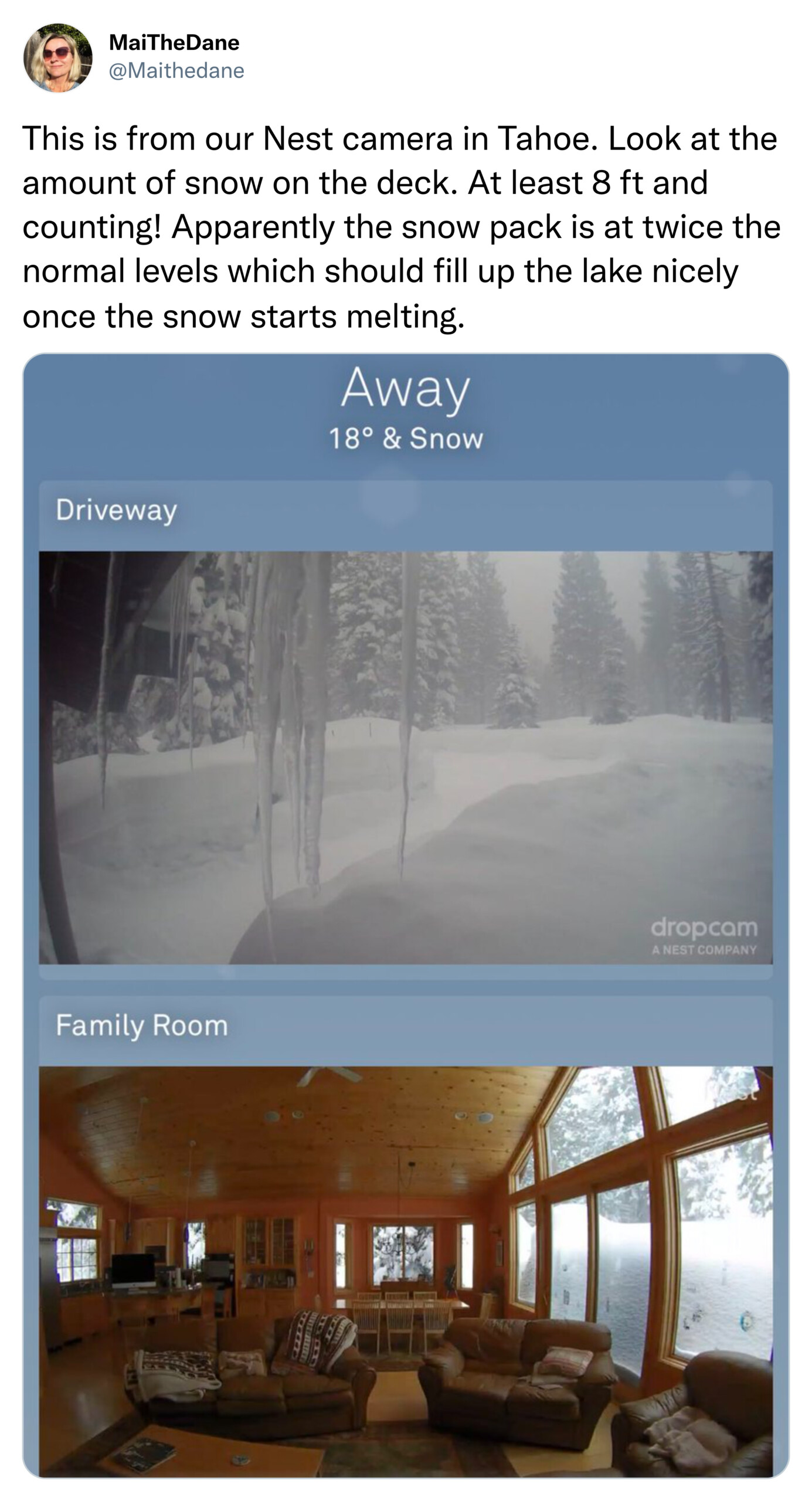 14.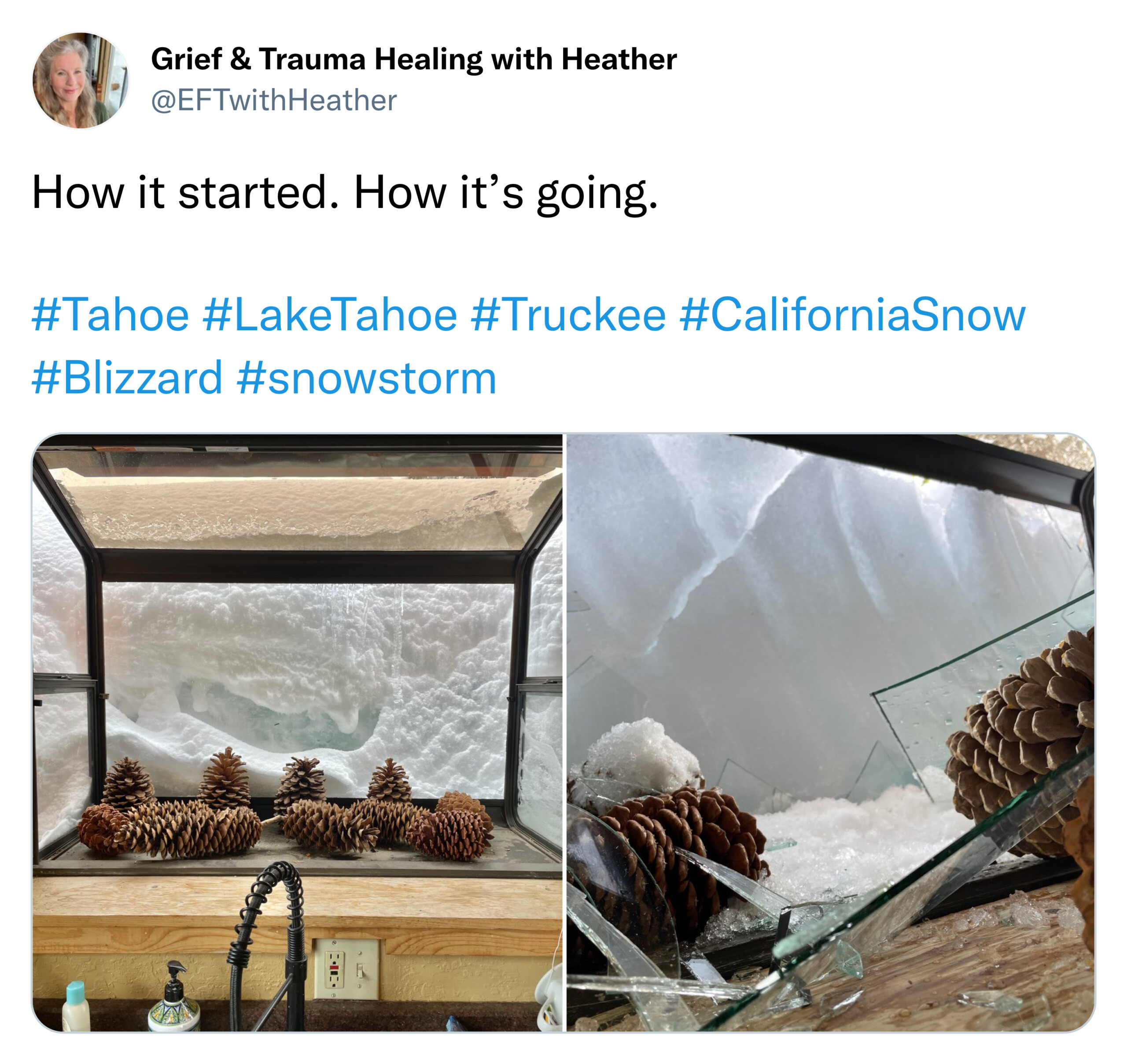 15.
In case you are wondering why we are so slow to get info out this morning. Here is the entrance to the marketing office. pic.twitter.com/oI2QjVaG8R

— Sugar Bowl Resort (@sugarbowlresort) March 1, 2023
16.
Dude…where's my house? pic.twitter.com/NntOsajFGU

— Michelle Parker (@MyshellParker) March 1, 2023
17.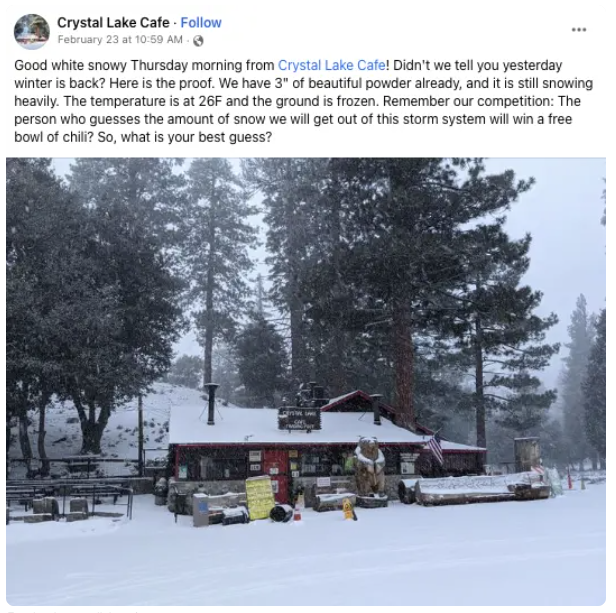 18.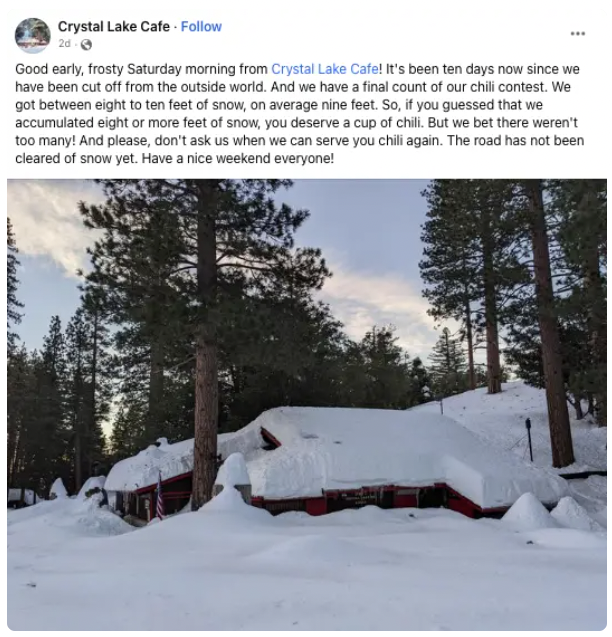 19.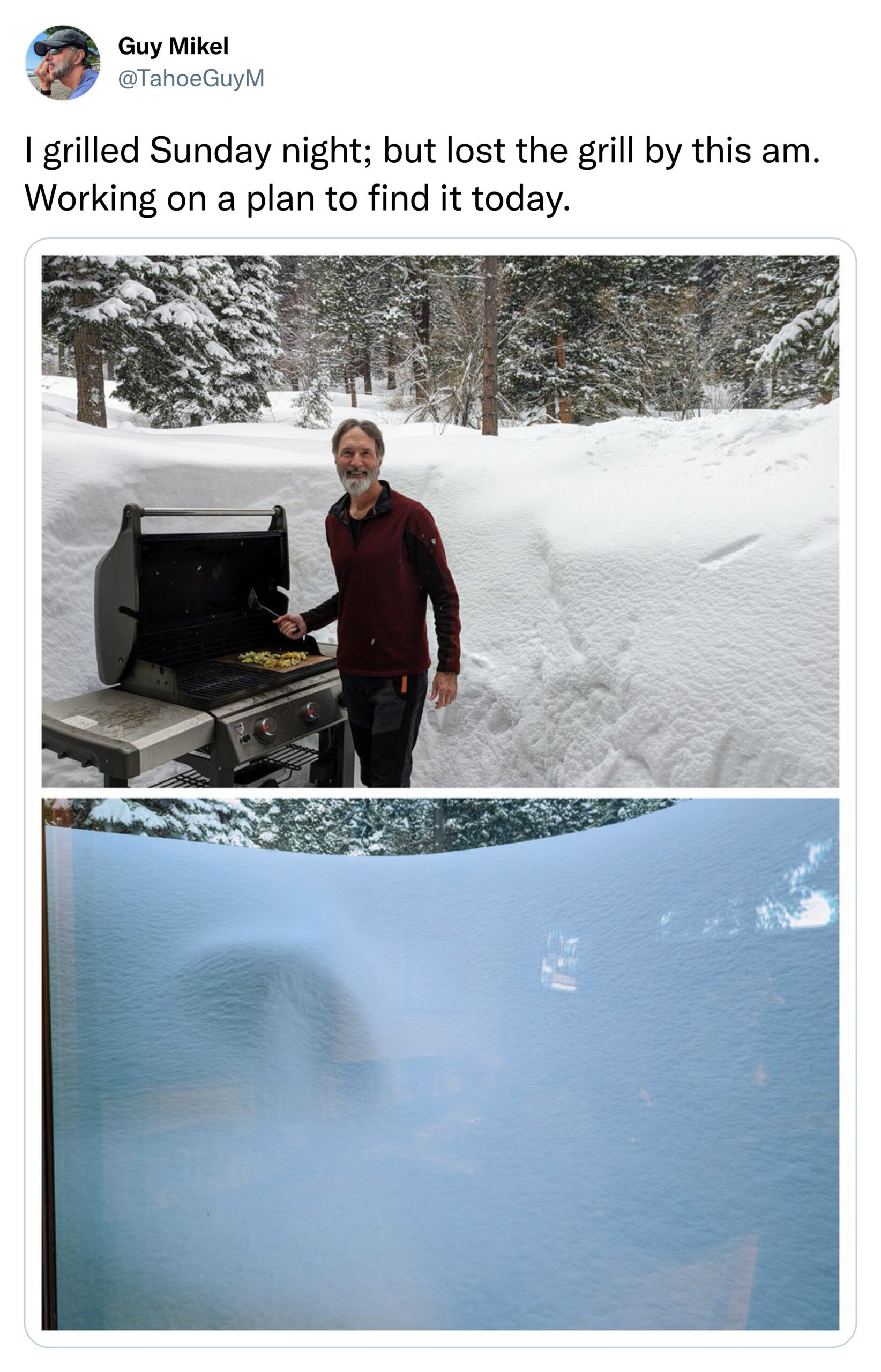 20.
Leaving homewood this morning. WHEW! @TahoeWeather pic.twitter.com/AgHJI6dJZR

— haley (@macphail_haley) March 5, 2023
21.
Crews are currently finishing snow blowing operations for all bus routes. Once completed, street widening will begin in Gardner Mountain, Al Tahoe, Heavenly, and the Tahoe Keys neighborhoods. Operations will shift back to plowing based on new snow accumulation. pic.twitter.com/2I0SB4yz2c

— City of South Lake Tahoe (@cityofslt) March 4, 2023
22.
It. Is. Deep.#snow #California #SierraNevada #Tahoe pic.twitter.com/OZsbtrUTH3

— Andrew Schwartz (@snow_d0c) March 2, 2023
23.
@TahoeWeather 7264' on kingsbury Grade lake side. There is a boat in the circle. Cover is 11' high. And as for the shed🤣🤣 pic.twitter.com/NzxGk3r6ZR

— Ralph Tognetti (@RalphatTahoe) March 1, 2023
24.
Pictures can indeed say a thousand words. This is our crew working on Highway 50 over Echo Summit tonight. Cliffs on the left, snow bank on the right. Wow! Words can't express the appreciation we have for our field staff. @CHPSouthLake @CountyElDorado @cityofslt pic.twitter.com/fVw9AJRPpL

— Caltrans District 3 (@CaltransDist3) March 1, 2023
25.
Snow is up over the 10 foot bridge to our house. In 20 years, never seen that before. @TahoeWeather @Northstar_CA pic.twitter.com/L4tpz7wpVR

— Susan Safipour (@SafiTahoe) March 6, 2023
26.
Crews are working tirelessly around the clock to clear I-80 of snow & ice. Route remains closed between Applegate & the Stateline. Whiteout conditions in some areas. Over 30 inches of snow fell on Donner Pass the past 24 hrs. @CHP_Truckee @CHPGoldRun @nevadadot @CaltransHQ pic.twitter.com/FyTkVYireI

— Caltrans District 3 (@CaltransDist3) March 5, 2023
27.
West shore pic.twitter.com/T3nIPe0iGI

— AJ Arnett (@ShwayJay) March 2, 2023
28.
My walk home this evening @Northstar_CA @TahoeWeather pic.twitter.com/Wacl3UVZ6m

— Michelle Dixon (@michellerdixon) March 1, 2023
29.
This sums up March 2023! Spring is almost here…we can only hope. pic.twitter.com/XeMMYDpQka

— City of South Lake Tahoe (@cityofslt) March 5, 2023
h/t Pleated-Jeans