There are a lot of things they don't teach you in school and one of them is basic financial literacy. It seems like all politics are controlled by this mysterious thing called the Stock Market and whether or not it's doing "well." Are the American people doing well? Absolutely not! But Donald Trump will pump billions into the Market It seems like it's time to reckon with the Beast eaten up potential stimulus checks, but where to start? How about this childishly simple explanation posted by a helpful anonymous Facebook man and shared by Ebaumsworld.
The first poster asked, "Someone explain to me the Stock Market, Wall Street, the Dow, and Nasdaq. But do it I'm a 5-year-old. They don't teach me this in teacher school."
Worrying! If even the teachers don't know, who does? This random guy.
"I will attempt this," our hero wrote.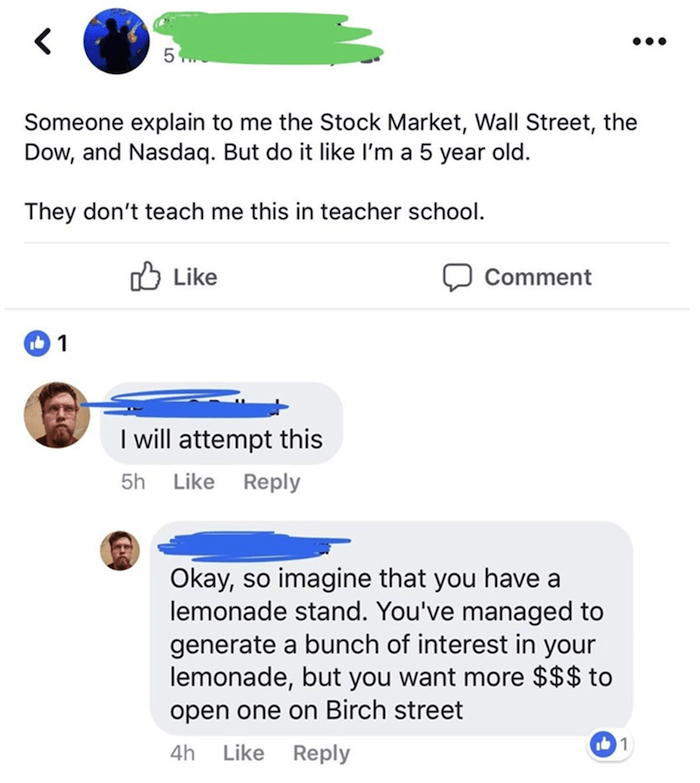 "Okay, so imagine that you have a lemonade stand," he began. "You've managed to generate a bunch of interest in your lemonade, but you want more $$$ to open one on Birch street."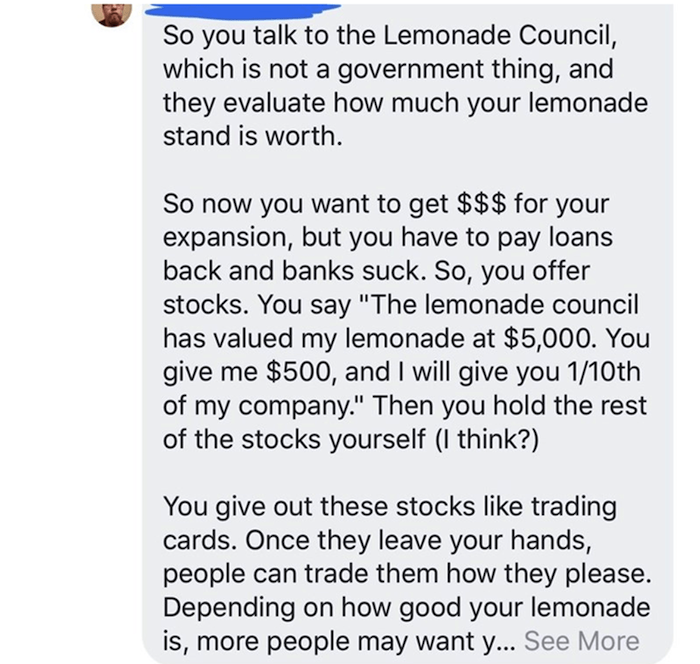 "So you talk to the Lemonade Council, which is not a government thing, and they evaluate how much your lemonade stand is worth. So now you want to get $$$ for your expansion, but you have to pay loans back and banks suck. So, you offer stocks. You say 'The lemonade council had valued my lemonade at $5,000. You give me $500, and I will give you 1/10th of my company.' Then you hold the rest of the stocks yourself (I think?)"
"You give out the stocks like trading cards. Once they leave your hands, people can trade them how they please."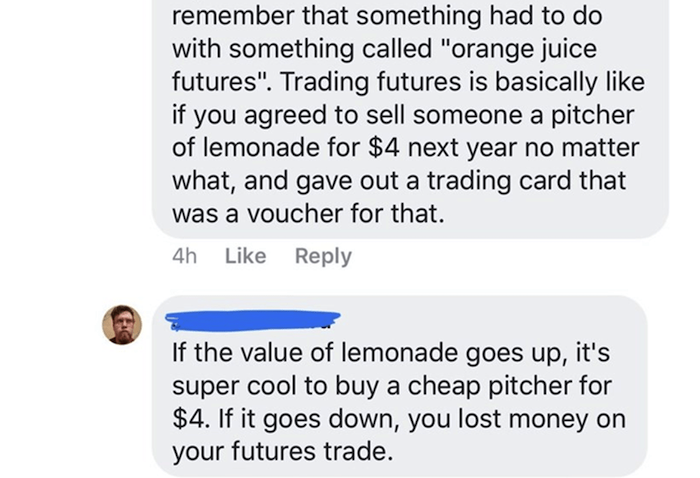 "So Wall St is where people go to yell and scream about the value of trading cards, and make bets on whether or not a card's value will go up. If you've seen Trading Places, you'll remember that something had to do with something called 'orange juice futures,'" he continued. "Trading futures is basically if you agreed to sell someone a pitcher of lemonade for $4 next year no matter what, and gave out a trading card that was a voucher for that."
If the value goes up, you win on a bargain like that. If not, you lose.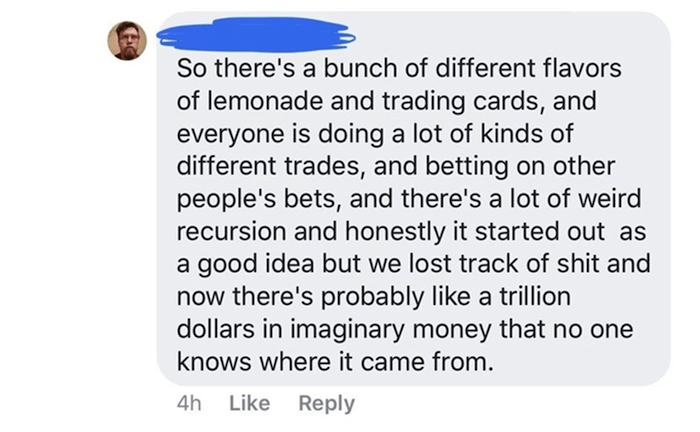 So there's a bunch of different flavors of lemonade and trading cards, and everyone is doing a lot of kinds of different trades, and betting on other people's bets, and there's a lot of weird recursion and honestly it started out as a good idea but we lost track of sh*t and now there's probably like a trillion in imaginary money that no one knows where it came from."
Hmm that's alarming.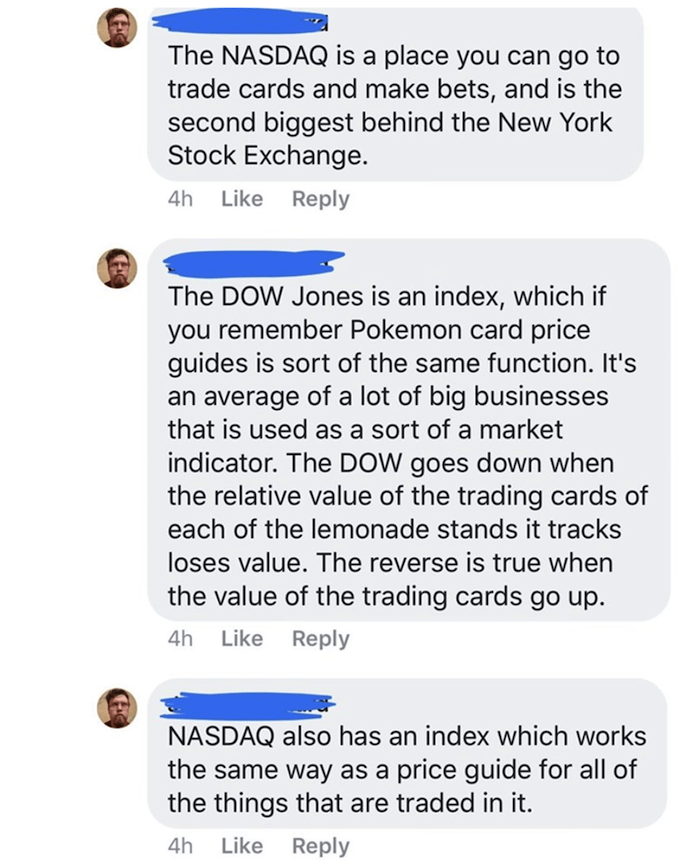 The Nasdaq is a place you can go to trade cards and make bets, and is the second biggest behind the New York Stock Exchange," he added. "The Dow Jones is an index, which if you remember Pokemon card price guides is sort of the same function. It's an average of a lot of big businesses that is used as a sort of stock market indicator."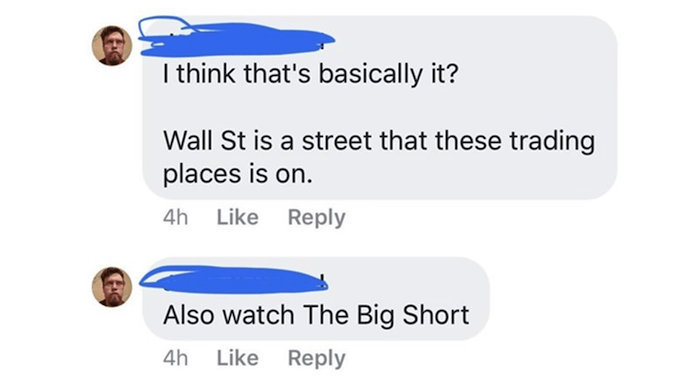 He concluded, "I think that's basically it? Wall St is a street that these trading places is on. Also watch The Big Short."
So, do you feel informed? Ready to invest? Or ready to destroy this broken system? Maybe read some Antifa memes and then decide.
More perfect, A+ explanations: