What a very specific question.
Obviously marriage requires sacrifice and open communication, but the second a new partner enters the chat, all that goes tenfold. u/cindyvanessa recently wondered on Reddit's AskReddit sub:
"Men, what advice do you have for men whose wives want to bring a third into the bedroom?"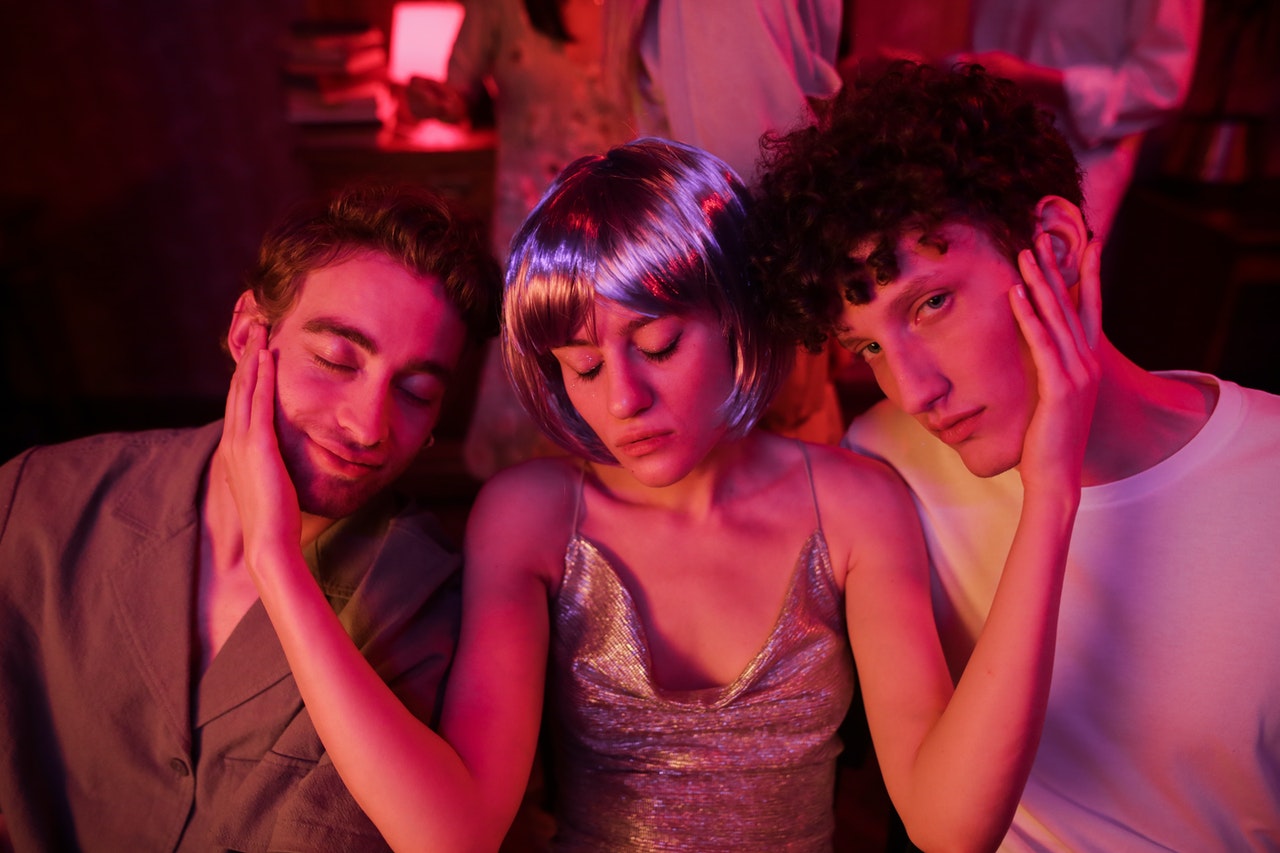 Here are the best replies.
1. Honesty
You need to be completely honest with yourself, ask if this is something you want and could live with.
2. Communicate
Talk it out, endlessly. Once the conversation is brought up you need to see it to its end, even if that end is The End.
3. Be careful
It's like frolicking in a mine field. You both better be SUPER into the idea, you can't have one person who's reluctantly agreed to go along with it. And established rules. A threesome sounds like fun and games until you're watching your partner make faces and sounds that you only thought were for you in your most intimate moments together, and a burning jealousy comes out of nowhere and breaks your heart. I'm not saying it's automatically a bad idea and I know people do polyamory successfully, but dear god be careful
4. It's not great
I feel like unless all parties are poly, threesomes are usually best when none of the three are in relationships and it's just casual sex for everyone. Shits way less complicated then.
5. Be in a couple or be single
I've often said that, when it comes to group sex, you either need to all be single or all be coupled. A couple that invites in a single person is where things can rapidly feel tested, because the perceived availability of single people, to the possessive type, is competition. Two couples playing together, though? While there are ways that can go bad, the presence of structure all around is a great mitigator, and the fact that everyone is in the same boat makes the conversation simpler. But no configuration is inherently doomed. Any of it can work, given people who are well equipped for it.
6. It can work
I'm bi and had a 3 some with a "straight" couple once. While I was the middle of the sandwich I watched them make out and got the warm and fuzzies because they really seemed to love each other. As long as the 3rd doesn't catch feelings for either in the couple it can be fun from time to time.
7. It's hard to come back
Just remember that if you bring this up and your husband is against it, that could be the beginning of the end of your marriage. For a lot of people their partner saying "I am seriously considering having sex with other people and I'm checking with you if it is ok," is a deal breaker.
8. Test it
Go to a bar together separately. Watch them flirt/interact with someone else. If you get jealous, it's probably a bad idea to bring in a third. If it turns you on, go for it.
9. Nope
It's something my wife and I have talked about. We both agreed that opening the Pandora's box is not the way we want our relationship to go. While it sounds fun, we have seen way to many relationships derailed because of it.
10. Security
Make sure you and your partner are secure in your own relationship before having another person join. Have boundaries, and no secrets. From my experience it doesn't usually work out in the end.
11. Don't do it
Don't do it.

For a long time, my ex harboured a fantasy of watching me have sex with another woman. Hey, who knows why any of us are wired the way we are?

After contemplating the idea together for a while, we decided to approach one of her more attractive co-workers, who had made a series of flattering comments along the lines of "You're so lucky" and "He's so good-looking." She excitedly agreed.

First meet-up was of course awkward, but second, third and following were pretty good – in fact they got much hotter, as we all got more comfortable with each other's erotic likes and dislikes.

However, these occasional kinky weekends together soon transitioned into the co-worker asking more frequently and aggressively to be invited over. We tried to explain that we had intended these threesomes to be rare and exotic highlights in our sex life, not regular occurrences, but she didn't take the message to heart and instead became quite insistent, bordering on smothering.

After being turned down one Friday, that night she unexpectedly showed up at our door anyway, carrying a weekend bag and wearing nothing but a raincoat, stay-ups and heels. While that was quite a sight, it definitely creeped us out, as it made us finally realize the whole arrangement was descending into Play Misty For Me territory. My ex and I agreed that her sudden and unwelcome appearance signalled the end of future three-ways, at least until we were able to cool our own selves down, and perhaps later find a more understanding, less demanding third.

Things subsequently got very sticky at work for my wife, as her co-worker, with whom she had to interact closely, strongly resented being permabanned, and kept demanding to know "what she'd done that was so awful". Coworker eventually asked to be transferred to another office, but by the time that was over with, the discomfort / guilt /pressure / confusion my ex was suffering both at home and at work had begun to take its psychological toll. I must confess it didn't help that our own sex life was simultaneously going through a rough patch.

Long story short, we ended our decade-long relationship less than a year after breaking off the threesomes, chiefly due to trust issues and, frankly, growing sexual incompatability. Ever since, I've regretted agreeing to that first three-way; if I hadn't been so damned eager to take a bite of forbidden fruit, I might have kept our relationship intact.

But I guess this is also what sometimes happens when you ignore that old advice, "don't shit where you sleep".
12. Nobody we know
My first rule would be nobody we know. The third would have to be found through dating apps or something
13. Why?
Start by asking her why she feels the need to bring one more in and maybe in her answer you will find your solution
14. Lots to think about
There are a lot of moving parts to consider. Are you bi and she's trying to make you happy? Are you both just not that fulfilled with the current situation? If that's the case, maybe try toys first.
15. Bad idea
Bad idea, I've had threesomes with serious girlfriends and a second woman and it ALWAYS has resulted is destroying the relationship
16. Talk
If it's something you're into, great. Find someone that will work for what you're looking for and go to town If you're not into the idea it's time to sit down with the wife and figure out what the deal is. Because someone might not be getting their needs met and this could turn bad quickly. Or it could be perfectly fine. The answer is always talk to your partner.