We've all either missed or ignored major red flags in our lives.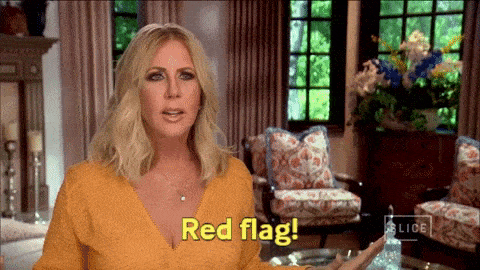 Maybe because we were too oblivious to notice or maybe we just liked lying to ourselves. Regardless, blowing by a big, fat red flag is just part of the human experience.
Twitter user @objsucks wanted to know everyone's biggest red flag they've ignored. Their example is they dated a guy who drank vodka with milk.
what's the biggest red flag you ever ignored? i'll start. i dated a guy who drank vodka milks. not white russians. vodka with ice and whole milk. that's on me.

— obj (@objsucks) December 27, 2020
The tweet went viral, with 312.1K likes and thousands of people sharing their personal red flags.
Here are some of the best red flags people ignored:
---
1.
we were driving around and he played just the worst soundcloud rap song i'd ever heard, i said ew what is this and he said…that's me…..

— moyoy woyllory #bIm (@MayaWolery) December 28, 2020
2.
When asked what he wanted to do for a career by my mom, he said "i think i want to go into law enforcement" after my mom asked what interested him in that he said "because i like the feeling of power"

— Kenzie (@Kenziealaine) December 28, 2020
3.
She said she didn't understand how women could be attracted to other women. https://t.co/A0XEN8YIYb

— 🎬 Jeremiah Warren 📷 He/Him (@jeremiahjw) December 29, 2020
4.
I dated a guy who used to share a single chocolate with his mother in the evening after supper. One chocolate cream and they'd cut it in half. I feel sick just thinking about it.

— Thank Dog! 🐾 🇨🇦 (@Stephanie_KJ) December 28, 2020
5.
told me he was shaky and pale bc he had scurvy but he was actually addicted to vyvanse and had to go to rehab :/

— onlyfans.com/tinderdistrict (@tinderdistrict) December 28, 2020
6.
he peed my bed almost every weekend and made me clean it

— cass (@cassthevirgin) December 27, 2020
7.
He took me to an Eagles tailgate/game on my 1 Sunday off during the season so I could understand Philly better. We sat in the last row at the Linc in the freezing cold with his family. He told me he thought I would appreciate the All 22 view.

Big red flag… I still married him https://t.co/nHGVDHvp3y

— Dianna Russini (@diannaESPN) December 29, 2020
8.
he was a professional scooter rider

— madisonnn (she/her) (@madisonxell) December 28, 2020
9.
disliked Raising Arizona, said Prince was "bad at guitar", david bowie was overrated, and that björk should "get someone to do her beats". https://t.co/EIONmr5l7y

— björk's bjeats defender (@jesawyer) December 29, 2020
10.
my ex who once scrolled on Twitter and clicked on a photo of a half nude girl, looked back at me, and then said he "wouldn't have to look at them" if I had sex with him more often 🤡 also ignored me on my birthday and watched a 30 min video about eggs instead

— val (@Valiance) December 28, 2020