Whenever I see a beautiful woman go viral online, I think, "Her DMs must be a mess."
And it's true! At least for a young woman named Kay, who the Daily Mail reports is a mother of three based in Chandler, Arizona.
Kay went viral on Twitter for a very good reason: she's an absolute babe and she looks completely radiant and happy in her wedding dress. It's been liked over 700 thousand times.
"My man doesn't have Twitter so everyone look at my wedding dress," she wrote, sharing a photo of herself smiling inside David's Bridal in her new wedding gown:
The feedback on the dress is pretty overwhelmingly positive since it features some of Kay's best assets—a lot of incredible tattoos! And she just looks so happy. Everyone wants her dress:
Unfortunately, once you go viral, there will always be a few bad apples wanting to ruin the barrel. Kay told the Daily Mail that someone found her fiancé on Facebook.
"They tried to send him a picture [of my wedding dress]. My fiancé blocked him and didn't open the message, thank god," Kay said.
Who would do that? Do you hate other people enjoying themselves THAT much? She wasn't too upset, though.
"I didn't know it was going to go viral," she said. "Worst case scenario, he sees it and it's not a surprise. I still get to marry him. That's what matters."
Aside from weirdoes trying to put the wedding dress curse on her marriage, there were a whole lot more weirdoes in her DMs. Of course.
"Men really saw a viral tweet of me in a wedding dress and thought that was the perfect opportunity to slide into my DMs. They really have the audacity," she tweeted.
She then shared the screenshots for proof: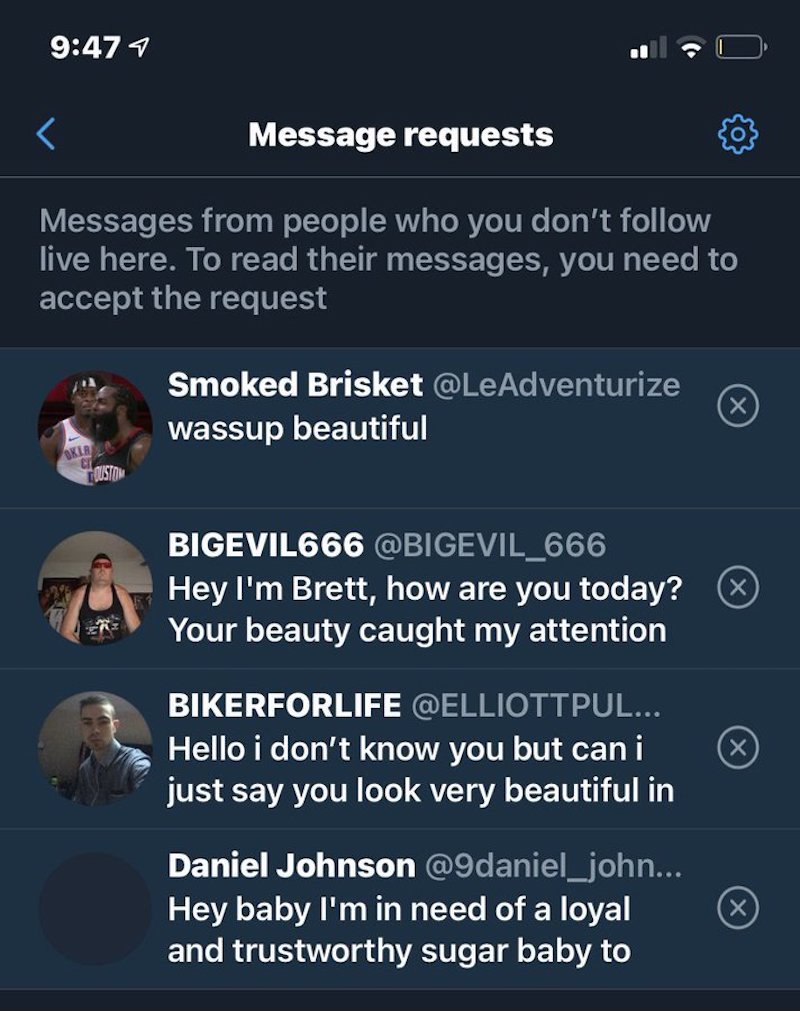 The messages are guys suggestively telling her she's beautiful, and even someone asking for a "loyal and trustworthy sugar baby." I don't think guys should be doing this under any unsolicited circumstances, but if there was ever an outfit that should discourage sexual intrigue, it's a wedding dress.
The girl is committed. And YOU ARE BLOCKED.