People love telling stories about their tattoos—why they got them, how much it hurt or didn't hurt, if they regret them now.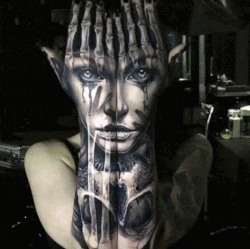 One trend going around TikTok is asking people to share the "dumbest tattoos that you've ever gotten."
A woman from Kentucky has a hilariously unfortunate story that's very specific to our current pandemic existence.
Leah Holland, 25, had been thinking of getting this specific tattoo for years before she finally decided to just do it.
"Basically I had a friend that said this quote about me," she told BuzzFeed News. "We were just talking about things that we really admire about the other person, and he said, 'You courageously and radically refuse to wear a mask.'"
Holland said she's the type of person who thinks it's pointless to pretend you're something you're not, so she liked the quote enough to get it tattooed.
Holland went under the needle on March 4, 2020. In an extraordinary example of bad timing, Kentucky announced its first case of COVD-19 two days later. Soon, came the mask discourse—and Holland was suddenly rethinking her choice.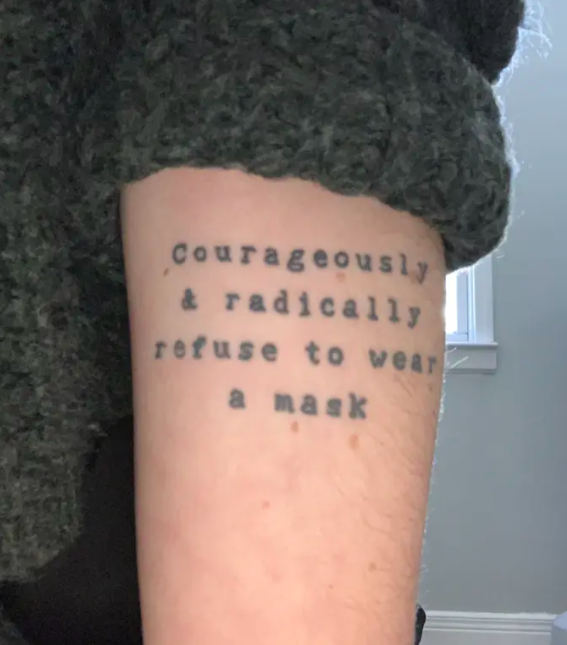 "I assumed that we would probably have to wear masks and stuff. I didn't think that the anti-maskers were going to be such a thing," she said. Holland, who is not anti-mask, said she was so worried that people would think she was advocating for going without a mask.
"I spent the entire summer wearing cardigans so that could not be misconstrued. For most of the summer, I was mortified," she said.
Holland eventually came to terms with her tattoo. She said that while the timing of her tattoo is unfortunate, "it's hilarious now."
"It's just a funny story now. I can laugh about it," she said. "I think it's funny when other people are like, 'I laughed so hard.' I'm laughing about it too!"
Featured Image: TikTok