A video shared by a TikTok user, Luke (@lukeduke41011c), has sparked a debate after he criticized a job applicant for requesting a starting wage of $17 per hour.
In the video, which has received over 137,000 views, Luke, a restaurant manager, states, "This is the stuff I love about hiring people. This kid has never, has never had a fucking job a day in his life. Look at this shit."

He then shows the job application which states, "No experience? I want $17 an hour."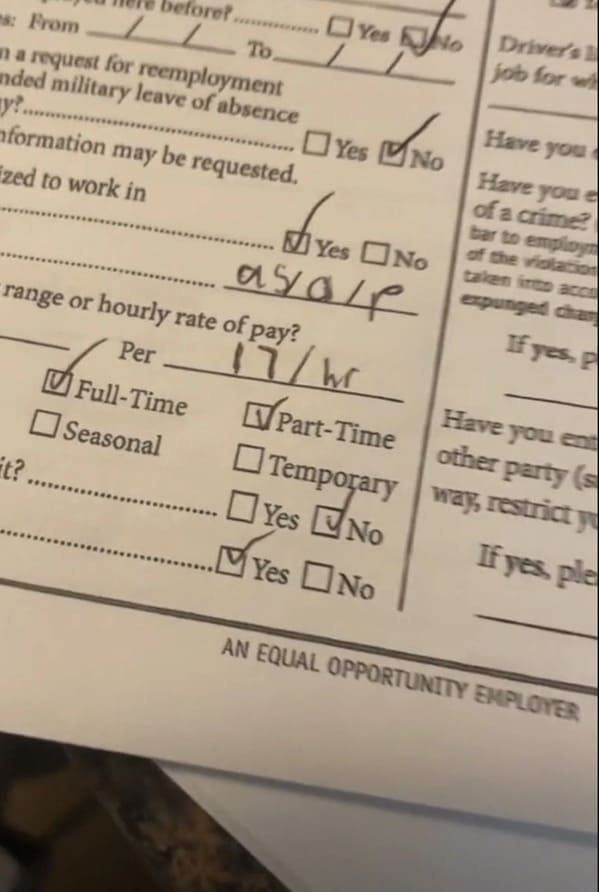 Luke continues, "You've never worked. Where the fuck do these people…" However, the video cuts off before he finishes his sentence.
Many users in the comments section expressed support for the job applicant.





You Can View The Full Video Here:
According to CNBC, McDonald's announced in 2021 that entry-level employees would be earning $11 to $17 per hour and shift managers would be earning $15 to $20 per hour, depending on the location.
However, it should be noted that some locations already offer wages higher than the aforementioned range, and McDonald's anticipates the average wage for employees to reach $15 by 2024.
One user in the comments section of Luke's video mentioned that their local McDonald's was offering a wage of $19 an hour. However, other users agreed with Luke's perspective on the applicant's requested wage.

They argued that the minimum wage is not intended to be a living wage, but rather a starting point for entry-level jobs, typically held by high school or college students.
Luke agreed with this viewpoint, stating that the job the applicant was applying for was not a career, but rather a job. It's worth noting the original intent of the minimum wage.

Luke addressed his critics in a video.
In the video, Luke raises the question of whether a wage of less than $17 per hour would still be considered unjust if he were to offer unlimited overtime at rates of $23 to $25 per hour. However, viewers were not convinced by this argument.
One viewer pointed out that if overtime pay is offered, it should be included as part of regular pay. Another viewer argued that employees are likely producing more value than what they are being compensated for, and suggested that Luke should consider the value he himself brings to the company.