A TikToker recently claimed that a manager at a Chick-fil-A location called the police on her. Why, you ask? What could one possibly do at a Chick-fil-A that would require the cops? Why, stealing sauce, obviously.
TikToker @adelelaresee recently posted a TikTok video that went viral with over 134,000 views.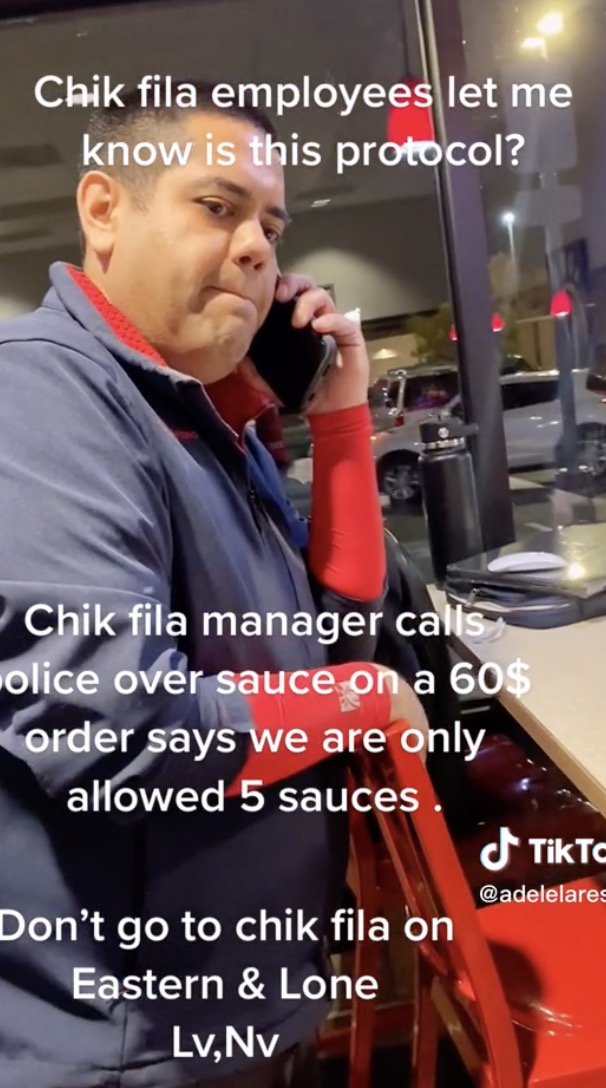 In it, she says that the manager was weirdly strict about enforcing a 5-sauce limit. Her order was $60, so you'd think that maybe that policy would bend a little.
No. No, ma'am.
She wrote in the text overlays as she recorded the manager.
"Chik fila employees let me know is this protocol? Chik fila manager calls police on a 60$ order says we are only allowed 5 sauces. Don't go to chik fila on Eastern & Ione Lv, Nv," she said.
The text revealed that the incident occurred in a store in Henderson, Nevada.
She also captioned the video, claiming that the manager, Anthony, accused her of actually trespassing. Because of — I repeat — sauce.
The manager first says, "It's two?" but it's not clear what he's talking about.
"Yeah. A couple. Two," the TikToker replies.
Anthony speaks into the phone, but we don't know who he's talking to; presumedly he's on the phone with the police.
"One's male one's female they're causing a large scene and they won't leave," he tells the person on the other end. Anthony takes a pause and then responds again to the phone, "They're both African-American. Probably in their mid-20s I'm not sure. Black hoodie that says 'Tokyo,' jeans."
"Just so you know, you'll be all over TikTok, so…" @adelelaresee tells Anthony. Off camera, a man adds, "Right…and you should stop lying to the police, sir."
The female voice says the managers name again on camera, "Anthony from Chick-fil-A" and promises to call corporate about the incident.
@adelelaresee also posted a followup video about the altercation. She explains that she stopped to get some food for their three daughters. The drive-thru was packed so they went inside and ordered. No problems yet! Once the order was handed to them, they say they were not given any sauce.
"Now we had a full order. We had two spicy chicken deluxe sandwiches, we had two macaroni and cheeses, we had a waffle fry, she got a salad, we had a thirty piece nugget, lot of food," the man in the video says.
Then the manager, they claim, said they would get five sauces for the nuggets "and that would be all". When asked for more, the manager said there was a strict sauce-count policy.
"He tried to put his hand in my food and grab it and tell me I'm gonna get a refund…" @adelelaresee says. Her partner says they were rushing to get their kids home.
At that point, they say they "didn't really get loud", but the manager declared he would call the police. Another employee gave them more sauce while the manager was on the phone.
"I was in shock that he actually called the police over sauce," @adelelaresee said. "Everyone else in the store was going about their day like normal, there wasn't a disturbance, we were literally just asking for more sauce."