A TikTok user has gained widespread attention after claiming that their Classic Brands Cool Gel mattress from Amazon is made with fiberglass, causing agitation and discomfort.
"I just thought I had sensitive skin because I keep getting rashes," says TikToker Cody in the now-viral video. "I'm being cut open by the fiberglass!"

Cody also shows that fiberglass particles have spread throughout their room while pleading with the mattress company Casper to provide them with a free replacement mattress.
Despite receiving an average rating of 4.5 out of 5 stars on Amazon, the Classic Brands Cool Gel mattress has received numerous complaints from reviewers about the presence of fiberglass.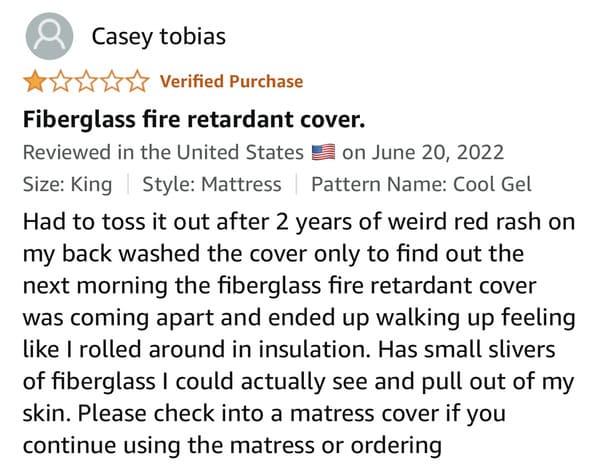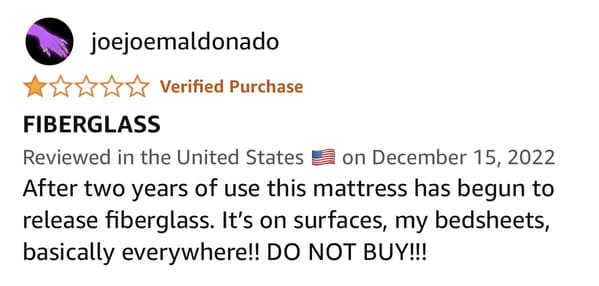 Cody confirmed that removing the cover to wash it seems to be how the fiberglass spread throughout his room.
According to Sleepopolis author Riley Otis notes that it's not uncommon to find fiberglass in mattresses.
"Due to the Consumer Product Safety Commission, a standard of flammability in mattresses was put in place in 2007. The Standard for the Flammability (Open Flame) of Mattress Sets states mattresses are required to meet the federal safety standard for open-flame fire resistance," Otis writes. "…Fiberglass is a low-cost material and is a cheap way for manufacturers to meet the standard of flammability requirements."
Otis also notes that it can be challenging to remove fiberglass particles once they have been released into the room.
"Once the fiberglass is released, it can be impossible to get rid of without a professional. This means it can settle into every inch of your home and even find its way into the HVAC system," explains Otis.
You Can View The Full Video Here:
After going viral, Cody reports that he has been contacted by both Casper and Big Fig Mattress to receive a new mattress. So it looks like this story will have a happy ending. At least for Cody.