Selling alcohol to a minor is a class A misdemeanor, punishable by a fine up to $4,000, confinement in jail for up to a year or both. Your driver´s license would also be automatically suspended for 180 days when they are convicted. As a team member of an establishment that sells tobacco and alcohol, it can sometimes catch you off guard when someone who looks over 30 is actually under the age of 21.
One man recently found this out the hard way after he sold alcohol to a woman who "looked like she was well-over 30" and received a "Red Card" warning in return. Red Cards act as a penalty to employees who sell to underage customers, whether intentional or not. Once you receive three of these cards, you're ultimately fired, and could even be charged with a misdemeanor and legal fees.
In a viral TikTok, A 7-Eleven worker who posts under the username @_born2flex spoke about how he fell victim to a "secret shopper" in his store.
According to the TikToker's video, he received a "red card" from a woman who was attempting to buy beer. He claims it functions as a penalty system for workers. The employee wrote in a caption for the clip: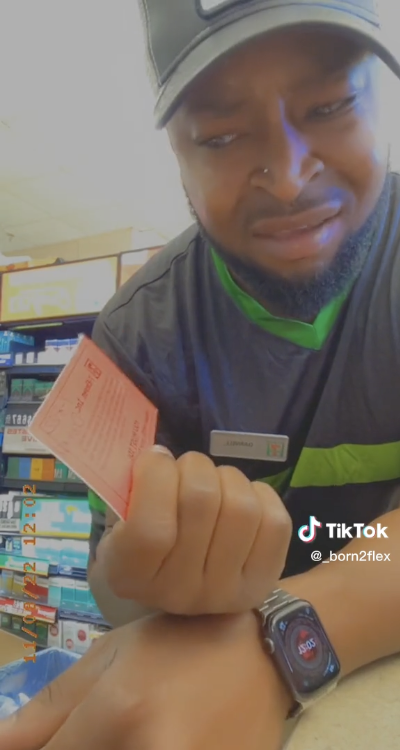 This lady really red carded me from the ABC administration she looked over 30 so i DIDNT ask for her ID 2 more and I'm fired so guess what EVERYBODY GETTING ASKED FOR ID!
He said in the TikTok, "OK so this is what happens when you don't ID somebody. The bitch that gave me this card looked well over motherfucking 30 but I did not ID her and she gave me this card."
He also said that if he had asked for her ID, he would've gotten a green card that signifies he "passed." He further explains that "you can only get three of these [red cards] and you get terminated" along with a fine you have to pay yourself.
He then concluded with a rather blunt statement, that we can't really blame him for, "I don't want this job anyway bitch."

The video collected over 95k likes 900 comments of viewers explaining their perspective on the matter.
Different states have different laws when it comes to individuals selling tobacco, alcohol, or products that require a photo ID to verify age. Not only can the store itself be penalized and even temporarily shut down, but individual employees can be as well. With that being said, if you're worried about potentially being fined or summoned to court for inadvertently selling products to minors, you may want to look into your state's laws to become better acquainted with your rights.
Most food and beverage employees are required to complete a TABC training course before starting in their position. In the course, it is encouraged and reiterated that you must ID everyone who attempts to purchase alcohol, no matter the hassle this sometimes brings.
Granted, it can get annoying having to deal with older people, who are clearly of age, questioning why they have to struggle to pull out their ID's when they're clearly in the right to purchase alcohol. But may this video be a warning to do it anyway, as a temporarily upset old person is a better alternative than legal fees and no income.
Commenters were on the fence about the topic, with some backing _born2flex and some explaining their past roles as a secret shopper themselves.