We've seen lots of videos of badly behaved customers, but this one is in a league of its own.
It happened when TikTok user Keyana McNeal (@keylove124) recorded a video while she was working the front desk at a hotel (scroll to the end to watch the full video).
In the video, McNeal was ruthlessly berated by a guest — for no reason.
After McNeal says "Have a good night," a woman (who isn't shown on the recording) responds: "Fuck you. Do not say anything to me. Nothing. You're a bitch. I have no interest in talking to you."
Um. Ma'am. First of all, we don't think McNeal is the problem here.
But she wasn't done. The foul-mouthed lady went on to call McNeal an "ignorant bitch" who was "smacking [her] lips" while drinking her water.
Even stranger was the fact that, according to McNeal, it was her "first time seeing this lady."
The video went viral, amassing over 5 million views. And commenters were stunned at the lady's rudeness.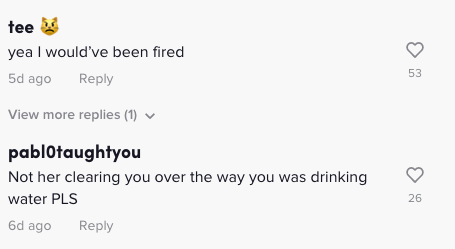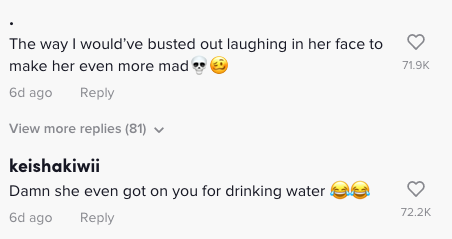 Others wondered if there was more to the story than what we saw.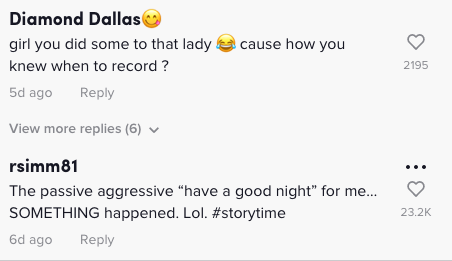 McNeal made a follow-up video where she told us more about what happened. Apparently, the woman had already been kicked out of the hotel for (surprise, surprise) cursing at people.
Then she returned and cursed at McNeal, who then started recording.
"I was being petty when she walked past," McNeal admitted. "I don't know why she started talking about me. She wanted somebody to argue with."
To her credit, though, McNeal kept her cool throughout the whole encounter. As she put it, she works in customer service so she has to deal with this stuff a lot.
Here are both videos, see what you think.
h/t: Daily Dot