A woman "sneakily" applying for a new job while on the clock happened across her boss in one of the interview panels. TikToker Carla (carlabezanson) posted her video to the platform, and surprisingly, she's not alone in this awkward experience.
It's hard to imagine seeing your current employer waiting in your zoom call to be interviewed for the same position you're applying for, especially when you're supposed to be working for that person. Well, that's precisely what happened to Carla. Her confidence going in must have faltered some, knowing she was now forever trapped in an awkward situation. In the caption of her video, she wrote, "Made it real tough to embellish absolutely everything I said in the interview too."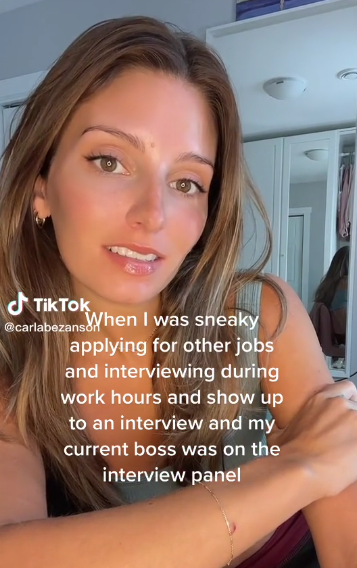 Her video brought in almost a million different viewers, many of which shockingly confessed to the same thing happening to them. One viewer joked that the situation was perfect because she already had "a reference present." Carla's chosen sound for her TikTok encased exactly how applying felt after seeing her boss on the interview panel.
The TikTok of the job applicant running into her boss on the interview panel collected over 822,000 views.
Carla revealed in her comment section that despite the unfortunate situation, she still got the job! Many were confused about how her boss was on another company's interview panel, but she wasn't the only victim of this scenario. Others shared their condolences and reassured her that this does occasionally happen.
Other job applicants who have found their bosses on interview panels shared their stories.





Has anything like this ever happened to you too? Let us know!