Thanks to a viral TikTok, an elderly Walmart employee is now able to pay off her mortgage and retire.
TikToker Devan Bonagura shared the video which helped raise over $186,000 for Nola Carpenter.
"Life shouldn't be this hard," Devan wrote in the text overlay of the video. In the now viral TikTok, we see Nola, the elderly Walmart employee in her vest while sitting in the break room. the caption of the video reads, "I feel bad."

Devan works for a third-party company selling phones at Walmart and he would see Nola regularly. He couldn't stop thinking about her having to work there every day, so he decided to start a GoFundMe campaign to raise some money. Others who also knew Nola wanted to help as well,
The campaign titled, "Let's help Nola retire," was originally seeking to raise up to 10,000.
"Nola works at Walmart and that says enough. Let's all come together and help."

However, in less than 24 hours, the campaign reached $100,000. Like with many of these campaigns, some viewers and potential donors were worried it was a scam. Devan reassured those questioning his motives that Nola would receive the money.
"She is going to get every single dollar that was donated"
According to Devan, Walmart even sent him a cease and desist over the video, and to cancel the GoFundMe campaign, returning the money to donors. After going viral, Walmart received much backlash
"So, I told them, 'Do what you gotta do, because I'm getting this money to this woman one way or another,'" Devan said.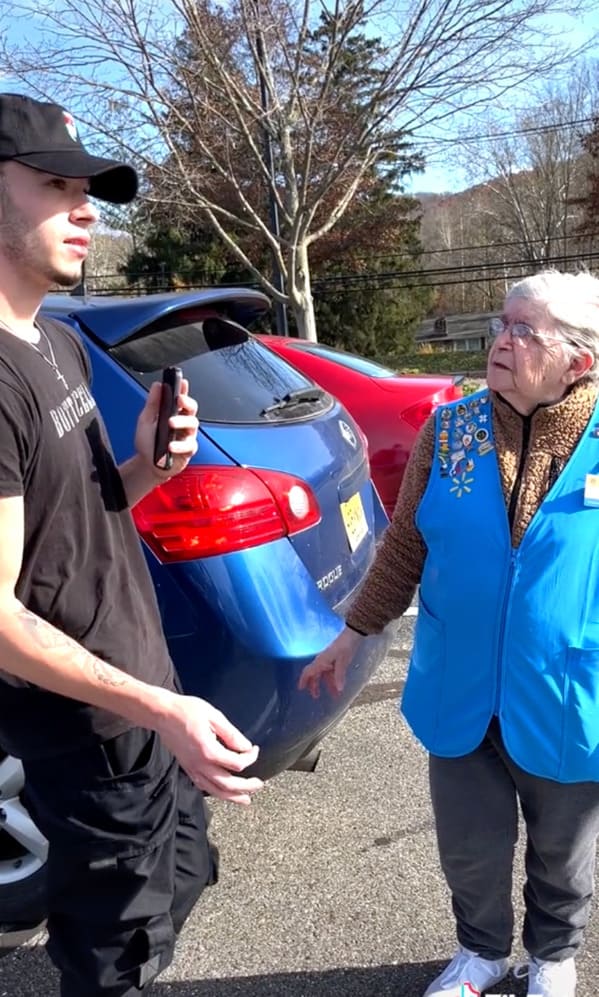 Devan later shared a video of him telling Nola about the fundraiser.
"They saw that you're a very hard worker, obviously. We are all super proud of you, and we wanted to offer you the $110,000 that has been raised for you."
"I'd accept it, but I'd still have to work until I get the other $60,000 paid off the house," she responded. Nola continued explaining, "It won't take long now with all that money," adding, "That's what's holding me at work — the house."
Ultimately, the GoFundMe campaign received enough donations to help Nola pay off the house so she could retire.