Duolingo is a language education app that's been really helpful in teaching millions of people a new language! That is until you miss a lesson. Learning a new language takes consistency and repetition, and if you forget to check in for a few days that's when the Duolingo Owl comes for you.
The Duolingo Owl is weirdly aggressive about you learning your new language. Not only is there something extremely unsettling about him, but even the "random" sentences he has you translate. The whole thing has a bit of a horror movie vibe. I guess the best way to explain it is through memes. Read on.
1.
Thanks to Duolingo I can now have a breakdown in Norwegian pic.twitter.com/CeLFbgbzUC

— William Stafford (@williamstafford) July 9, 2018
2.
Dutch duolingo is NOT fucking around pic.twitter.com/YLt2MqJGni

— 🍓noa (@noaaavocado) October 24, 2017
3.
4.
5.
6.
Italian Friends: Ciao, Emily! Come stai?

Me, a Duolingo Scholar: pic.twitter.com/kY0mmtghjv

— Emily Dagger (@AbbottRabbit) October 23, 2018
7.
Duolingo can be funny sometimes pic.twitter.com/pE7hlv9602

— Evan Edinger (@EvanEdinger) August 3, 2018
8.
So this happened during my Spanish lesson with @duolingo pic.twitter.com/nDkfZWU5G3

— Irene Park 🧬📝 (@irenepark89) June 28, 2017
9.
10.
11.
12.
13.
14.
15.
16.
17.
18.
19.
20.
the duolingo bird showing up in your bedroom @ 2am demanding you practice your fucking chinese pic.twitter.com/hZmVVYHlgd

— ` (@ceoofbts) March 27, 2019
21.
22.
KIDNAPPER: *hits me across the face* nobody's ever gonna find u

[duolingo owl busts through the door and shoots the kidnapper]

ME: holy shit u saved me

OWL: u've got more spanish to learn. u'll die when i say u can die

— Bob Vulfov (@bobvulfov) December 3, 2018
23.
24.
25.
26.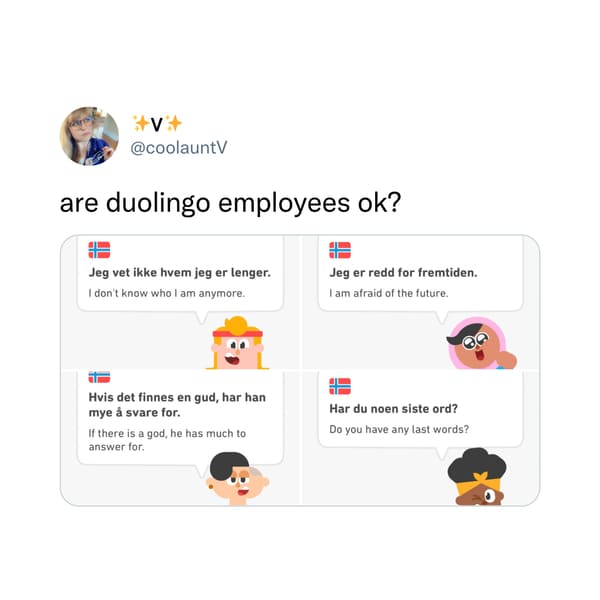 h/t boredpanda