I think we can all agree that the tipping culture has gone absolutely insane, but what if I told you that now people were charging $25 to cut up a cake. Twenty-five bucks!
TikToker GiGi, aka @vivala_blondiiie, uploaded a video on January 29th and raked up nearly a million views in just two days. In that video, she explains that she was charged a surprise $25 to cut a cake.
She wrote in the text overlay, "When the server asks if we want the cake WE brought cut, thinking she's doing something nice for us… But it was 25 dollars."
GiGi showed the restaurant receipt in the clip; it featured a staggering $25 "cake cut" charge. Before taxes and fees, the total for the evening out was $113.
"I didn't know this was a thing?!?" GiGi wrote in the caption.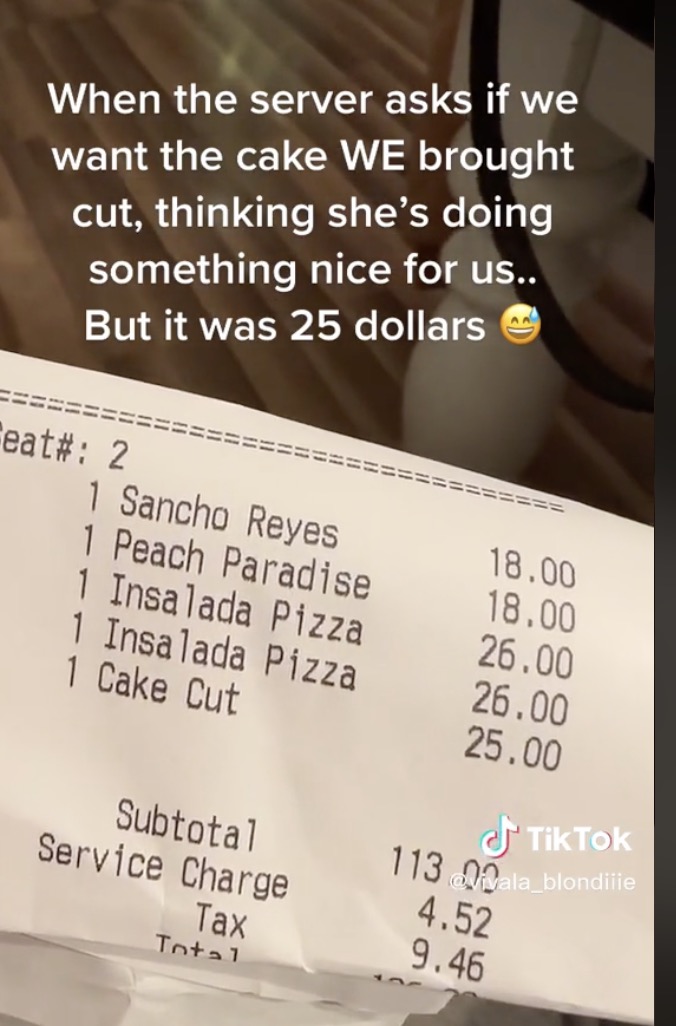 The restaurant was not named.
Comments in the comment section told GiGi that this was a pretty normal thing for a restaurant to do; they charge a little extra to eat outside food.
"Totally a thing. Because then they bring plates and forks, which they then have to wash. But it was wrong that you weren't told of a fee," one comment read.
"Yes. If you bring your own every restaurant charges a cutting fee. You should inquire first," a second person chimed in.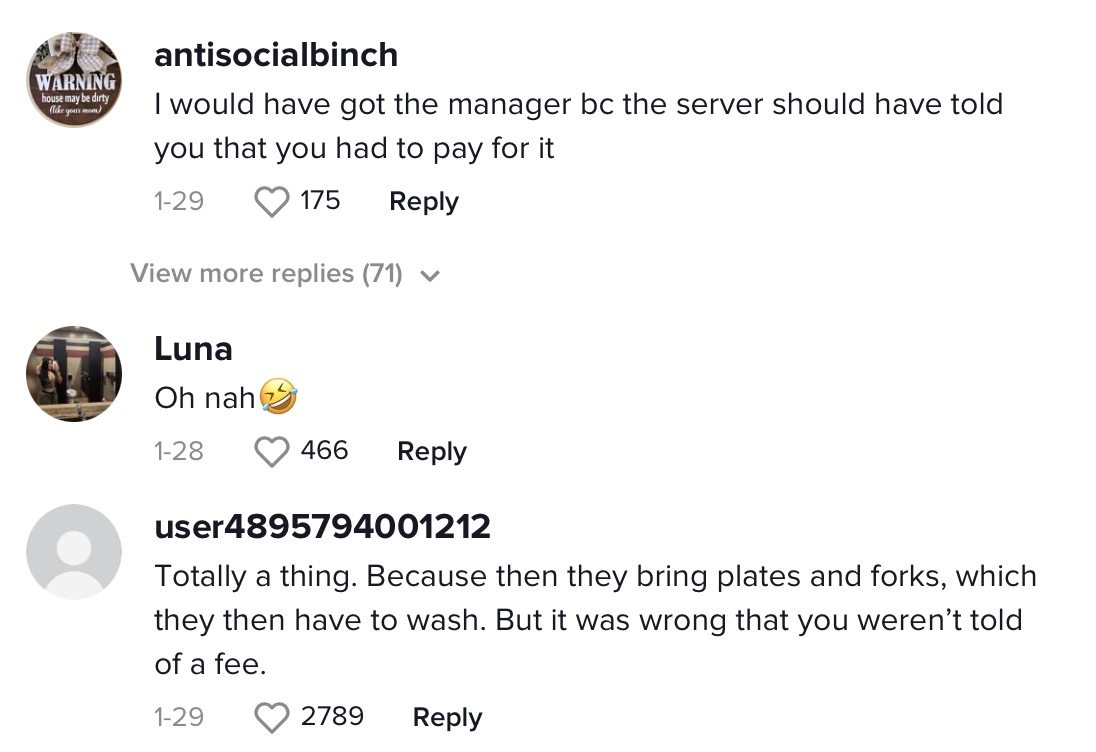 "Many restaurants do this but they definitely should have told you about the fee!!" another noted.
Other people said they would have been just as stunned as GiGi.
One person said, "I would have asked the fee be removed if [they] didn't tell me. Then add it to the tip. I still paid it, but it goes to the server."
Another promised that the manager would just take it off. They said, "Every time a server tries this without talking to us, we just call the manager and get it removed."
"Oh when a waiter asks if [I] want something, and doesn't disclose a charge, I tip half the normal," another said — yikes.
Other people in the comments quibbled over the cost of the meal in general. One person was aghast at the $26 personal pizza; another wanted to know what on earth a $4.52 service charge was meant to be.
GiGi said the pizza was actually $23 and they discharged her there. She explained the service charge was there because she ate at a hotel.