Bernie Sanders has a lot on his mind. What to wear isn't necessarily at the top of his agenda. He's trying to get through the day without completely losing his mind over what other politicians are doing.
That's why, even when he shows up at a big event like Joe Biden's inauguration, he looks like he's at an outdoor middle school talent show he was forced by his family to attend. That's the Bernie way. He hasn't enjoyed anything since the early 70s when he was writing folk songs in Vermont.
The good people of Twitter saw this grumbly man and had a lot to say.
Here are the funniest tweets about Bernie Sanders at Joe Biden's inauguration:
---
1. Keepin' it casual.
2. "These creatures are my family."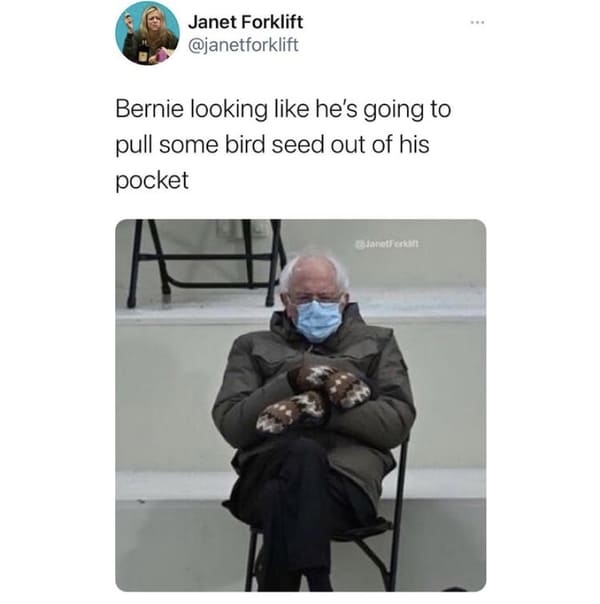 3.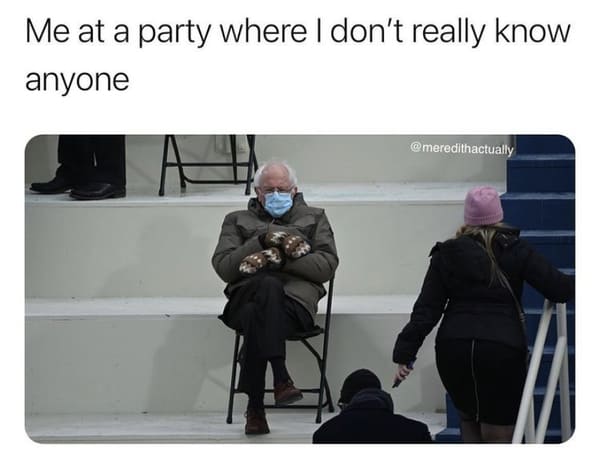 4.
Lmaooo I love Bernie's "I couldn't care less about pomp and circumstance" coat and mittens combo pic.twitter.com/aqdM6MDAzl

— Leigh Giangreco (@LeighGiangreco) January 20, 2021
5.
Bernie is on his way to the post office. pic.twitter.com/prPPlqprqs

— Benjy Renton (@bhrenton) January 20, 2021
6.
Bernie's got the green new deal in there.

He wanted to hand deliver it on day 1. https://t.co/oebVjbFA2v

— Evan Weber 🌅🔥 (@evanlweber) January 20, 2021
7. It's been 45 minutes, Shelia.
In Jewish yoga this pose is: waiting for my wife at Loehmann's pic.twitter.com/Qik7wsZ0ad

— Chandra Steele (@ChanSteele) January 20, 2021
8.
Me waiting for my boyfriend to give me attention pic.twitter.com/2GnpbAuTy8

— Dana Schwartz (@DanaSchwartzzz) January 20, 2021
9.
Out on the town having the time of my life with a bunch of friends pic.twitter.com/Qu7UpVTKgQ

— Dave Itzkoff (@ditzkoff) January 20, 2021
10. 10% Promo code if you sign up for my newsletter.
Bernie's all about promoting his Etsy shop. pic.twitter.com/44juzWPAT6

— Ted Alexandro (@tedalexandro) January 20, 2021
11.
Bernie out here like he's camping for a FCFS release pic.twitter.com/DIDEnrN6LN

— Haroon (@HR8886) January 20, 2021
12.
"I am once again asking for a space heater." https://t.co/2PmfOWFGYE

— Daisy Razor-in-candy (@daisy_razor) January 20, 2021
13.
Bernie giving teacher on recess duty vibes. pic.twitter.com/VRTh09g6QL

— That Teacher Grind (@teachergrind) January 20, 2021
14.
Jane Sanders: Bernie you can't wear my oven gloves.

Bernie Sanders: Fuckin watch me. pic.twitter.com/mNifUuoJZz

— cluedont (@cluedont) January 20, 2021
15.
Bernie looking like "this could've been an email." pic.twitter.com/Dacef6o7PE

— shan.tel (@H3YLiGHTSKiN) January 20, 2021
16. May the odds forever be odd.
If lady Gaga is serving mockingjay than Bernie is serving district 12 vibes pic.twitter.com/7Bu6GVsc0e

— kel (@kel485) January 20, 2021
17.
Waiting for my mom in the car after she said she'd just be a few minutes. https://t.co/CpslnUx3OF

— Sage Coffin ⚰️ (@SageCoffey) January 20, 2021
18.
my guy bernie clearly thought it was just gonna be a zoom inauguration pic.twitter.com/KyJXUw9VFh

— emān (@thepakimon) January 20, 2021
19.
Bernie at the inauguration pic.twitter.com/Ly5x4Gt4uH

— Skyeanna Rae (@SkyeannaR) January 20, 2021
20. I'm nobody's monkey, Garth.
When Garth Brooks asks you to sing along. pic.twitter.com/gkfRYpWFt3

— Keaton Patti (@KeatonPatti) January 20, 2021
21.
bernie sanders looking like this atm pic.twitter.com/LsjUm6umhq

— anna (@mobiusonyeo) January 20, 2021
22.
This is literally the happiest Bernie has ever been. pic.twitter.com/XuD66SOKok

— Late Night with Seth Meyers (@LateNightSeth) January 20, 2021
23.
When she makes you go to brunch during a pandemic. pic.twitter.com/eJcvFUIcLU

— Nate Armbruster (@natecomedy) January 20, 2021
24.
Bernie Sanders: "How long are these games? My feet are chilly." pic.twitter.com/pGcInw8Gpv

— McNeil (@Reflog_18) January 20, 2021
25.
Bernie with zero sartorial consideration. Just full Vermont grandfather pic.twitter.com/hCmf14AeZg

— Kozza (@Kozza) January 20, 2021
26.
27. And, closing with a sweet one…
Bernie's mittens are made by Jen Ellis, a teacher from Essex Junction, Vt. She gave them to him 2+ years ago and was surprised when he began wearing them on the campaign trail. They are made from repurposed wool sweaters and lined with fleece made from recycled plastic bottles. pic.twitter.com/ErLr29lY2t

— Ruby Cramer (@rubycramer) January 20, 2021
Good stuff, Bernie!