First off, everyone who didn't watch last night's favorite GIF: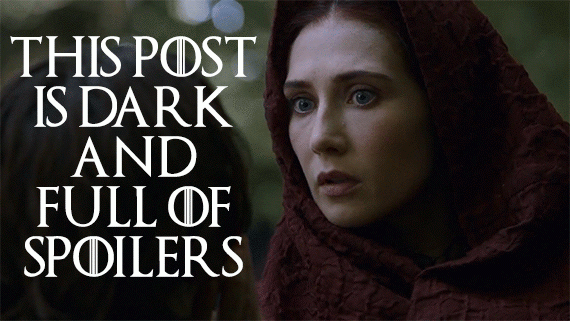 …
Of the many ways in which celebrities are "just like us," tweeting about Game Of Thrones is certainly one of our favorites.
Here's what they had to say about last night's episode…
1. Kumail Nanjiani
My Game Of Thrones review: Even my cat is a mess.

— Kumail Nanjiani (@kumailn) April 22, 2019
2. Mark Hoppus
Jaime: It's weird that I've been making sex to my sister for like years now…
Jon Snow: Man same I just found out I'm sleeping with my aunt!
Tormund, drunk: I wAs rAiSeD oN a gIaNT's NipPle sInCe I wAS TEN YEARs OLD!!

— house stark hoppus. (@markhoppus) April 22, 2019
3. Leslie Jones
https://twitter.com/Lesdoggg/status/1120180651729330177
4. Kendra Wilkinson
https://twitter.com/KendraWilkinson/status/1120158755717402625?
5. Lupita Nyong'o (and, in a way, Cardi B)
Lol! Accurate! https://t.co/trmHEiXTtn

— Lupita Nyong'o (@Lupita_Nyongo) April 22, 2019
6. Cynthia Erivo
ARYA STARK!!! This badgyal!!!! She ain't got NO TIME TO PLAY!!! Get your goodies !!! #GameofThrones

— Cynthia Erivo (@CynthiaEriVo) April 22, 2019
7. Rainn Wilson
I can't wait to watch Game of Thrones tonight for 53 minutes and then spend 4 hours over the course of the week reading about the episode.

— RainnWilson (@rainnwilson) April 22, 2019
8.T-Pain
"That was trash"- Arya probably

— T-Pain (@TPAIN) April 22, 2019
9. Actually, T-Pain was on fire…
Ain't nobody take none of that bread to dip in that soup and it's bothering me #got

— T-Pain (@TPAIN) April 22, 2019
Tinder in the seven kingdoms would've been a fuckin mess #got

— T-Pain (@TPAIN) April 22, 2019
10. Elizabeth Banks
Newly-knighted Brienne is a dead woman. #hottake https://t.co/oD42HfCjwr

— Elizabeth Banks (@ElizabethBanks) April 22, 2019
11. Conan O'Brien
I hope I'm not the only person at Easter Mass dressed as Arya Stark.

— Conan O'Brien (@ConanOBrien) April 21, 2019
12. Ryan Phillippe
game of thrones is for geeks and pedophiles

— dr. philz (@RyanPhillippe) April 22, 2019
13. Ava DuVernay
When #GOT gives us:
Arya + Gendry
Sansa + Theon
Greyworm + Missandei
Sam + Gilly
Sansa + Dany
Lannister Brothers Reunion
Mormont Fam Reunion
Tormund + The Giant's Wife
Aegon + Daenerys
But all I can think about is…

"Arise, Brienne of Tarth. Knight of the Seven Kingdoms!" Yas! pic.twitter.com/rZxuKya5vV

— Ava DuVernay (@ava) April 22, 2019
14. And Mariah Carey…
Major Game of Thrones spoilers….
.
.
.
.
.
.
.
.
.
.
. pic.twitter.com/NgJ3FTqTPH

— Mariah Carey (@MariahCarey) April 22, 2019