Baseball fans noticed a rather eerie spectator behind home plate at an Oakland Athletics game earlier this week, and people are confused.
The woman first appeared in Oakland when the A's were playing the New York Mets, and quite literally smiled throughout the entire game.
Uh, welcome to Oakland? pic.twitter.com/Zn6mu45t5P

— SNY (@SNYtv) September 24, 2022
This was understandably disconcerting to viewers, but they eventually realized it was part of a marketing campaign for the upcoming horror movie called "Smile".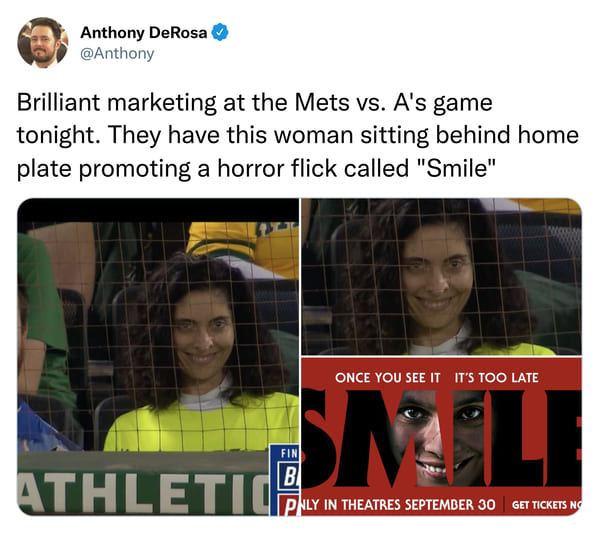 Upon realizing it was a harmless promotional stunt, fans went back to enjoying the game. As soon as they forgot about her she started to appear in other stadiums across the country. This time at Yankee Stadium in New York City.
This time it was raining, which really adds some "horror" movie vibes.
Just when everyone thought she was finished the woman then appeared on Sunday Night Football. Her bright neon green 'Smile' shirt made it impossible to miss.
Here's the trailer for "Smile" the movie she's promoting.
It doesn't look too bad for a modern horror movie, but I'm only watching it if she appears in her bright green shirt at some point.