With the Golden Globes happening this Sunday, we're all ready and excited for the start of awards season. Not only do we get to see our favorite faces getting awards for their outstanding performances in our favorite TV shows and movies—but we also get to see them serving looks on the red carpet. Everyone knows that awards season brings out the best names and designers to dress the starts, so, we're always interested in what the celebs are wearing.
But, this year, Twitter has looked past the stars and starlets for a brand new face to take center stage on the red carpet and her name is Fiji Girl. The mystery brunette has been stationed on the red carpet to give out Fiji Water bottles to all of those parched and thirsty, but in reality, she is thirsty for some camera time. Just look at the looks this girl is serving.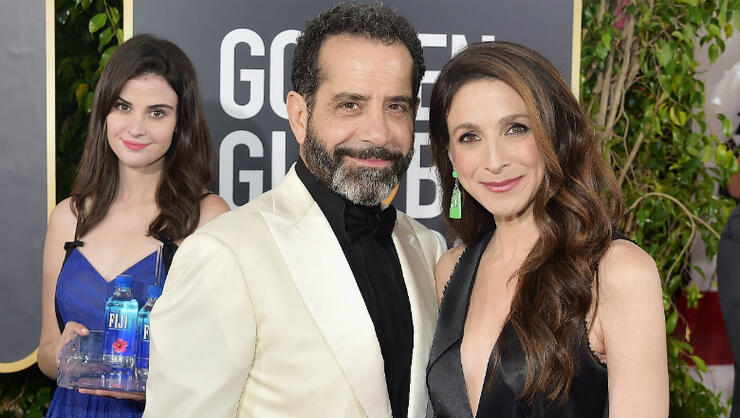 Obviously, Twitter is obsessed with her (and, so are we).
The Fiji water girl is literally living her best life #GoldenGlobes pic.twitter.com/DxsdNgQCas

— ENDGAME (@wingardiumbrad) January 7, 2019
if Bradley Cooper doesn't bring the Fiji girl out on stage to perform "Shallow" with him I'm turning this show off

— Sam Lansky (@samlansky) January 7, 2019
I just want to be the Fiji water girl wow https://t.co/fgDsDX8foA

— yuh (@gucciguccimami) January 7, 2019
The Fiji water girl is me trying to act nonchalant but also serve face in the background of club photos #GoldenGlobes pic.twitter.com/5i2bvfZ8nU

— Ethan Harvey (@ethanharv) January 7, 2019
and the #goldenglobe for most ominous photobomb goes to . . . FIJI WATER GIRL! pic.twitter.com/8zcxxDbeGJ

— Quinn (@QuinnKeaney) January 7, 2019
The fiji water girl is serving LOOKS. Opportunity seeking at its finest. Get it queen! pic.twitter.com/LfgiKvG3bQ

— Alex Grigorian (@alexgrigorian_) January 7, 2019
I'm not even kidding I would die for the Fiji water girl she's living the dream

— beth (@vanelloki) January 7, 2019
i have decided to stan fiji girl #GoldenGlobes2019 pic.twitter.com/IdglwLF5CL

— 🙁 🙁 🙁 (@kobellic) January 7, 2019
I LOVE this Fiji water girl posing in the back of every red carpet pick like she's a celeb pic.twitter.com/ab8zNotXqY

— Sabrina Butcher (@sabrina_butcher) January 7, 2019
Fiji Water girl saw her chance and took it #GoldenGlobes pic.twitter.com/XXZTOovuSG

— Mathew Steinberg❄️ (@mathewsteinberg) January 7, 2019
And, there you have it y'all—when you have an opportunity to shine, you f**king take it. We stan a legend. Here's to you, Fiji Girl.
More Pics & Memes You May Or May Not Enjoy: