Holy moly, it feels like forever ago that we were picking our first screen names. It sort of was forever ago, so that makes sense. They were always some combination of fandom and inside jokes, with birth or graduation years thrown in there. Mine was more embarrassing than I'll be revealing here, but some people have no problem sharing theirs and happily did so when writer Ashly Perez asked on Twitter.
https://twitter.com/itsashlyperez/status/1099305220541042688
She also asked people why they chose the name they did. The results were predictably awesome and the best kind of cringeworthy.
Perez went first, revealing that her first screen name was a weird combo of initials, locker numbers, and the word "baby."
https://twitter.com/itsashlyperez/status/1099305661429473281
Whoever runs the account for the PEN15 show contributed to the conversation.
Babyspice666 ~ pic.twitter.com/DWVWXgWeLq

— PEN15show (@pen15show) February 23, 2019
Bcuz the spice girls r my actual life and 6 is my fav numb3r ~

— PEN15show (@pen15show) February 23, 2019
Then other people chimed in. Get ready for a lot of Avril Lavigne.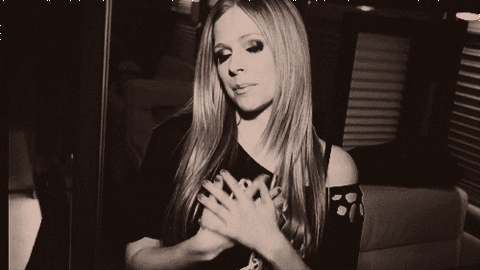 1.
I love this question! AIM sn: blazinlez2005

I was really into smoking weed, was really excited about being gay and I was going to graduate HS in 2005.

— Natalie Barreda (@nataliebarreda) February 23, 2019
2.
Sk8rgirl because Avril Lavigne 😂

— Aly Duehning (@alyduehning) February 23, 2019
3.
1st sn ever: icyangel20202 – inherited this from my older sister
1st sn I made myself: soccerbabix1 – i did not play soccer at all but wanted to be ~cool~

— emily chau 周海怡 (@__emilychau) February 23, 2019
4.
Mine was 'ishootbalz4fun21' because I played basketball… and also, as a later life discovery, a total lesbian.

— Casey Sherwood (@CaseySurewould) February 23, 2019
5.
steph_rulz – not intentional i didn't realised I'd misspelled rulez for years

— Stephanie ✨ (@StephanieDJL) February 23, 2019
6.
hilaryduff1fan04…it's kinda um…self explanatory 😅

— victoria, idiot sandwich (@victographs) February 23, 2019
7.
Hippieclue101, because I was too young to understand hippies were more than just colorful paisley patterns and lava lamps. And clue just rolled off the tongue.

— Brittany Gellerman (@brittgell) February 23, 2019
8.
robyn_da_pnk_n_blck_gurl (my myspace URL; i love 2007-era Avril)

— robyn (@havfruit) February 23, 2019
9.
SkiGrl211… I don't ski

— Sophie Elise (@SophieElise12) February 23, 2019
10.
Shilight96

Shi (shy) because Im SoOo ShY rAwR xD, and spelled with an i to be different.

Light because it sounded cool

96 the year I was born

I still cringe at myself to this day. 🙄

— avocado (@akaciara_) February 23, 2019
11.
TSwiftLover16

TSwift – Taylor Swift on Thug Story
Lover – oh well, I love her 😂
16 – my first name's initial is the 16th letter of the alphabet

😂😂😂😂

— ~·cess·~ (@delicatecess016) February 23, 2019
12.
If we're talking AIM sn, as we should be, it was "kraziekandie"… because I liked alliteration, the rave bead bracelets (aka kandi), and was on that Kardashian K kick before it was kewl… 🙈

— Judy (@judyjetzen) February 23, 2019
13.
Dancin_babe03 because I took ONE dance class

— Aly (@TheRealAlyG) February 23, 2019
14.
Lilogirl2000 because even tho I am not Hawaiian, Lilo was the only Disney character I could remotely relate to lol

— MK ★ (@MichelleKhare) February 23, 2019
15.
Stre3tballa4lif3 … cause I thought I was gonna street ball … for life …

— Ron Kong (@RonSKong) February 23, 2019
16.
HitzBball97 because I liked Hanson, basketball, and the year was 1997.

— Aimee 🇵🇭🇺🇸 (@aimeecurameng) February 23, 2019
17.
MzCarter90…Nick Carter was my everything.

— N. (@itsnerey) February 23, 2019
18.
Dogs29 because I love dogs (still true) and 1-28 were taken

— Future Ghost (@DanielleOrgan) February 23, 2019
19.
On MySpace
xxxFallen_Angelxxx
Lol

— Dimples🌻💋 (@bumblebeastyy_) February 23, 2019
20.
Princesssamanthak – first name and middle initials. I was obsessed with princesses as a child and just princesssamantha was taken

— sam (@vankoopa) February 23, 2019
21.
folie2deux (aol) for my love of X-Files and French. My mom wouldn't let me have a sn with my fav ep, Pusher.

— Jenn Main (@jennmain) February 23, 2019
22.
poopoo999938. 😭 i was 6 and it was for neopets, my brother was creating my acct for me. he asked what i wanted the name to be and i said "poopoo", but it was taken.

— TZ (@litewski) February 23, 2019
23.
Pumpkinpixie13 because I liked the @SmashingPumpkin , @PIXIES and @francescablock and my v goth lucky number. 🤷‍♀️ also went through a very deep @EverclearBand phase and JustAGirl13 was used for a time.

— Sam (@SamanthaBahr) February 23, 2019
24.
GABYLUVSKITTIES I feel it is self explanatory.

— 🚨Urgent Alert🚨 (@TheGabyDali) February 23, 2019
25.
Stephbsb16 because @backstreetboys 🙂♥️

— Sx (@stonettastone) February 23, 2019
h/t: @itsashlyperez