Sometimes stories are wholesome, sometimes they're downright creepy, sometimes they're both and you don't know how to feel. This is one of those stories, and it involves DMs about…dinner plans? A guy has been messaging another guy every day for months (!?!) about what he ate for dinner, and the internet is of many minds about it.
Buzzfeed News has the scoop on this unlikely friendship between Brady and Rudy, who don't know each other.
Brady has been sliding into Rudy's DMs since March 2019 — just to share his dinner plans for that night, for literally no reason.
https://twitter.com/rudy_mustang/status/1149811808695459840?s=20
not really I just started messaging him

— Brady (@pebbut) July 13, 2019
"It started out with me asking him what he was having for dinner and eventually [I] just started telling him what I was eating instead," Brady said to Buzzfeed News, adding that he has "no idea why" he is so compelled to share his meals with a perfect stranger.
The dinner messages are all completely benign, unless you view random messages about pork chops and taco soup as inherently weird, which it totally is.
https://twitter.com/rudy_mustang/status/1149811808695459840?s=20
Rudy, for his part, is taking the whole thing in stride, and just Brady do his thing in his DMs. He rarely replies to Brady, explaining that he thought the initial messages were from a troll, because Brady only had a few followers.
"He literally just tells me what he's eating for dinner every night. Most nights I just ignore [him]," said Rudy, and he shared screenshots of their conversation. Rudy's few responses include "Easter is gonna be fire at your place. Can I come," after Brady shared the menu: Deviled eggs, ham, rolls, banana pudding, and sweet casserole.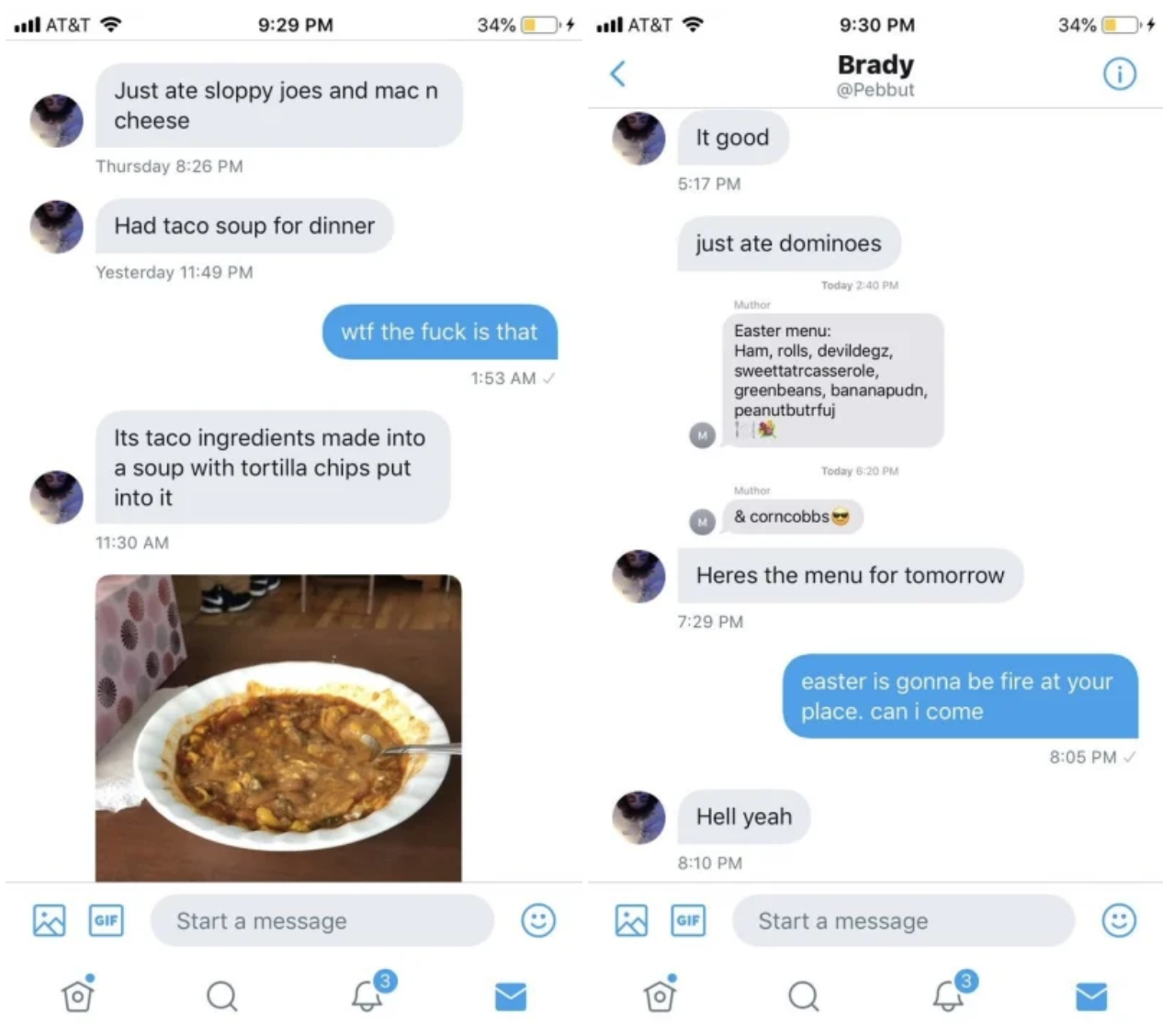 The two occasionally exchange public replies, but otherwise, they keep their interactions limited to dinner DMs. Are they IRL friends? E-friends? DM pen pals? It's hard to know for sure, but Rudy told said that they have become friends, presumably bonding over Brady eating pizza and seafood. And he has no plans to stop DMing Rudy about his meals anytime soon, writing that "I will never stop eating dinner."
I will never stop eating dinner

— Brady (@pebbut) July 12, 2019
Followers are shipping this unlikely friendship, with many expressing their bemusement. Some even wanted to have dinner with Brady, because why not.
I would like to have dinners with this man

— mirando (@randalovesbacon) July 12, 2019
I want a friend like him

— Fool on the hill (@disa_panda) July 13, 2019
I appreciate the commitment. Is he single? Lol 😆

— ❤️ Kateness (@Kateness8) July 13, 2019
If for some reason I were to do this someone would get a lot of messages saying chicken ramen

— Stephen Barrios (@barrios_stephen) July 14, 2019