Everyone knows that Kristen Bell and Dax Shepard are not only the cutest couple in the world but they somehow also manage to do it without making anyone want to puke.
This is probably because the actors are both super down-to-earth, very honest, and completely hilarious.
They're always very open about marriage and how much work it is, but how happy they are to do the work because they love each other so much. They've talked about Bell's toxic behavior that almost broke them up. They've discussed how Shepard wasn't really that into marriage but eventually made the decision to propose.
They've brought up how crucial couples' therapy is for their marriage. And they celebrate each other constantly—Bell even put an amazing sober anniversary congratulations post on Instagram for Shepard's fourteenth year without using.
So with it being Mother's Day on Sunday, it was no surprise when Shepard posted a toothache-inducingly sweet throwback post for Bell, the lovely mother of their two kids.
The picture showed Shepard and Bell wearing matching "Dad" and "Mom" Santa hats while standing on the beach (oh, Calfornia). Bell was pregnant with their second daughter, Delta (now 4), while Shepard held their first, Lincoln (now 5). They madesure to cover Lincoln's head with a heart sticker (on the photo, not in real life) because the couple is very careful about protecting the identity of their children.
Thank you @kristenanniebell. Thank you, thank you, thank you. You are the most wonderful Mom, and I will be forever grateful to you for creating our love bugs. All of their best ingredients are from you. You are the softest, safest place for all three of us to hide.I love you. Happy Mother's Day.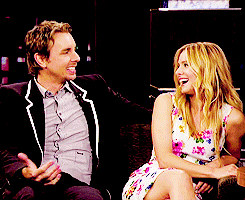 People on Instagram loved his post.
And just when you were about to cry from how sentimental it all is, Bell swooped in and totally changed the mood by posting a hysterical comment.
She wrote, "Dad pls call me asap we are having a problem with the TV and GOT isnt playing HELP."
Ah, yes, the truly important things in life. It's so nice when a couple finds a balance like this, and by balance I just mean that at least one of them is competent when it comes to technology and wiring.
Keep it up, you guys are our heroes.